UC loses reknown philanthropist, alumna Louise Dieterle Nippert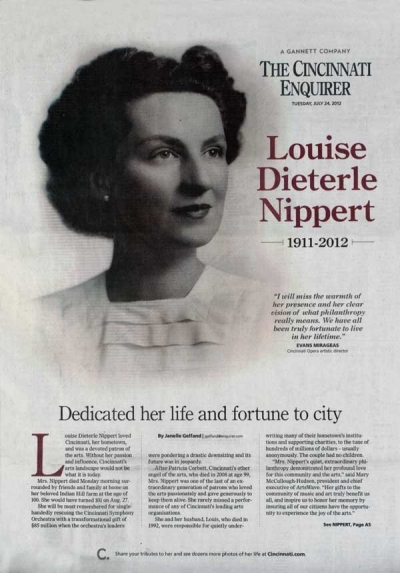 No one lives to read his or her own obituary, and in the case of Louise Dieterle Nippert, A&S '34, HonDoc '67, that might have been a good thing. Although the 100-year-old UC alumna received countless beautiful accolades about her magnanimous philanthropy following her July 23, 2012, death, she would have been shocked to see that her obituary in the Cincinnati Enquirer newspaper consumed the front page — to the extent that the newspaper greatly reduced its nameplate to make room for her photo and headline.

All that for a woman who had adamantly declared she did not want to be in any "headlines." She and her late husband, Louis or "Gus," A&S '26, JD '28, HonDoc '71, had usually required anonymity in bestowing hundreds of millions of dollars on Cincinnati.

Reflecting their modest ways, Louis once refused to accept a reserved parking space in the Riverfront Stadium garage even though they were majority owners of the Cincinnati Reds. "We are just like any other fan," he reasoned, according to Louise's long-time friend Nancy Walker.


Forgoing the parking space might have been easier to live with if they really had been like any other fan. But they weren't. And Louise would soon understand the related consequences.
Liesel, as her friends called her, routinely created meals for the guests whom she and Louis invited to their stadium box. Delivering those meals without reserved parking, she discovered, was tricky.

Similarly, she once jumped in to prepare a meal for 20 people when the caterer fell through for a woman who had bought the box at a charity auction, Walker recalls. Mrs. Nippert picked fresh vegetables from her garden, made pot roast, packed everything in her little red Mercedes coupe and drove to a stadium entrance near the box, where told the security guard she needed to deliver food. He asked for the box number, then raised his eyebrow when he recognized it as belonging to the owners.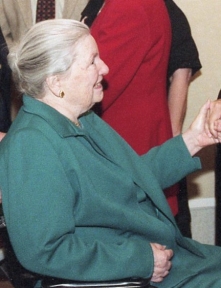 "Who are you?" he asked. "Mrs. Nippert," she replied. "Oh, you can leave the car here as long as you want to," he enthused — to which she quickly insisted, "Just don't tell my husband."

Walker finishes the story, "The woman who bought the box never knew that Liesel was the owner, which was so typical of her. She always said that it was a privilege to fulfill a need where she perceived it, and she meant that."

Usually that "need" involved music and other forms of art because that was the couple's passion. Louise was a well-trained mezzo soprano who once sang a solo with the Cincinnati Symphony Orchestra.

At UC, the Nipperts funded the 1995 renovation of the former Schmidlapp Gymnasium into the Dieterle Vocal Arts Center (named in honor of Louise's parents), established scholarships and endowed the Dieterle Chair of Music, the Thomas James Kelly Chair (CCM's first endowed chair), the Nippert Chair of Law and the Frank Mayfield Endowed Chair for Neurosurgery.
Interestingly enough, the grand-opera-scale rehearsal hall in the vocal arts center has a large glass window overlooking Nippert Stadium, named for Louis' older brother James "Jimmy" Gamble Nippert, a law student who died from blood poisoning after suffering a spike wound during the 1923 Homecoming football game. Jimmy and Louis' grandfather, James Gamble, of Procter and Gamble, funded the completion of the stadium in 1924.
So the family's support of sports rubbed off when the Nipperts bought into the Reds ballclub in 1966 as part of an investors group. From 1973-81, they were majority owners — years that included the '75 and '76 World Series championships. Louise retained minority interest until her death, making the Nippert's 46-year ownership interest the longest in the franchise's history.
The Nippert's financial commitment to the Reds may seem like a far step from their previous support of the local symphony, opera and pops orchestra, but they did it to support the city, Walker relates. "They were very loyal people," she adds. "Things that were needed in Cincinnati were more important to them than things they could have pursued on their own.
"Liesel was not a lady who sat in a castle and was waited on. She had a huge heart and very generous character. She was extremely intelligent and industrious. She was given 100 years, wasted not one second of them."