Going neutral
UC and Xavier continue rivalry game Dec. 19, 2012, at U.S. Bank Arena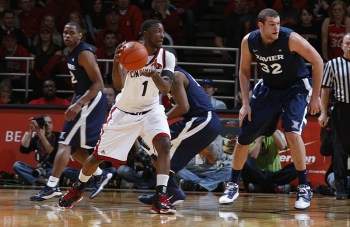 Two teams, 9.4 seconds and one really bad taste.

Exactly 9.4 ticks were left on the game clock in December 2011 when refs were forced to call the UC-Xavier basketball game following an ugly, benches-clearing brawl between athletes from both programs.

The story blanketed national media, and videos of the melee rocketed past a million views on YouTube. Both universities suspended several players for multiple games.

For a while at least, it appeared that perhaps the greatest rivalry game in the country could be in jeopardy for the first time since World War II. Though the two programs -- separated by less than three miles -- played a few times between 1927 and 1943, Cincinnatians have enjoyed the game every year since the 1945-46 season.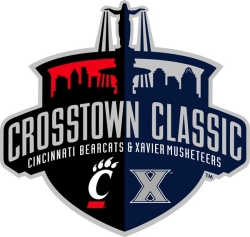 New name, neutral territory

Instead of suspending the game, officials from Xavier and UC announced earlier this year that the game would go on, but with a new name, a new venue and a new focus.

Former UC President Gregory Williams and Xavier President Rev. Michael Graham announced during a joint press conference in June that the annual game, previously known as the Crosstown Shootout, would be renamed the Skyline Chili Crosstown Classic.

Further, instead of being played at UC's Fifth Third Arena in 2012 as it was scheduled, the match-up will relocate downtown along the river to U.S. Bank Arena on Dec. 19. UC will play as the home team in 2012, then Xavier at the arena next year. After 2013, the schools will re-evaluate and decide how to proceed.

In addition, a portion of the ticket sales will benefit the National Underground Railroad Freedom Center, which hosted the joint press conference.

"Our universities wanted to find a way to remind everyone that we play this game in the spirit of mutual respect and celebration," said Williams. "We want to celebrate the values that we share in common, and we want to celebrate the city of Cincinnati."

Xavier's president echoed similar sentiments. "It occurs to me that if there's anything that Xavier and UC people are passionate about more than the game and their schools, it's the community itself," said Graham.

"This is, after all, just a game. It's a very important game, one that a lot of people get very passionate about, and that's a great thing. But, there's much more that unites us than divides us, and we'd like people to focus on that."

Link:
Follow UC's men's basketball team