Second chances
UC professors donate time and expertise to help area unemployed refresh their skills and confidence to re-enter the workforce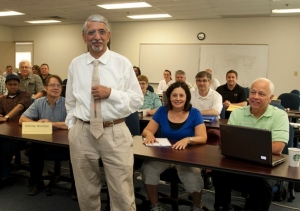 by John Bach

University of Cincinnati professor Amit Raturi was feeling personally attacked.

It was fall 2008. The economic bubble had just burst, and America was really in the mood to spread the blame. The biggest helping had already been heaped onto Wall Street, the banks and political types.

Still, there was plenty more culpability to go around, and it wasn't long before the national media set their sights on the B-schools. The arrows began to rain down on the so-called "ivory towers" that were churning out MBAs who, as one pundit alleged, "treat ethics as an afterthought."

Convinced it would take more than just words to defend themselves, Raturi, a 26-year UC professor, and his colleagues in the Lindner College of Business went to work on their own economic stimulus for Cincinnati -- and entirely pro bono.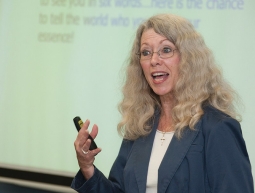 "The economy had gone into the tank," says Raturi. "Our intention was to do something to show that business schools were not the main culprit of this disaster. But really, we just wanted to help people who were in trouble. As a college, we needed to make a statement that we care."
Motivated by startling job losses both nationally and locally -- upward of 100,000 in Greater Cincinnati -- Raturi and his contemporaries in the college began to brainstorm ways they could help the throng of hurting displaced professionals, many of them job hunting for the first time in decades. They landed on a program they called "Back to Business."

Started four years and six sessions ago, the concept for the program is fairly simple. Professors donate instruction every Friday and Saturday so participants can wrap up an intense, but free, business refresher in a little more than a month. The 16 four-hour sessions -- most of them hosted at an executive center in Blue Ash, northeast of Cincinnati -- cover topics ranging from analytics and human resources to marketing and social entrepreneurship. The mini-course is designed to equip participants -- who average 18 years of professional experience -- with a new or refreshed set of business skills and a renewed confidence to re-enter the job market.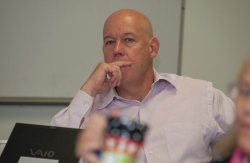 To hold participants accountable, Back to Business requires a $500 deposit, but organizers offer a full refund to everyone who finishes. "We haven't kept a single deposit," Raturi proclaims. After more than 170 B2B participants, every person has completed the course and received a certificate. More important, at least seven in 10 find work again.
In an effort to keep the program completely free, the university kicks in a few thousand dollars each session to help cover meals and any parking expenses. But it is Raturi who rises early each morning to prepare a hot breakfast for every attendant, normally omelets or frittata. Lunch, usually ethnic, is often catered, deeply discounted and eaten family style.

"Our excuse for doing this is that people are learning new stuff," Raturi says. "But really, what we are doing is creating a community where they can talk to each other."

Renewed confidence

A career newspaper man, Bill Ferguson lost his job as a page-one editor with the Cincinnati Enquirer in July 2009. He was one of 101 who got pink slips from the Enquirer that day. Though he had 26 years of experience working for Gannett, the Enquirer's parent company, he found himself among thousands in the media who have fallen victim to both a poor economy and a changing industry in recent years.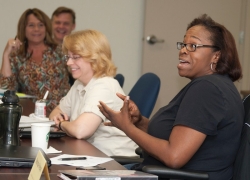 "At first you are kind of stunned," Ferguson says. "Some people felt like they had a scarlet letter attached to them because they had been laid off. But I realized with millions being laid off, I was just one of those numbers."

Job-hunting at age 50, he admits, is difficult, especially when openings get flooded with 100 to 400 resumes.
"I was so focused on my career at the Enquirer all those years, I just didn't have time to network," he says. "I was focused on getting a great newspaper out to readers every day."

Back to Business, however, helped him get reacquainted with networking and move beyond his natural tendency toward introversion.

"It was a good opportunity to meet other out-of-work professionals, all of us in the same shoes and many of us having 25 or 30 years with the same company," Ferguson says.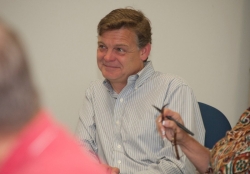 "Suddenly we were thrust into this situation we hadn't encountered since before computers became household items."

Today Ferguson makes ends meet by freelance writing and editing, but he's still looking for a full-time job in communications. He's even considered returning to college for a second degree, a prospect he's confident he can handle now thanks to the time he spent in UC's program.

"Back to Business reminded me that I still have a great curiosity about things," he says. "I still have a desire to learn about high-level topics. By the time we had finished, I felt like I had finished a mini-MBA."

Carolyn Hauger retired after 25 years with Procter & Gamble when she entered Back to Business.

"I was ready to try something different, but I wasn't really sure what," she says. "The opportunity to get state-of-the-art knowledge and build networks and contacts is just invaluable."

Beyond the classroom experience, the participants also network through LinkedIn, where more than 160 B2B alums communicate through a private UC Back to Business group.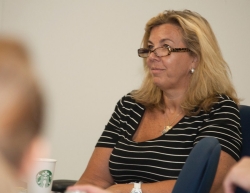 Other past grads still meet for monthly lunches where they roll out their latest presentations and proposals to gather one another's feedback and advice. But the most exciting communications are those who share news of a new job landed.
Soon after she completed the UC program in 2009, Hauger received an offer to become a senior manager with a Cincinnati accounting firm. Today she's vice president of finance at Clopay Plastic Products and has given back to the program that helped her by sponsoring meals, mentoring students and job coaching.

"You have to give back," says Hauger, noting so many who made her training possible. "There was no financial gain for them. But they gave back. It sounds a little new-agey, but for me to give back brings the universe back into balance."