Actor to the rescue
UC alumnus found his way from stage and screen to wildlife conservation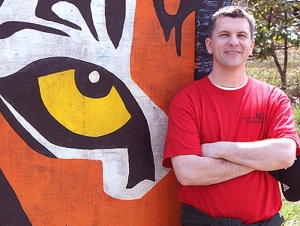 Open with a wide shot: The sun is bright. The flat, wooded land has the iridescent green tinge of spring. A man emerges from a peculiarly shaped, dingy building and makes his way through a maze of gates surrounded by North Carolina pine. Stepping close to a chain-link fence, he presses his lips together to make an odd sound, "Pppffff."
No response. "Pppfff." A tiger stands and looks at him. He tries again, "Pppfff."
Finally, a response back, "Pppfff." The cat rises, comes closer, then sits alert, sphinx-like. Ears up. Ready to pounce.
The man is -- by education -- an actor. The tiger is not. Raj's 600 pounds of striped flesh has not been trained for flaring lights or rolling cameras.
Keith Gavigan greets Raj by "chuffling," a low snuffling sound similar to the purring of smaller cats. An outsider might wonder how this UC College-Conservatory of Music theater alumnus found his way to becoming education director at a wildcat rescue sanctuary last year. To him, it is a natural fit.
"I would like to host a television show that teaches animal conservation," says Gavigan, MFA (CCM) '94. "I do not need a 'Keith's World of Animals' show, but I sure would like a chance at wearing a pith helmet in the jungles of Africa, quoting Shakespeare to a lion, 'To eat or not to eat. …'"
For now, Gavigan's venue is a 55-acre tract of land dedicated to the preservation of wildcats. Founded in 1981 as the Carnivore Preservation Trust, the organization changed its name to Carolina Tiger Rescue in 2009 with a mission of saving and protecting wildcats, providing lifelong homes to those in need and educating the public about what threatens these animals.
More than 13,000 people visit the sanctuary yearly, meet the residents and hear the stories of how the animals arrived. For example, Tex the tiger was found chained to a tree near downtown Houston. Tigers Kaela and Rajah were found wandering a highway near Charlotte, N.C. And Elvis the serval was left in an animal crate in the CTR parking lot.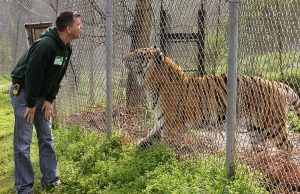 In a more typical scenario, tigers Emerson, Fenimore and Moki were rescued from a questionable facility in Missouri, which was closed following an attack on a volunteer. Most of the more than 70 cats came from individual private owners or from zoos and sanctuaries that either closed their doors or had their animals confiscated by authorities.
The CTR collection includes cougars, caracals, ocelots, bobcats, kinkajous, lions, tigers and binturongs -- or bearcats. "During my job interview, the sanctuary director was surprised I knew what a binturong was," says Gavigan, "I said, 'Well, I am a UC Bearcat.'"
Close up and flashback: The green-eyed, lanky 6-foot alum's path to North Carolina took him all over the country -- starting in Chicago Heights, Ill., where he grew up and where his father owned the nearby "Wet Pet Shoppe," a fish and aquarium store. As a child, "I wanted to be a marine biologist," he notes, but performances on stage while in high school convinced Gavigan to focus his attention on acting.
In 1991, he received a bachelor's degree in theater from Western Illinois University (with minors in dance and earth science), then came to UC to work toward his master's in theater performance.
To pay the bills, Gavigan established his own business, Aqua Dynamics, in which he designed, installed and maintained aquariums for businesses, including Cincinnati Children's Hospital. "My proudest moment was designing and stocking the aquariums at the children's museum (at Cincinnati's Museum Center), which are still active over 10 years later."
While immersing himself in theater during the day, Gavigan volunteered at the zoo. Offering to teach overnight programs, he turned that into a paid position, working in the "Nocturnal Adventures" and "Sleep with the Manatees" programs.
"Working at the Cincinnati Zoo was a passion turned job," he says. "Since auditions for theater are done during the days, a night job was perfect." He was also a stunt performer for Kings Island amusement park.
Add romance: At UC, Gavigan met fellow theater student Karen O'Brien, CCM '91, MFA (CCM) '94, and they have remained together for more than 19 years. Because of her career path, Gavigan found himself in San Francisco where he was a lead naturalist for the Aquarium of the Bay and an instructor for the San Francisco Zoo. In Chicago, he worked as a performer for the Shedd Aquarium.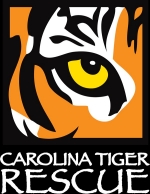 O'Brien earned a PhD from the University of California-Irvine, then landed a position at the University of North Carolina at Chapel Hill. Meanwhile, Gavigan looked for opportunities in the area. A chance meeting with the tiger rescue director at an event led to his position at the center, located south of Durham in Pittsboro, N.C.
For most of his adult life, Gavigan has had an agent and worked gigs as an actor. His theater credits include stage performances in Chicago and Cincinnati, industrial or commercial work for Procter & Gamble and Spirit of Chicago Cruises, as well as film work, including a lead role in the Sundance award-winning film, "Dry Mount," and a role as a convict in the television version of "The Untouchables." He is certified to direct and perform stage combat as a member of the Society of American Fight Directors.
Right now, however, his focus is on a more peaceful existence for tigers and wild animals. He is an advocate for stricter laws -- or any laws in some states -- to protect animals like Raj from being abused or, foolishly, kept as pets.
"North Carolina has no laws at the state level," Gavigan notes. "You cannot keep a squirrel or a raccoon as a pet, but you can keep a tiger in North Carolina."
Ohio used to be as bad. When a man in Ohio released 56 wild animals before committing suicide last year, most of the animals had to be destroyed. Although loose restrictions on animal ownership in Ohio led to the situation, the state legislature earlier this year passed a bill that would more tightly control such situations.
The downside to his work today? "Knowing that there are so many big cats destined to live out their lives in captivity," he says, "not in the wild where they belong."
Slow fade: That bad news is also the good news. Although the cats aren't free at CTR, they do have a comfortable place to sleep for life, food, medicine and room to stretch their legs. Plus, occasionally, someone comes up to connect with them. "Pppfff."
In August 2012, Gavigan resigned his position to pursue other ventures.