Tragedy spurs advocacy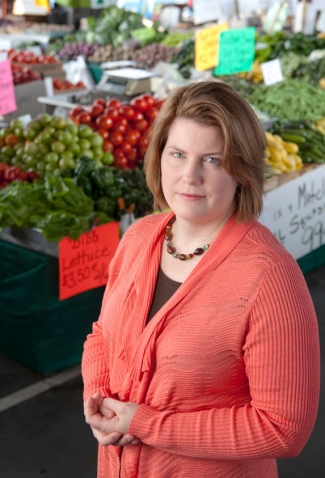 Two-year-old Kevin Kowalcyk's death from foodborne illness in 2001 should have been a wake-up call for food producers and federal policymakers. But they're still groggy. More than a decade later, his mom continues efforts to make food safer for us all.

by Matt Dewald, A&S '95

When I first met alumna Barb Kowalcyk 10 years ago, I had called to talk about her 21/2-year-old son, Kevin. As a fellow Midwesterner and the father of a toddler myself, I felt like we had a few things in common.

But I also knew we had one very big difference. While we talked, my son Max was napping at a nearby preschool. Kevin had died the year before.

In that phone interview, we talked about the advocacy Kowalcyk had thrown herself into in response to Kevin's death. He had been killed by complications from a foodborne pathogen, E. coli, that he consumed in a contaminated hamburger. In less than two weeks, Kevin had gone from a healthy, giggling boy to one of the approximately 3,000 Americans who die each year from foodborne illnesses.

The particular details of his death are horrifying: The worrying presence of blood in his diarrhea that brought them to the emergency room one evening, only to be sent home. His worsening overnight condition and admission to intensive care the next morning. His failing kidneys and agonizing dialysis treatments. His pleas for water or juice, withheld for days to aid his treatment. His sunken eyes and his malnourished, swelling body. Vomiting black bile. His sedation to ease his pain and dull his memory of this ordeal. Tubes sticking out of him everywhere. Eight units of blood.

And then a resuscitation. And then a resuscitation attempt. He and his family were at the hospital for eight days, and he never came home.

"We felt like he had been hit by an invisible truck," Kowalcyk, D (Med) '12, told me over the phone.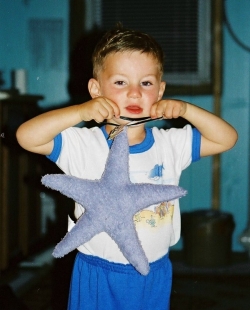 The search for answers

After Kevin's death, Kowalcyk and her husband searched for answers. Rather than finding comfort by putting together the pieces of his mysterious illness, what they learned -- from their county health department to the USDA to agribusiness conglomerates -- left them frustrated and angry.

Hence, Kowalcyk became involved with a victim advocacy organization and began walking the halls of Congress recruiting co-sponsors for a food safety bill that came to be known as Kevin's Law. Co-sponsors were hard to come by, she told me.

By this point in our interview, I had already closed my office door. After I hung up the phone, I sat numbly at my desk trying to compose myself before opening the door and being available to my co-workers. Later that afternoon, I picked my son, Max, up from the day care and held him a little closer. I looked very differently at the food we gave him for dinner that evening and have ever since.

I thought about Kowalcyk constantly for weeks and even had lunch with her a couple of months later. More than anything, I just felt sorry for her, sorry for what she and her family went through and had to live with, and without.

The victim advocacy organization seemed well-meaning, but its mission of "raising awareness" was a way of channeling outrage, not a concrete path to defining and implementing the kinds of policies and protections that would have prevented Kevin's death. If Kowalcyk's work with that organization was going to help anyone, I thought, it most likely would help Kowalcyk herself, helping her cope with her grief.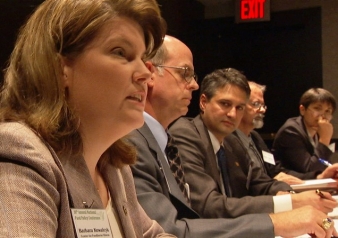 The need for credentials

In retrospect, my reaction to Kowalcyk was typical of many who heard her story. We projected an identity onto her: the victim. It was definitely a case of mistaken identity, one she quickly discovered didn't fit her at all.

In her professional life, Kowalcyk was a biostatistician with undergraduate and master's degrees in mathematics -- an analytical thinker who saw broken systems as she looked more deeply into the nation's production and regulation of the food we eat. But without a scientist's advanced credentials, she risked being seen as "a grieving mom" whenever she spoke, she said -- with good intentions but not a heavy hitter.

She decided in 2006 to leave the victim's group and founded the Center for Foodborne Illness Research & Prevention (CFI), a science-based advocacy organization dedicated to translating the latest research into evidence-informed policies. At the same time, she enrolled at UC to earn a doctorate in environmental health with a focus in epidemiology and biostatistics.

"There was a moment when I realized I didn't want to be a victim," she said. "I wanted to be viewed as a scientist who happened to be affected by foodborne illness rather than a victim who happens to be a scientist, and that's a big difference." The move made perfect sense to David Acheson, former chief medical officer of the FDA's Center for Food Safety and Applied Nutrition. He wrote her a letter of recommendation for admission to UC after coming to know her through her advocacy work.

"The reality is that when you've got some letters after your name, it counts for something," he said. "A doctorate requires a higher level of thinking. There's an analytic process that one goes through.

"I was struck by her capacity as someone who had personal pain but also a lot of scientific objectivity. She can argue her case in a way others can't."

She graduated in June, but her years of doctoral study at UC coincided with her rise as one of the nation's leading advocates for food safety, respected among not only victims' advocates but also scientists, policymakers and lawmakers for her unique voice and expertise.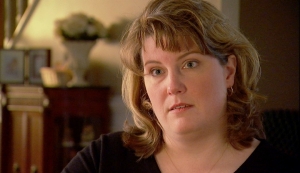 National prominence

If Kowalcyk's story sounds familiar, it might be because you saw her in the 2009 Oscar-nominated documentary "Food, Inc.," an extended critique of the industrialization of food production in this country. Kowalcyk's section, called "Unintended Consequences," shows a happy and healthy Kevin frolicking on a Maine beach on a family vacation shortly before he got sick.

Kowalcyk, her voice breaking, tells the story of his illness in voiceovers over the footage of Kevin. The cameras then follow Kowalcyk and her mother around Capitol Hill, where they hand a photo of Kevin to a Congressional representative as they ask for support for Kevin's Law.

Another strong voice in the film, practically its narrator, is Michael Pollan, author of "The Omnivore's Dilemma" and one of the nation's leading critics of massive industrial agribusinesses. Kowalcyk and Pollan's paths crossed during press events for the film, and they spent several days together when they each traveled to Iceland to accept the 2010 LennonOno Grant for Peace, an award Yoko Ono offers to honor her late husband's commitment to peace, truth and human rights. They were two of four recipients that year.

Kowalcyk's scientific credentials make her "an important player by virtue of her personal experience and scientific expertise," says Pollan. "I don't know too many who combine her tragic story, scientific background and political work. For me, she's been an inspiring figure and someone I turn to when I have a question about science."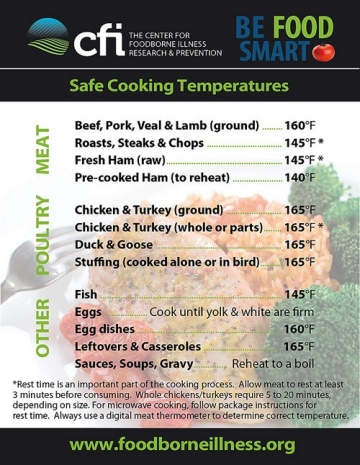 She has used her platform and expertise to influence public policy that is better informed by science. CFI, the national nonprofit she founded in 2006, focuses on scientific research, education and advocacy "to help America create innovative, science-based solutions for the food challenges of the 21st century," according to its website (www.foodborneillness.org).

She co-authored a report by the National Academy of Sciences that became the blueprint for the Food Safety Modernization Act (FSMA) of 2010, which the FDA calls "the most sweeping reform of our food safety laws in more than 70 years."

That law shifts the focus of federal regulators from responding to contamination to preventing it. It gave the FDA authority that many consumers probably believe it already had, the power to order a recall of foods contaminated by deadly pathogens, and it increased the agency's ability to trace the sources of foodborne illnesses.
"She has been an inspiration in educating the public about the tragic, heartbreaking consequences of these illnesses ever since (Kevin's death)," said Connecticut Congresswoman Rosa DeLauro, who introduced the FSMA in Congress. "Her story was a call to action that helped us pass the act."

Preventing foodborne illnesses

Doctorate in hand, Kowalcyk says her work is far from done. The authority of the FDA, part of the Department of Health and Human Services, does not extend to meat and poultry, which are overseen by the Department of Agriculture. The USDA still lacks recall authority, something Kevin's Law would remedy if it ever passes.

After more than a decade, the bill has never been reported out of committee, and Kowalcyk says the current climate in Washington is not favorable to its passage anytime soon. She focuses her efforts on smaller steps, translating science into evidence-based recommendations for policy and practices where she can.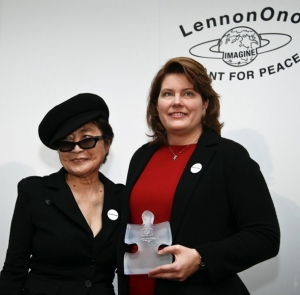 "There's a gap between what we know and what we do," she said, and weak spots exist throughout the farm-to-fork continuum.
"The best way to prevent foodborne illnesses is to prevent food from getting contaminated in the first place. What are farms using for irrigation water? Do they test it? What about wildlife coming through the area? They need to be aware of that and take steps to reduce and mitigate those risks.
"There's very little oversight during transport. It's not even clear who has authority when it's on the truck and when it's in a warehouse. More and more Americans are eating out, and a majority of food outbreaks are associated with food prepared outside the home."

It's those thoughts that keep her coming to work every day, leading the Center for Food-borne Illness' research, linking it to public policy debates and, more recently, training the next generation of scientists. In November, North Carolina State University announced that Kowalcyk was moving CFI to its campus, where she is now an assistant research professor in the department of food, bioprocessing and nutrition sciences and a half-time faculty member.

She is also an adjunct faculty member of the Gillings School of Global Public Health at UNC-Chapel Hill. Her research will focus on how and why outbreaks of foodborne illness occur. She also continues to tell her family's story, which is no easier today than it was a decade ago.

"There was definitely my life before and my life after," she said. "For me, it is very personal, but it's not just personal. I really want to improve food safety. I don't like the term 'victim,' and I don't like feeling like the victim. I want to be part of the solution and to be looking forward."

By the numbers

Foodborne illness is much more common than you might think. The Centers for Disease Control estimates that roughly one in six Americans gets sick because of a foodborne illness. Symptoms vary widely based on the type of pathogen but often include diarrhea, abdominal cramps and nausea. The majority of reported cases occur in children, whose less developed immune systems and smaller body weight make them more susceptible than adults to infection and complications.

48 million — Americans made sick by a foodborne illness annually

128,000 — Americans hospitalized by a foodborne illness annually

3,000 — Americans die as a consequence of a foodborne illness annually

5 — Rank of E. coli among pathogens contributing to foodborne illnesses requiring hospitalization

2,138 — Annual hospitalizations attributable to E. coli

1 — Rank of salmonella among pathogens contributing to foodborne illnesses requiring hospitalization

19,336 — Annual hospitalizations attributable to salmonella

29 — Estimated salmonella infections for every one that is reported

31 — Known foodborne pathogens

56 — Estimated percentage of annual hospitalizations attributable to unknown pathogens

Author Matthew Dewald, A&S '95, is editor of Alumni Magazine at the University of Richmond, Va.