Provost Santa Ono named interim UC president
Following Gregory Williams' sudden resignation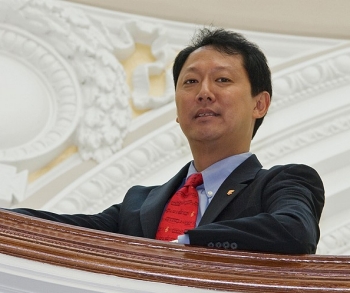 The University of Cincinnati Board of Trustees appointed provost Santa Ono interim university president following Gregory Williams' Aug. 21 resignation as UC's 27th president. Larry Johnson, dean of the College of Education, Criminal Justice, and Human Services, was appointed interim provost.

Since September 2010, Ono has been UC's senior vice president for academic affairs and the university provost. He holds positions as professor of pediatrics within UC's College of Medicine and professor of biology in the McMicken College of Arts and Sciences. Earlier this year, he developed the university's comprehensive "UC2019 Academic Master Plan."

"Our senior leadership team is particularly strong and experienced," Ono says, "and we will work to move this institution forward in a positive, profound way. As a university, we have built an amazing amount of momentum with UC2019 and the Academic Master Plan. We owe it to the university to see these initiatives through to success."

Prior to Ono's UC arrival, he had served at Emory University as senior vice provost for undergraduate academic affairs, while also on faculty as professor in the Department of Ophthalmology. Ono received his education at the University of Chicago, McGill University and Harvard University, where a Helen Hay Whitney Foundation Fellowship supported his biochemistry and molecular biology training.

Ono's first academic appointment was as assistant professor of medicine at the Johns Hopkins School of Medicine, during which time he received the American Diabetes Association Career Development Award and the Investigator Award from the National Arthritis Foundation. In 1996, he became an associate professor at the Harvard Medical School, joined the staff at the Schepens Eye Research Institute and was principal investigator of the Harvard Program in Ocular Immunology, as well as an executive committee member of the NIH Training Program in Molecular Bases of Eye Diseases.

In 2001, Ono went to University College London where he served as associate dean of students, a member of the UCL Council (the university's governing body), Cumberlege Professor, GlaxoSmithKline Chair of Biomedical Sciences at both UCL and Moorfields Eye Hospital, and immunology department head. He has also served on multiple editorial boards and consults widely for companies such as Cambridge Antibody Technologies (now part of Astra Zeneca) and Johnson & Johnson.

In accepting Williams' resignation, the board expressed its appreciation for his contributions since his UC tenure began in 2009. He not only led UC to higher graduation rates, increased numbers of National Merit Scholars and higher alumni giving rates, he also accomplished the following:

Development of "UC2019 — Accelerating Our Transformation," a strategic plan designed to position UC among the world's best universities.
Helped to reshape the Big East conference as a result of realignment and led the search for the new Big East commissioner, Mike Aresco.
Development and implementation of a comprehensive diversity plan.

President Williams said he had appreciated the opportunity to serve as UC's president. "I wish the university all the best. It is on an upward trajectory, and I am pleased to have been part of that."

LINKS
Video: Ono's announcement as president