Interview with an 'All My Children' star

by Jean M. Peck

David Canary bounds breathlessly into an Italian restaurant on New York's Eighth Avenue, dressed casually, but in full makeup. The UC alumnus is due back on the set of the popular soap opera "All My Children" in exactly one hour, but he's also hungry and has invited two guests to join him.

He doesn't want to rush, but he can't keep the other actors waiting -- and he doesn't want the waiter to think he's rude. It's a situation he handles with courtesy and poise, because he is, after all, what one veteran Broadway producer has called "a mensch." In the New York-Yiddish vernacular, which is the city's mother tongue, that means simply, "a good guy."

His craggy good looks and sonorous voice suggest he should be playing Abraham Lincoln, not that blackguard Adam Chandler, the duplicitous, double-dealing, son-of-a-gun of Pine Valley, the fictitious setting of ABC's best-known daytime drama. Up close, Canary is commandingly tall and ruggedly handsome, with iron-gray hair and a demeanor that inspires calm and confidence. Although a Lincoln script has not been made available to him, he is now considering the role of another well-known figure in American history: Clarence Darrow, the famous lawyer and legal mind behind the Scopes trial and the Leopold and Loeb case.

"Clarence Darrow was a man of great moral fiber who fought for the unions," says Canary. "I don't know if I can do it, because of my schedule, but I've fallen in love with the script."

He is a good listener, considering each question put to him with thought and care. He does not like to talk about himself, but will when it is nothing too personal. He loved growing up in the Midwest, he says. What bothers him are injustice and "people who take advantage of those without power."

Before he knows it, he is 15 minutes late and it is a 10-minute quick-stride back to the studio. "C'mon," he motions to his guests, both the interview and his salad still unfinished. "We're not supposed to bring people into the studio, but just say you're with me."

And with him I go, breezing past the guards at the gate, down the hall, up the stairs, past the studio housing Barbara Walters and "The View," and onto a vast stage that is home to Pine Valley. "Susan Lucci isn't here today," he says almost apologizing for her absence. "She's starring in 'Annie Get Your Gun.'" Then off he lopes, disappearing down the stairs into his dressing room, where he must change clothes in order to play the double role of Stuart Chandler, Adam's meeker, milder brother.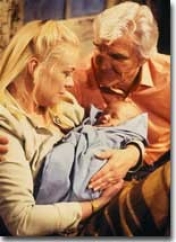 With a mere tilt of her head, an adorable baby -- who just happens to be playing his illegitimate daughter -- is stealing a scene from the Big Star, the only male actor in a daytime series to win five Emmy awards.
Yes, David Canary, as the villainous bounder, is being upstaged by a little pink cooing darling, who has absolutely no idea that this good-looking baritone is one of daytime television's most reprehensible rogues and certainly not someone you would want making goo-goo eyes at your little girl.
But that is just what he is doing in this scene. "You got in the way of my shot, Sweetheart," he coos to the little angel. So they do the take again, and this time all goes well.

See, Adam used to be married to Liza, who gave birth to Colby, but then Liza divorced Adam, then she remarried Adam, and now she is supposed to be divorcing Stuart, only he is refusing to sign the papers . . .

Well, it's too complicated to explain. If you really want to know what is going on these days in Pine Valley, you have to watch ABC every day at 1 p.m. EST, or you can visit the many Web sites devoted to "All My Children" or even to Canary himself, who must be one of the most modest, self-effacing, kindly gentlemen in all of show business.

David Canary, A&S '60, has been a soap opera star for so long, he makes it look easy. Playing dual roles on "All My Children" involves not just learning two sets of marks and dialogues, but several costume changes -- and not to mention personality transformations from Stuart the unassuming to Adam the charlatan. Yet, Canary carries this off with aplomb -- and has the Daytime Emmy awards to prove it.

He has paid his dues, of course.

Canary was a high school football player in Massillon, Ohio, who happened to be blessed with a rich and beautiful singing voice, as would befit anyone named Canary. He won roles in several high school plays, but did not really consider a career in music or in theater. In fact, when he won a football scholarship to the University of Cincinnati -- and he played all four years he attended -- he told his parents he had decided to become a doctor.

"Why?" asked his father, "when you have such a beautiful singing voice?" It was not until many years later that Canary would realize that this sort of parental reaction was quite the opposite from that of most parents who would have seen medicine as a much more lucrative and safer career than music.

Canary took his father's advice, however, and majored in music in the UC's College of Arts and Sciences. Prior to 1962, the Conservatory of Music had only an affiliation with the University of Cincinnati, but Canary took all his music courses there.

"I was green as grass when I arrived at UC," says Canary during a break in the action. "I was in a play during my sophomore year, and the director told me that I was to react angrily in one scene," he recalls. "Well, I couldn't do it. Finally, he told me to go home and remember a time when I was really really mad. You know what? I couldn't even remember such a time."

After graduation, Canary headed for New York and the Broadway stage. His very first part landed him in the chorus of a show called, "Great Day in the Morning" with Colleen Dewhurst. He also had a role in "Happiest Girl in the World" with Cyril Ritchard.

Then the U.S. Army came calling. ("I was drafted right off the stage," he says.) Canary found himself in the heat and humidity of central Texas -- where he continued to act in plays put on at Fort Hood.

"I was pretty green there, too," Canary says. "It seems that I was stationed at a top-secret atomic energy base, but I had no idea. During the Cuban missile crisis (1962), the company commander called a meeting and told us not to worry, that Cuba's missiles only had a range of 1,500 miles." He chuckles. "We were safe because our base was 1,580 miles from Cuba."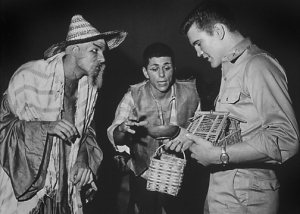 Immediately upon his honorable discharge, David Canary headed west to California where he quickly landed a role in "The Fantastiks." That experience led to his first break in television in a recurring role in "Peyton Place," then in "Bonanza." He also acted in several films like "Hombre" and "The St. Valentine's Day Massacre." He stayed in Hollywood for 10 years until the lure of Broadway and New York City proved irresistible.

Canary joined "All My Children" 16 years ago, but he already had plenty of television experience. Besides his recurring roles in "Peyton Place" and "Bonanza," he guest starred in "Gunsmoke," "Police Story," "Rookies," "S.W.A.T" and several others. He also had a role on the soap "Another World." But he has found his home at "All My Children," where he is pretty much king of the set, thanks to his experience, his range and the demanding double roles.

On "All My Children," the floor director calls for one quick rehearsal, then the scene is committed to tape. Unfortunately, though, a stagehand inadvertently walks right through the shot, so they have to do it again.

It appears that it will be a rather long day on the set, but Canary is used to this. "Sometimes I don't get home until 10 o'clock at night," he says. He lives as a quiet, low-key family man with his wife, a singer with whom he has appeared on stage, and their two teen-age children in the bucolic Connecticut countryside.

Canary does not make personal appearances or sit for interviews for fan magazines. He does, however, enjoy acting in regional theaters; residents near his alma mater, the University of Cincinnati, may have seen him onstage at the Cincinnati Playhouse in the Park as Don Quixote in "Man of La Mancha." He has also appeared in theaters from east to west in "Macbeth," "Othello," "Kiss Me Kate," "A Streetcar Named Desire," "Lend Me a Tenor" and "Private Lives," to name a few.

The one-man Clarence Darrow show is definitely on his mind now. During a scene change on "All My Children," Canary is talking to the floor manager. "He was a man of great moral fiber," Canary is saying again, "who fought for the unions...."

But then the director calls for Stuart and Adam, and David Canary, as both, takes his place.
The author, Jean Peck, MA (A&S) '81, was editor of "Horizons" magazine from 1985-97 and now resides in New York where she teaches at Pace University and is working on her second novel.