Sports
Looking out for No. 1
The man behind baseball superstar Ken Griffey Jr.

It is 2 p.m. on Wednesday afternoon and Brian Goldberg, A&S '82, has to squeeze one more appointment into an already bulging schedule. This time it's an hour he promised "Horizons" magazine.

Apologizing for his cluttered office on the 43rd floor of Cincinnati's tallest building, he navigates his way around a pile of to-be-signed baseballs and comes to rest behind a desk loaded to capacity with stacks of paperwork, family photos and one rather curious item -- a miniature cereal box featuring Ken Griffey Jr.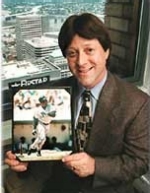 Apologizing again, Goldberg holds up the tiny box and explains he really only has 45 minutes for the interview, because he still needs to coordinate the details of the next day's press conference announcing his client's arrival on Wheaties as a Cincinnati Red.

A typical day during the baseball season means something is always in the works and something else is waiting on deck for the agent of one of the most idolized men in the history of sports. An average day at the office will include 50 phone calls. Some of the callers already have endorsement deals -- Nike, General Mills and Pepsi, to name a few. Others hope to put the All-Star center fielder to work pushing their product.

"It does get a little overwhelming at times," Goldberg admits. "It is to Junior's credit that it is like that because of the great player he is and the great citizen he is off the field. He has never gotten into any trouble. I have never had to get him out of any sticky situations."

Indeed an agent's dream: a superstar athlete with strong values and a great smile. Few, even among professional athletes, have the name recognition he has. Basketball had Michael. Hockey had Wayne, and baseball has Junior. "I always knew Kenny was a special player," Goldberg says smiling, "but I never pictured that it would become the big business that it has."

He has plenty to grin about. Every industry has an upper echelon, the pinnacle, the place those in the field aspire to reach. As a politician, it is the president's office. As an actor, it's a Hollywood blockbuster. As a sports agent, it's representing Junior.
Goldberg, now 40, didn't know it then, but he topped out in his profession at the ripe old age of 27 when he agreed to manage the affairs of a bright-eyed teen from Moeller High School. Ken Griffey Jr.'s story since then is well-known. His home run swings and Gold Glove catches are well-documented.

The tale that rarely gets told, however, is how a green attorney from the Queen City landed maybe the greatest all-around player in baseball. The story starts in the fall of 1978 in an "Interpersonal Communications" class at the University of Cincinnati. There, Goldberg, a freshman, met Ken Griffey Sr., the Big Red Machine outfielder, who happened to be taking some college courses in the off-season.

"I remember Ken looked lost after class, and I just went up to him and said, 'Are you looking for the bookstore?' And he said, 'Yeah, as a matter of fact, I am.' We got to be friends, and it kind of went from there."

Though both followed paths away from Cincinnati, Ken Sr. and Goldberg remained close. Griffey was traded to the Yankees in 1982, around the same time Goldberg graduated from UC and left for law school in Toledo. When the Yankees played in Detroit or Cleveland, Goldberg would make the trip to see his friend play. A few years later, their paths would cross again, this time for good.

Goldberg was doing corporate collection work at a small firm in Cincinnati when baseball scouts came calling on the promising young Griffey. Ken Sr., recognizing his friend's loyalty, asked him to watch out for his son's interests. Junior became the country's first amateur player selected in the draft of 1987.

"I think the key was I never used to ask him for anything," Goldberg says of his relationship with Ken Sr. "I never used to ask him for tickets or autographs or anything like that. I think he started to realize, 'Gee this person is a real friend of mine.' I will always feel like I will owe the Griffeys in general, but especially Ken Sr."
Brian Goldberg has traditionally been a somewhat recognizable figure around town, but in February 2000 he rose to celebrity status in Cincinnati after helping orchestrate one of the biggest trades in baseball history. Fans were stunned to see Ken Griffey Jr. finally pull on a Reds uniform. But equally as surprising were the events that led to his arrival.

Griffey, in the final year of his contract with the Seattle Mariners, had refused to be traded to any team but Cincinnati. Still, the Reds, a small-market club, remained unwilling to mortgage the team's future to afford a single player. Griffey had already rejected an eight-year $148 million offer from the Mariners, and the Reds couldn't touch those numbers.

Just days before the trade, the deal appeared doomed. Reds chief operating officer John Allen prepared to announce Cincinnati was pulling out when Goldberg dropped the bombshell: His client was willing to accept a below-market, long-term contract to play for Cincinnati. The unprecedented move cleared the way for a nine-year deal totalling $116.5 million. To further ease the Reds' financial burden, Griffey even agreed to defer the majority of his contract over multiple years.

Griffey turned his back on tens of millions of dollars to be closer to his family. "Junior is getting paid an awful lot of money to play for the Reds," Goldberg says pointedly. "Nobody should feel sorry for him for leaving all of that money on the table. He wanted to do what he thought was right. He thought the best thing would be coming back to Cincinnati where he had some roots."

The importance Goldberg places on roots is also apparent from a glance around his office. Framed photos of his wife, Robin, and daughters, Lauren, 7, and Emily, 5, hint at his shared dedication to family.

"I try to get out of here by about 5 p.m, because being home for dinner with my wife and kids is important to me," he says. "I never want to be one of those agents who has 20 or 30 guys in the majors and is gone three or four days every week. No amount of money can make that a good lifestyle."

Goldberg often wonders how different his life would be had he not enrolled in that fateful class at UC. "If I was doing divorce work as an attorney, I'd have both sides hating me, and I'd be representing broken marriages," he says. "Or if I was doing criminal work, I'd be representing people accused of crimes. But as it is, I can't be anything but thrilled to come to the office and have fun every day. I feel like I've got the best job in the world."