Alumni Connection
A Rivercity Homecoming:
Bearcat Style
This year, Homecoming spans the nostalgia and tradition of our Uptown Campus to the excitement of Cincinnati's riverfront. Homecoming 2011 follows the theme "A Rivercity Homecoming: Bearcat Style" in light of the football team taking on Big East and regional rival University of Louisville Cardinals at Paul Brown Stadium on Saturday, Oct. 15.
While some have questioned the move from a cherished campus hallmark like Nippert Stadium to Paul Brown Stadium, the professional venue will give fans unrivaled capacity for a marquee game such as Homecoming. In addition to expanded seating choices for fans, Paul Brown Stadium offers great tailgating opportunities on or near the riverfront, spacious concourses and restrooms, and fan-friendly amenities that are sure to make Homecoming 2011 one for the ages.
The annual Homecoming parade, hosted by the University of Cincinnati Alumni Association, will be held Friday night to accommodate Saturday's shift to the city's riverfront. A favorite among families, the Homecoming parade will feature floats built by student groups. For the first time ever, the UC Alumni Association is inviting alumni to walk in the parade.
Following this annual tradition will be a special "Cincinnati Favorites Pep Rally," featuring two of the Queen City's finest, Graeter's ice cream and Skyline Chili. The move to Friday eliminates all scheduling and logistical conflicts with Saturday's full array of pre-game activities and allows alumni to reminisce on UC's campus and take in the city's unique, metropolitan offerings over the course of one amazing, fun-filled weekend.
"In many ways, holding the Homecoming game at Paul Brown Stadium is a perfect statement on UC's place in the community," says Myron Hughes, Bus '86, UCAA executive director. "UC plays an integral role in our community, and the evolution of the Uptown area surrounding our campus has mirrored the development of our thriving urban core."
Critics of this year's Homecoming game venue may not realize what a tremendous financial opportunity this presents the university to offset recent state budget cuts at a time when creative revenue streams are a key combatant of budgetary challenges. Through significant factors like additional seating, club seats with amenities, luxury suites and group sales opportunities, the revenue generated by holding a game at Paul Brown Stadium far exceeds that of a sold-out game at Nippert Stadium.
"University of Cincinnati Athletics must continually look at maximizing revenue opportunities that will position our programs at a championship level within the competitive Big East Conference," says Andy Hurley, senior associate athletics director. "Our ability to leverage these unique opportunities is critical for not just Bearcats football, but all UC athletics programs. Playing games in a state-of-theart facility like Paul Brown Stadium allows us to showcase our program on a grander scale and provides an incredible tool to recruit top talent."
And what about students? After all, while Homecoming is certainly a calendar highlight for alums to relive their Bearcat experience, it is arguably one of the year's biggest weekends in the life of a student. This fact was not lost among the multiple considerations for an off-campus game. Student Government has partnered with UC Athletics to ensure safe, convenient student transportation to Paul Brown Stadium along with official Homecoming T-shirts to all students using this service.
If you're planning to be among the thousands of Bearcats heading to the riverfront at Homecoming 2011, be sure to visit the UCAA tent on the concourse near gates D and E for giveaways, to learn more about UCAA's "1819" alumni giving initiative and other exciting ways to reconnect with your alma mater. For Homecoming questions, contact Erin Stanley, UC Alumni Association program director, at 513-556-4344.

Homecoming goes Uptown Friday
and Downtown Saturday
UC is running with a brand new idea this Homecoming as events will stretch from campus Friday night (for the parade and pep rally) to the riverfront Saturday when UC hosts Louisville at Paul Brown Stadium.
UC Homecoming 2011 schedule of events

Monday, Oct. 10
UC Blue Ash Campus Mini Pep Rally
10-11:30 a.m. Muntz Hall lobby, 9555 Plainfield Rd., Cincinnati

Thursday, Oct. 13

40th anniversary reunion for Advance program
6-8 p.m. Myers Alumni Center, African American student organization for professional development
3rd annual "Hoop-La Charity Basketball Game"
7 p.m. Shroder High School, 5030 Duck Creek Rd., $5 donation, co-sponsored by UCAA African American Alumni Affiliate

Friday, Oct. 14

"Smart Tailgating"
11 a.m.-1 p.m. Recreation Center Plaza West, free food and drinks, sponsored by Campus Recreation Center, UC Wellness Center and University Dining Services

Home Run Derby
6 p.m. UC's Marge Schott Stadium

Homecoming parade
7-8 p.m. Clifton Avenue, over 50 participating floats and bands, including past basketball heroes as grand marshals (street closes at 6 p.m.)

"Cincinnati Favorites Pep Rally"
8 p.m. Myers Alumni Center, with football head coach Butch Jones, the Bearcat mascot and cheerleaders. Skyline and Graeter's available for purchase. (Free parking in the lot adjacent to the Alumni Center on a first-come, first-served basis.)

African American Alumni Affiliate reunion
• 10 a.m.-6 p.m. Registration, Office of Ethnic Programs and Services
• 3-5 p.m. Roundtable discussion, 320 University Pavilion, alumni and students discuss campus and community issues
• 6-9 p.m. Reunion reception, Mick and Mack's Café, Tangeman University Center, $20
• 9 p.m.-2 a.m. After party, Lunar Lounge, 435 Elm St., live music and a DJ

Saturday, Oct. 15

UC vs. Louisville football -- noon, Paul Brown Stadium, including presentation of Homecoming Court with king and queen crowned at halftime

Medical alumni tailgating -- 2 1/2 hours before kickoff, Paul Brown Stadium, concourse between gates D and E, for the colleges of medicine, pharmacy, nursing and allied health sciences

African American Alumni Affiliate tailgate party -- Paul Brown Stadium, lot B

African American Alumni Affiliate game-watch -- Bearcat Lounge, Kingsgate Marriott, for those who can't make the game

For a complete schedule to plan your weekend from start to finish, visit www.uc.edu/homecoming.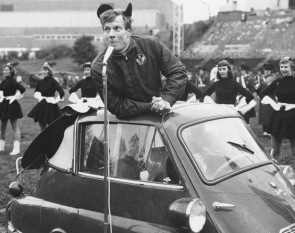 Relive past Homecomings

Whether you recall decorating floats as a student, marching in the band or simply cheering the Bearcats at the football game, you can find a photo to intrigue you at the special "UC Magazine" Web page dedicated to Homecoming memories. We have nearly 100 photos, including shots from nearly every decade since the 1930s. Plus, we have a video from the 1960 Homecoming, originally shot on 8 mm film by Mike Simpson, Bus '63.
Look for the photos of the many times rain dampened Homecoming, then catch photos from the year it snowed so hard that someone built a snowman on the sidelines. Also, be sure to notice celebrity grand marshals of the parade, including Wyatt Earp (Hugh O'Brian, att. '43), head Mouseketeer Jimmy Dodd, Olympic gold medalist Mary Wineberg, 'Ed 02, and 2008 Miss America Kirsten Haglund, att. '08.
Get psyched up about this year's Homecoming by reliving the old ones.