By the numbers
Oral polio vaccine, developed by UC researcher Albert Sabin, HonDoc '74, at the UC Medical Center and Children's Hospital
Antihistamine Benadryl, discovered by UC researcher George Rieveschl, A&S '37, MS (A&S) '39, PhD (A&S) '40, HonDoc '56
FDA-approved use of the YAG laser by university physicians to vaporize previously inoperable brain tumors
Study comparing digital and film mammography for detecting early breast cancer, UC Radiology Department, Barrett Cancer Center
Education
Cooperative education, 1906, College of Engineering
Co-op expanded to non-technical students, College of Business
Women admitted to co-op program
National training center created for co-op employers
Medical and pharmacy colleges, first west of the Allegheny Mountains
Hospital primarily for teaching, staffed by medical school professors, University Hospital
Baccalaureate nursing degree, later became the country's standard
Residency programs in medical-rehab and emergency medicine, introduced by the College of Medicine and University Hospital
Master's degree with specialization in cosmetic science, College of Pharmacy
Degree-via-satellite, initiated in 1977

UC holds three Guinness records

Second halftime needed
The University of Cincinnati Bearcats played in the longest college basketball game ever recorded, the "Guinness Book of World Records" notes. On Dec. 21, 1981, playing at Bradley University, the Bearcats needed seven overtimes to beat their opponents, 75-73. That roughly translates into the length of two entire basketball games.
Big brains in Cincinnati
The heaviest human brain ever recorded weighed 2.3 kilograms. It belonged to a 30-year-old male and was reported by Dr. Thaddeus Mandybur of the UC Department of Pathology and Laboratory Medicine in December 1992. The average-sized brain for an adult weighs between 1.3 and 1.4 kilograms.
145 years overdue
Although UC no longer holds this record, a few years ago it was listed for having the most overdue library book taken out by a borrower — "Medical Reports of the Effects of Water, Cold & Warm, Remedy in Fever & Febrile Diseases, Whether Applied to the Body or Used Internally" by James Currie, printed in London in 1805. The book was checked out in 1823 from the medical library and was returned Dec. 7, 1968, by the borrower's great-grandson, Richard Dodd.

Rumors that he was given a $20,000 fine are untrue. The university simply thanked him for his consideration.

(To see how popular medical books rank in lending at the UC library today.)
A masterful plan

The University of Cincinnati Master Plan emerged in 1989 and now, 14 years and a $1 billion later, has resulted in a pedestrian friendly campus, a masterful academic setting and five signature architect buildings. Within a few years, the final major projects (MainStreet, the Calhoun Street project and Varsity Village) will also be complete.
Former UC President Joseph Steger has often noted that nowhere else in the world can one see so many signature architect buildings within walking distance as they can at UC. The Washington Post called the UC buildings "models for the healing of America's stressed campuses," and The New York Times called UC "one of the most architecturally dynamic campuses in America today."
In 2001, UC joined the ranks of prestigious schools such as Harvard, Stanford and Yale, when the Princeton Architectural Press published "The Campus Guide: University of Cincinnati," an architectural walking tour of UC's main campus.
Signature architecture
Vontz Center for Molecular Studies, '99, designed by Frank Gehry, who also designed the Guggenheim Museum in Bilbao, Spain
Aronoff Center for Design and Art, '96, part of the College of Design, Architecture, Art, and Planning, designed by iconoclastic architect Peter Eisenman. The New York Times lauded this project as a design that "has opened the door for some of the most talented architects in the emerging generation."
Engineering Research Center, '95, designed by Michael Graves, DAAP '58, HonDoc '82, recipient of more than 160 design awards
College-Conservatory of Music, '99, designed by Henry Cobb, designer of the John Hancock Tower in Boston
Vera Clement Edwards Center, '92, added 203,000-square-feet of classroom and office space to campus, designed by David Childs, architect and project manager for the World Trade Center Redevelopment team
Green spaces (designed by George Hargreaves)
Campus Green, '00
University Commons, '00
Sigma Sigma Commons, '98
McMicken Commons, '90
Completed construction on West Campus
University Pavilion, '02
Jefferson Residence Complex, '02
French Hall addition, '96
Braunstein renovation,'00
Central Utility Plant (phase one),'92
Completed construction on East Campus
University Hall, '99
Kingsgate Conference Center, '99
Cardiovascular Research Center, '97
French Building, former Shriners Hospital, '99
Eden Avenue Garage addition, '99
Completed construction on branch campuses
Educational Services Building (Clermont College), '00
Student Services Building (Clermont College), '00
Science and Allied Health Building (Raymond Walters College), '99
MainStreet projects still under construction
Joseph Steger Student Life Center
Tangeman University Center
Student Recreation Center
Richard Lindner Varsity Village projects still under construction
Richard Lindner Center
Shoemaker Center renovation
Armory Fieldhouse renovation
Tennis complex
New baseball stadium
Jefferson Quad green space
Track and Soccer complex renovation
Other projects still under construction
Medical Sciences Building renovation
Calhoun Street Project (garage, retail space and housing)
Central Utility Plant (phase two)
Where to eat on campus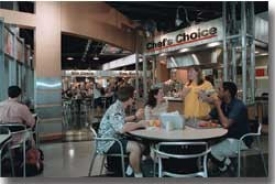 UC has answered the demands of the more sophisticated palate of today's students with several dining options that have the entire campus community enjoying fresh and healthy fixings and made-to-order meals.

MarketPointe is Siddall Hall's new marché-style all-you-care-to-eat dining facility that offers fresh food prepared before your eyes. Food stations include Café Roma, Chef's Choice, Cincy Grill, Garden Fresh, Pan Geos, Stir Crazy and Temptations. Lunch, including drink and dessert, is $5.50.

The Dining Pavilion is a popular student hangout on the Baldwin Quad and houses a variety of food services including Pan Geos, Bearcat Grill, Pizza Hut Express, Noodlebar, Mr. Jim's Steak House and Java City Coffee.

The Event Pavilion, next to the alumni center, contains a Java City and a Blimpie.

Bistro 151, located inside the Kingsgate Conference Center on East Campus and managed by Marriott International, is a 220-seat dining facility featuring gourmet breakfast and lunch buffets ($8.95) with prepared-to-order stations as well as a complete dinner menu ($8.95-$22.95).

Other places to grab a bite on campus include CenterCourt Dining, CCM Cafe, DAAP Cafe, Campus View Cafe and The Market @ AlleyCat.

Top 10 eateries rated


The top 10 most popular restaurants where students most use their Bearcat Campus card:


10

BW-3 (Buffalo Wild Wings)

9

Subway

8

PanGeos (now called the Noodlebar)

7

Papa Dino's Pizza

6

Papa John's Pizza

5

Bearcat Grill

4

Blimpie

3

Pizza Hut

2

Alley Cat

1

Jimmy John's Gourmet Sandwich Shop, 335 Calhoun St., a new franchise popular in college towns
Little-known statistics

Number of rooms: 24,744, including cubicles
Feet of tunnel beneath campus: 16,000 linear feet
Mail processed: 7.5 million pieces/year
Rolls of toilet paper: 187,226 rolls of jumbo, jumbo junior and single rolls each year
Top food items sold on campus: hamburgers, rotisserie chicken, "stir crazy" entrees, chicken Caesar wraps, pizza
Number of doors with locks: 19,325
Student housing beds: 3,134
Fire extinguishers: 27,088
Elevators: 175
— Numbers furnished by Administrative and Business Services
Acres and square feet

The university comprises several campuses. Together, they all add up to about 473 acres, more than 110 buildings and 12.3 million square feet.
West Campus: 137 acres, 67 buildings, 7.3 million square feet
East Campus: 57 acres, 19 buildings, 3.9 million square feet
Raymond Walters Campus: 132 acres, 6 buildings, 287,000 square feet
Clermont College Campus: 91 acres, 5 buildings, 182,000 square feet
Applied Science Campus: 8 acres, 4 buildings, 208,000 square feet
Genome Research Institute: 23 acres, several buildings, 360,000 square feet
Student residence halls

Undergraduates have several residence halls to choose from at UC, ranging from low-rise suite-style living to high-rise coed buildings including a smaller women-only dorm. All together, the facilities have the capacity for more than 3,100.

Turner Hall: opened '02, suite-style accommodations for 419
Schneider Hall: opened '02, suite-style accommodations for 168
Calhoun Hall: renovated '01, 12-story home to 680
Siddall Hall: renovated '00, 11-storyhome to 450
Sawyer Hall: renovated '00, 12-story home to 500
Daniels Hall: renovated '03, 12-story home to 700
Dabney Hall: renovated '02, low-rise home to 202 women

UC also offers graduate and family housing in Morgens Hall and Scioto Hall, home to hundreds of graduate students, faculty and their families, and undergraduates who are at least 23 years old. Both are 12-story buildings, and together they offer 312 apartments, including two penthouse units on the top floor of each.

Future housing plans call for an additional 500-bed private housing development atop a parking garage, which is currently under construction between Calhoun Street and the running track. Another 224 suites for upperclassmen will be built on top of the new Student Recreation Center in 2005.
Parking
According to UC Parking Services, the total number of parking spaces at UC's Main Campus, Medical Campus and CAS is 11,882.

West Campus: 6,213
East Campus: 5,421
College of Applied Science: 248

Taking into account that students have varying class schedules and aren't typically on campus at the same time, parking services usually sells about 13,000 decals for the 11,882 spaces.

Garage decal prices differ significantly depending on the location. Students pay between $120 and $237 per quarter, while faculty spend between $40 and $79 a month. Hourly garage rates will cost you $2 for a half hour, $3 for an hour, $5 for two hours and $7 for three hours. Special event parking is $7.
— J. Bach