Rankings and unusual programs
UC in top tier of rankings
World's top 10: School of Design (only public institution on list): October 2002 I.D. Magazine
Nation's best
No. 1 — Interior design program: Almanac of Architecture & Design
No. 3 — Architecture program: Almanac of Architecture & Design
— Opera, voice program: U.S. News & World Report
— Pediatrics program U.S. News & World Report
No. 4 — Cooperative education: U.S. News & World Report
No. 5 — Musical conducting: U.S. News & World Report
No. 6 — Music program: U.S. News & World Report
No. 9 — Music composition, orchestra/symphony: U.S. News & World Report
— Paleontology program: U.S. News & World Report
Top 13 — Regional entrepreneurial education: Entrepreneur Magazine
Top 15 — Medical research funding: National Institutes of Health
No. 16 — Anesthesia nursing program: U.S. News & World Report
No. 20 — Environmental engineering: U.S. News & World Report
No. 28 — Patent income ($5.4 million): Association of University Technology Managers
No. 36 — Speech language pathology: U.S. News & World Report
No. 37 — Drama program: U.S. News & World Report
No. 46 — Research funding: National Science Foundation
— Creative writing program: U.S. News & World Report
No. 47 — University Libraries: Association of Research Libraries
No. 48 — College of Medicine: U.S. News & World Report
No. 50 — College of Nursing: U.S. News & World Report
No. 51 — College of Law: U.S. News & World Report
No. 79 — Science and engineering programs: U.S. News & World Report
Programs, classes and majors

597 programs of study:
102 doctoral, 160 master's, 170 bachelor's, 165 associate

Classes you may have missed
• The 1890s
• Sociology of sports
• Wildlife in home landscapes
• Spirituality and mysticism
• Classic film comedy
• Basic rapelling
• Mass media and U.S. politics
• Jewish humor/women's humor
• Possibility of human altruism
• Folk-rock-jazz culture
• Theology and ethics of Martin Luther King Jr.
• War and American society
• Rediscovering Appalachian literature

Majors and programs
Most people know that UC awards MDs, JDs and baccalaureates in the basics like architecture, engineering, business and education, but a few programs may have slipped by most folks:
• Aviation
• Dental hygiene
• Pre-veterinary medicine
• Historic preservation
• Fire and safety engineering
• Basic police training
• Nurse midwifery
• Transfusion, transplantation sciences
• Domestic violence counseling
• Cosmetic science
• Horticulture
• Wood technology
• Arts administration
• Entrepreneurship
• Physician scientist training
• Automotive technology
Top 10 books checked out from University Libraries:

• "Pathological Basis of Disease"
• "Nursing Theorists and Their Work"
• "Pathophysiology: Concepts of Altered Health States"
• "Luckmann and Sorensen's Medical-Surgical Nursing: A Psychological Approach"
• "The War of the Flea: A Study of Guerilla Warfare Theory and Practice"
• "Harrison's Principles of Internal Medicine"
• "Music Reference and Research Materials"
• "The Merck Index: An Encyclopedia of Chemicals, Drugs and Biologicals"
• "Medical Microbiology and Immunology"
• "Introduction to Algorithms"

Notice that all books are either reference or textbooks. And more than half are medical, which reflects a national trend of students not buying all their textbooks. (See "Why do textbooks cost so much?")
Library stats
More than 3 million volumes in 18 locations plus 31 million resources from 80 state academic libraries through OhioLINK.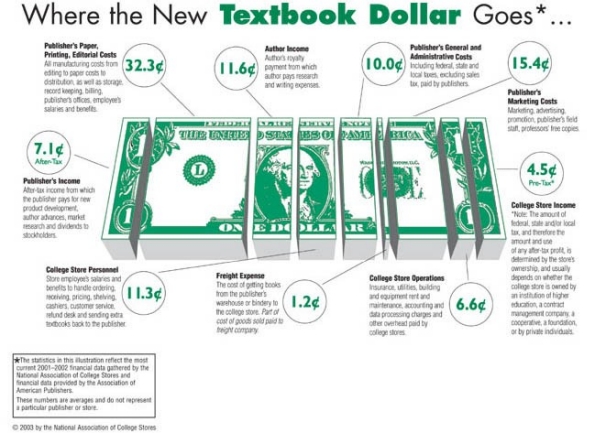 Sample bookstore prices

Textbooks
300,000 ordered and processed each year at UC Bookstores
Required texts found in the TUC bookstore
Budget-breaker: $287.60 — "Human Anatomy & Physiology" (includes "bonus items": CD ROM, atlas of the human skeleton, lab guide)
It's a paperback!: $94.65 — "Local Area Networks: A Business Oriented Approach"
Barter-free bargain: $2.99 — Herman Melville's "Billy Budd" (new)
Used, but cheap: $2 — published position paper
Best value (for price, size, bookshelf longevity): $27 for 1,114 pages — "Rolling Stone Encyclopedia of Rock and Roll"

Why do textbooks cost so much?
Textbook prices vary widely, largely due to publishers. The National Association of College Stores states that less than 25 percent of a book's price remains with the bookstore and less than 5 percent is income.
"Retail bookstores actually make a higher profit on their books than college bookstores do on textbooks," explains Jon Shaffer, in charge of the University Bookstore textbook department. "The initial margin is less on textbooks than on retail books."
Publishers, on the other hand, admit textbooks are more expensive than normal retail books because of the following:
Mundane black and white textbooks are unacceptable these days. Full-color printing is standard, and reference materials such as page tabs add additional expenses.
Production costs often involve a team of researchers, writers, illustrators, photographers and designers, as well as copyright payments to others whose works are being cited.
Academic books, especially specialized ones for graduate courses, have a lower sales volume than popular books, causing costs to be spread out over a smaller base number, thereby increasing a book's unit cost.
The sale of used books lowers volume even more.
Textbook information changes so rapidly that publishers must frequently update books, increasing prices and further reducing a book's shelf life.
Because "bookstore browsers" do not purchase textbooks, publishers have marketing expenses that more than triple the bookstore's profit. Complimentary copies to professors, for instance, are obligatory, since no prof would adopt a text sight unseen.
Link:
University of Cincinnati Libraries