Research
UC research extends around the globe

Troy treasures
Archaeologist Brian Rose, professor of classics, recently directed UC's final Troy excavation session. Over the past 15 years, Rose's team has unearthed ancient golden jewelry, hidden sculptures of famous emperors and other treasures at the fabled site of the Trojan War in western Turkey.

Destroying chemical weapons
Peter Smirniotis, associate professor of chemical engineering, has received national and international recognition for his research on new, less expensive and less dangerous ways to destroy chemical weapons. The UC researcher has worked with scientists around the world to help Russia degrade toxic chemical weapons. Incineration is the method of choice today, but very controversial because of potential health effects. All of Smirniotis' work at UC is done with "simulants," chemicals which are very similar to actual chemical warfare agents, but don't have the same risks to human health.

Robot rover for Mars
Geographer Richard Beck trekked to the desert of Flagstaff, Ariz., to help NASA test a data-gathering robot, which could someday collect information on Mars. Beck is an expert in satellite imaging and an adjunct research assistant professor of geography.

Global climate changes
Geology professor Thomas Lowell has spent more than two decades studying the most recent advances and retreat of glaciers in the Northern and Southern hemispheres. The goal is to understand how often and how quickly Earth's climate can change and what are the most important factors driving global climate change. He is part of an international team of researchers currently working in the Southern Alps of New Zealand.

Solving a Mayan mystery
Geographer Nicholas Dunning and anthropologist Vernon Scarborough have found evidence that may explain why many early Mayan centers were abandoned about 1,600 years after the civilization first appeared in the lowlands of Latin America. According to their research, the Maya moved to new areas where they created elaborate water storage systems that allowed their civilization to thrive for several more centuries.

Protecting vital ecosystems
Geology professor David Meyer has collaborated with faculty at Miami University since the 1980s in exploring reef systems in the Caribbean from the Florida coast to the Bahamas and most recently off the coast of Venezuela. The researchers conduct a field course each summer and document the damage to reef ecosystems from pollution and climate change. A possible future project would involve transplanting sea urchins to areas where they have died off. The sea urchins are critical to keeping a reef ecosystem healthy.
Patent income

One of the largely unknown facts about universities is that schools have vast holdings in intellectual property. A university owns any invention that was discovered through the use of its facilities. By patenting the technology, the school can license its use to commercial companies and, in return, receive a royalty from sales of the derivative product, usually 2 to 5 percent.

For the third straight year, UC leads all universities in Ohio, Kentucky and Indiana in patent income, according to the latest rankings released by the Association of University Technology Managers (AUTM). UC's earnings came in at a record $5.4 million in fiscal year 2001, good for a 28th national ranking.

And though the '02 AUTM rankings are not yet in, UC's patent income increased to about $6.6 million. About $6 million of the income, however, came from a single technology, a cardiac imaging agent known as Cardiolite, the patent of which has now expired. Administrators are hopeful that another technology will fill the income void left by Cardiolite.

In '02, UC's Intellectual Property Office processed 98 invention disclosures by researchers who had a dozen new patents.
Patently promising
College of Medicine researchers earned a U.S. patent in '02 for the painkiller tramadol for the treatment of obsessive-compulsive disorder (OCD). Dr. Paul Keck and Dr. Nathan Shapira discovered that the drug significantly decreases symptoms of OCD, which affects about 3.3 million Americans. The new medication acts within 30 minutes to one hour as compared to eight to 12 weeks required for conventional medications.
Engineering professor Andrew Steckl earned a patent and has started a venture company based on solid-state display technology that may lead to better ways to manufacture flat-panel video screens.

Ohio Eminent Scholar Ephraim Gutmark and engineering graduate student Shanmugam Murugappan developed a new fuel-injector that is compact, efficient, environmentally friendly and inexpensive — all adjectives not normally associated with traditional fuel-injectors.
Record research funding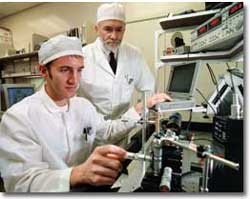 UC researchers earned $309 million in grants and contracts in fiscal year 2003, up $48 million over the previous year. UC ranks 46th among all U.S. colleges and universities in federal research and development expenditures and 25th among public institutions.

Where did it go?
The money allowed UC scientists and doctors to continue such things as developing new products and discovering more about diseases in labs throughout the university and in affiliate hospitals where they work daily. Here is a breakdown of where the $309 million went:
$142.6 million to East Campus (medical)
$54.6 million to West Campus
$98 million to Children's Hospital Medical Center
$3.1 million to Veterans Affairs Medical Center
$4.1 million to Shriners Hospital
$7 million to the Office of Clinical Trials
Of the $197 million in on-campus funding, the College of Medicine attracted about $135 million, and the College of Engineering was responsible for nearly 19 million. The remaining $43 million went to 25 different programs and colleges.

Where did it come from?
The majority of UC's research funding comes from federal agencies, but a significant amount also flows in each year from private industry, as well as nonprofit organizations.
The top 10 funding providers from fiscal year 2003 as reported in UC's Sponsored Awards Report:
Federal agencies
Department of Education $23.7 million
National Heart, Lung and Blood Institute $19.7 million
National Institutes of Health $11.8 million
National Cancer Institute $11.8 million
National Institute of Environmental Health Sciences $10.5 million
National Institute of Diabetes and Digestive Kidney Diseases $9.2 million
National Institute of Allergy and Infectious Diseases $9.1 million
National Institute of Neurological Disorders and Stroke $8.3 million
National Science Foundation $7.8 million
National Institute on Drug Abuse $4.7 million

Private industry
Procter & Gamble Co. $1.3 million
Philip Morris External Research Program $1.2 million
EKOS Corp $780,000
General Electric Co. $603,000
Peter F. McManus Charitable Trust $448,000
Leather Industries of America $356,000
Sentron Medical $260,000
Novartis AG $220,000
The Boeing Co. $130,000
Aventis $111,000

Nonprofit organizations
American Cancer Society — national chapter $1.6 million
Parker B. Francis Foundation $1.1 million
Children's Hospital Research Foundation $961,000
American Heart Association – national chapter $472,000
Howard Hughes Medical Institute $465,000
Whitaker Foundation $424,000
American Heart Association – southwest chapter $401,000
Cystic Fibrosis Foundation $259,000
Health Foundation of Greater Cincinnati $250,000
Lupus Research Institute $225,000
Attracting $4 billion plus

In addition to providing a continuous supply of physicians, nurses, pharmacists and other health-care workers for hospitals and various facilities throughout the Tristate, the UC Medical Center has a proven reputation for bringing in big money for research — more than $4 billion in multi-year grants at present for the College of Medicine alone. In fact, six College of Medicine departments ranked in the nation's top 15 for federal research funding during fiscal year 2002.

Environmental health headed the list as No. 4 among 54 universities. Next was neurology at No. 10 among 72 institutions, placing UC ahead of Cornell, Case Western Reserve, Stanford, Baylor, Yale, Harvard and OSU.

While it would be impossible to list all the research occurring at the Medical Center from grants, following is a list of major areas of research that are being conducted with millions from the National Institutes of Health:
Environmental health
UC environmental researchers receive huge grants to study everything from how genes react to environmental triggers for lung cancer, asthma and allergies, to air quality and lead studies.

Genome Research Institute (GRI)
The GRI is used for gene research, genomics, informatics and bioinformatics, focusing particularly on cardiovascular disease, neuroscience, obesity, environmental health and cancer.

Cardio/pulmonary disease
Cardiovascular disease is still the number one killer of Americans. UC researchers have made significant advances in understanding the genetic causes of heart failure, the causes of diabetes and how to control high blood pressure.

Neuroscience research
UC researchers studying the brain and nervous system look for clues to unlock the secrets behind stroke, brain and spinal cord tumors, Alzheimer's, Parkinson's, Lou Gehrig's disease, epilepsy and multiple sclerosis.

Obesity Research Center
More than half of all Americans are considered obese, and obesity is linked to an increase in cancer, cardiovascular disease and diabetes. Researchers are studying how brain leptin receptors work to control appetite and why some people lose weight better on low-carbohydrate, high-protein diets.

Cancer research
Researchers at UC's Vontz Center for Molecular Studies, the Barrett Cancer Center and smaller laboratories across campus are making headway in understanding and developing treatments for many types of cancer including that of the breast, lung, pancreas, prostate, thyroid and colon. The complicated research often involves the making of mouse models that replicate humans with specific diseases.
— J. Bach