Bearcat sports
UC sports firsts

The University of Cincinnati hosted one of the first night football games in the country in '23.
George Smith, captain of the '43 football Bearcats, wore a device to protect a facial injury, the forerunner of the face mask on football helmets.
In '61, the Bearcats' Hendrik "Henk" Hartong became college football's first soccer-style kicker.
Cincinnati became the first school to make five consecutive appearances in the Final Four of the NCAA tournament, '59-63.

All-time greats

Ted Corbitt
Miller Huggins
Sandy Koufax
Jeppe Nielsen
Oscar Robertson
Becky Ruehl
Kelly Salchow
Tony Trabert
Jack Twyman
Honza Vitazka
George Wilson


First black U.S. marathoner in Olympic history, 1952
Yankees manager '18-29, Baseball Hall of Fame
Los Angeles Dodgers, Baseball Hall of Fame, '72
Olympic swimmer, '00
Basketball Hall of Fame, '80
Olympic diver, '96
Olympic rower, '00 and '04
Tennis Hall of Fame, '70
Basketball Hall of Fame, '83
Olympic swimmer, '00 and '04
Olympic basketball team, '64

Former Bearcats currently in the NBA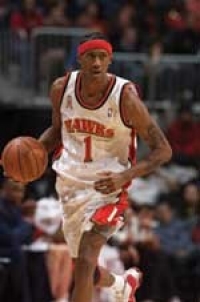 Corie Blount, '91-92
Danny Fortson, '95-97
DerMarr Johnson, '00
Art Long, '95-96
Kenyon Martin, '97-00
Ruben Patterson, '97-98
Kenny Satterfield, '00-01
Nick Van Exel, '91-92


Chicago Bulls
Golden State Warriors
Atlanta Hawks
Toronto Raptors
New Jersey Nets
Portland Trail Blazers
Philadelphia 76ers
Dallas Mavericks
Former Bearcats currently in the NFL

Blue Adams, '98-02
Antonio Chatman, '99-00
Troy Evans, '99-00
Jason Fabini, '94-97
Sam Garnes, '93-96
LaVar Glover, '98-01
Artrell Hawkins, '94-97
Jason Hunt, '01-02

Brad Jackson, '94-97
Ray Jackson, '00-01
DeMarco McCleskey, '98-02

Mario Monds, '99-00
Rodrick Monroe, '97
Jon Olinger, '99-02
Antwan Peek, '98-02
Derrick Ransom, '94-97
Jonathan Ruffin, '99-02

Robert Tate, '94-96
Adam Wulfeck, '98-01
Detroit Lions
Green Bay Packers
Houston Texans
New York Jets
New York Jets
Cincinnati Bengals
Cincinnati Bengals
New England Patriots
(2003 free agent)
Carolina Panthers
Cincinnati Bengals
Carolina Panthers
(2003 free agent)
Cincinnati Bengals
Cleveland Browns
Atlanta Falcons
Houston Texans
Kansas City Chiefs
Pittsburgh Steelers
(2003 free agent)
Baltimore Ravens
Detroit Lions
Winners in the classroom

UC's 61-percent graduation rate for student-athletes exceeds both the national average for Division 1 programs, as well as the university's graduation rates for all students.

A total of 138 student athletes in 2002 were named to the C-USA Commissioner's Honor Roll.

Six members of the '02-03 men's basketball team were named to the C-USA Commissioner's Honor Roll. Tony Bobbitt, Eric Hicks, Armein Kirkland, Kareem Johnson, Jamaal Lucas and Chadd Moore posted GPAs of 3.0 or higher. UC tied St. Louis for placing the most players on the honor roll. Cincinnati also had the highest men's basketball team GPA for '01-02. In addition, the NCAA Graduation Rate Report lists UC with a 100 percent graduation rate in men's basketball for the entering class of '95-96.

UC football was recognized for the second year in a row for its outstanding graduation rate. UC was one of only 31 Division 1 schools to boast a graduation rate of 70 percent for the class that entered UC in the '97-98 academic year. Cincinnati's 72.4 percent graduation rate far exceeds the national average of 59 percent for Division 1-A football programs.

U.S. News and World Report ranked UC as fifth best in '02 for providing athletic opportunities for women.
Bearcat overview
UC's 18 different varsity athletic teams are made up of about 500 student-athletes, who currently compete in Conference USA. Together, the teams wrapped up another impressive year in 2002-03 as UC won the women's C-USA soccer tournament and was co-champ of C-USA football. The football squad also competed in its third straight bowl game. Nevertheless, even those accomplishments were not on par with the previous season when Bearcat athletes brought home seven conference championship trophies.

Perhaps the biggest disappointment was UC Men's Basketball, which finished 17-12, breaking a streak of seven 25-win seasons and seven straight years as conference champs. There is good reason, however, to expect the nationally renowned program to return to its winning ways. The men's recruiting class has been rated as high as No. 3 nationally.
Men's varsity sports
Baseball
Basketball
Cross country
Football
Golf
Outdoor track
Soccer
Swimming and diving
Women's varsity sports
Basketball
Cross country
Indoor track
Outdoor track
Golf
Rowing
Soccer
Swimming and diving
Tennis
Volleyball
Coach Bob Huggins

Huggins, 49, has compiled a 349-112 record (.757) in his 14 years at UC, making him the winningest coach in terms of victories and percentage in the school's rich basketball history. Huggins' accomplishments rank him with the nation's top major university coaches. His 517-184 record (.738) amassed during 22 seasons as a head coach ranks him sixth in winning percentage and 18th in victories among active Division 1 mentors. His string of 12 consecutive NCAA tournament appearances is the third-longest active streak.

His teams have won 20 or more games in all but four of 22 campaigns, and he has averaged 26.3 wins over the past eight years. (Basketball seasons typically involve 29-35 games.) Huggins has directed Cincinnati to nine conference regular season titles and seven league tournament titles. The Bearcats have been to postseason play in each of Huggins' 14 seasons at UC, advancing to the Elite Eight of the NCAA tournament three times and appearing in the Final Four once in 1992.

Huggins, who has earned the Conference USA Coach of the Year award in three of the past five seasons, was selected national coach of the year by ESPN.com in '01-02. He was named co-national coach of the year by The Sporting News in '99-00 and was Basketball Times' national coach of the year in '97-98.

His '01-02 Bearcats, unranked when the season began, posted a school-record 31-4 season, winning C-USA season and tournament titles and claiming its first No. 1 seed in the NCAA tournament.
Richard Lindner Varsity Village
The UC athletics complex is undergoing an $80 million enhancement that will include an eight-story athletics center, a sports museum, a relocated baseball stadium, a tennis center, a renovated track and soccer venue, and a new boathouse for rowing on the Licking River.

UC broke ground on the project in May. The baseball stadium is scheduled to open in '04, and the remainder of the project is scheduled for completion in the '05-06 academic year.

Varsity Village has been made possible by more than $25 million in recent donations: $10.2 million from Richard Lindner, $10 million from Fifth Third Bank, $1.5 million from John Hermanies, $1 million from Priscilla Garrison Haffner, $1 million from Martha Garrison Anness, $1 million from Sally Garrison Skidmore and $1 million from the trust of Helen Smith.
Shoemaker Center

The Myrl Shoemaker Center is the hub of UC athletics facilities. The 14-year-old structure is a mecca for athletes and fans alike with its electric atmosphere and versatility. The focal point of Shoemaker Center is the Fifth Third Arena, the 13,176-seat basketball and volleyball venue, which includes an expansive score/video board and a restaurant overlooking the court.

Nippert Stadium
Cincinnati teams have been playing here since the turn of the century, making Nippert the fourth-oldest playing site and sixth-oldest stadium in college football. The rich history and tradition of the Bearcats' football home has been updated with a state-of-the-art video screen, a modern press box and a luxury VIP area. About 10,000 seats between the 20-yard lines have also been upgraded with chair backs. FieldTurf, a new artificial playing surface that has the properties of natural grass, was added in 2000.
Grab a ticket

Visit www.gobearcats.com for complete schedules of all athletic events or to purchase tickets for men's football and basketball. The athletics ticket office has moved out of the Shoemaker Center and has been relocated to One Edwards Center, Suite 1100 (the building on the corner of Jefferson Avenue and Corry Boulevard). For customer convenience, metered parking spaces are in front of the building, and there is an adjacent parking garage. Fans can also purchase tickets from 9 a.m.-5 p.m. daily at the office or by phone (513) 556-2287. On game days, tickets will be sold at the ticket pods and ticket booths at Nippert Stadium and Shoemaker Center.

Attendance stats

Men's basketball, women's basketball and the UC football team attracted nearly 350,000 fans to campus last season. Men's basketball drew an average of 12,182 fans over 16 games or 194,915 people. Women's basketball drew an average of 1,443 fans over 17 games or 24,534. And UC football drew an average of 21,696 fans to campus over six games or 130,178. Plus, UC football drew an additional 66,319 fans to Paul Brown Stadium (largest crowd ever in Cincinnati) when it nearly upset the eventual national champion Ohio State Buckeyes.