James Winkle pledges $10 million to UC College of Pharmacy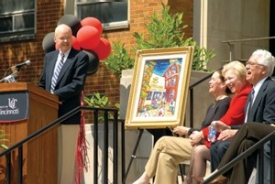 by Tim Russell, UC Foundation
When an anonymous donor pledged $10 million to the University of Cincinnati College of Pharmacy in 2005, it became the largest gift the college ever received. This year, James Winkle, Pharm '58, was revealed as the benefactor, shifting speculation from the identity of the historic donor to what benefits the unprecedented gift may bring to UC's second-oldest college, one that now bears his name.
Dean Daniel Acosta expects Winkle's record-breaking generosity to have an enormous long-term impact on the college, but he says some surprising, less-expected benefits have occurred already, including national publicity and increased potential for recruiting students, donors and faculty.
"Mr. Winkle's gift to the college means the difference between being a good college or a great college," the dean says, "because it allows us to increase our commitment to students, faculty development and program excellence.
"This gift has also resulted in many encouraging things in the short term. For instance, we were featured in everything from local papers to national magazines, and the stories about Mr. Winkle and our college were excellent. Those stories really helped us raise our profile and reach potential students."
Pharmacy is one of the university's smaller colleges in terms of enrollment, and Dean Acosta hopes the college's increased visibility will continue to build momentum. "As our college has grown, so has our ability to recruit. We have students from the Tristate area alongside students from all over the country. We hope to attract more international students over time."
In regard to pharmacy alumni, Dean Acosta thinks Winkle's generosity will show potential donors that supporting the college is a worthwhile investment. "Mr. Winkle's gift reflects his belief that our college is worth investing in. With him as a strong illustration, we feel empowered to go to other alumni around the country and make our case for their support."
That benefit was a main reason the modest donor agreed to let the university release his name to the public. "Very few people have the capacity to support our college like Mr. Winkle did," Acosta says, "but every gift makes a difference. If an entire class pools together and gives what they can, that amount could easily fund a scholarship or new equipment.
The dean encourages alumni to stay involved with the college well beyond graduation. "Mr. Winkle didn't just show up one day and present a check. His gift was the result of a long relationship with the college leadership, our faculty and people like me.
"Come back and see what we're doing," the dean tells alumni. "We're very excited about the future of our college, and we want alumni to be part of it."
Acosta points out how fortunate the college is to be part of UC's Academic Health Center. Not only is the center nationally recognized as a leader in both teaching and research, the college benefits greatly from opportunities to collaborate with the colleges of medicine, nursing and allied health sciences."
And with Winkle's contribution, the dean sees "an even stronger future" for the James L. Winkle College of Pharmacy.
Pharmacy student to millionaire


by Jamie Davis

A modest man who still lives in the Hamilton house he grew up in, James Winkle didn't expect public recognition for his gift. He simply wanted to give back to the college. "I think you reward those who have helped you, and this is my way of saying thank you to the College of Pharmacy," Winkle says.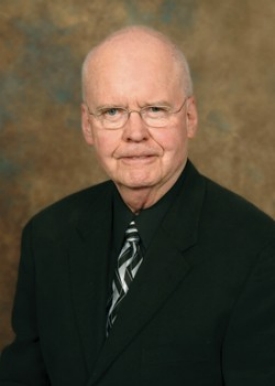 Winkle's interest in pharmacy began at age 15 when he got a job in a local pharmacy, where a co-worker was studying pharmacy at UC. "I worked mostly behind the soda fountain," Winkle laughs. "But pharmacy seemed like a good career, so that's what I pursued."
After graduating, Winkle worked at another Hamilton pharmacy, and when the owner died, he found himself handling day-to-day operations. He ran the pharmacy for several years before opening his own store — Winkle Discount Drug. Seven years later, Winkle sold his store to a chain to pursue a career in investing, which he has been doing for more than 40 years.
The two fields have more in common than most people might think. "The idea of becoming an investment adviser was very appealing," Winkle says. "I think being a businessman in pharmacy translated to being a good investment businessman. You have to learn to evaluate information and make decisions based on your investigation."
Winkle says that without his pharmacy degree, he is unsure what career he would have pursued and is grateful for the direction it took him. "The old saying that you should find something you like to do, and you'll never work a day in your life — well, that's certainly true in pharmacy."
James Winkle makes a few light-hearted comments in June while saying thanks for the painting he was given in honor of his $10 million gift to the College of Pharmacy. Sitting, from left to right, are health-affairs Provost Jane Henney, President Nancy Zimpher and pharmacy Dean Daniel Acosta.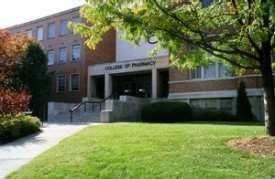 UC College of Pharmacy facts
Founded
1850
First pharmacy college west of the Allegheny River
1954 joined the University of Cincinnati
Dean
Dr. Daniel Acosta Jr.
Appointed in 1996
Programs offered
Doctor of Pharmacy degree
Graduate training available in …
biopharmaceutics/pharmacokinetics
cosmetic science
pharmacology
medicinal chemistry
social and administrative sciences
industrial pharmacy
2006 Graduating class
71
Placement
Traditional pharmacy students had a 100 percent job placement rate before graduation ('06).
98 percent of PharmD graduates passed the North American Pharmacy Licensure Examination, the highest rate of all Ohio pharmacy colleges ('06).
Salary levels
PharmD graduates who started professional practice after graduation had an average first-year salary of $96,000 ('06).
(Statistics for 2006 were the latest available at press time.)