Scrapbook photo, 1980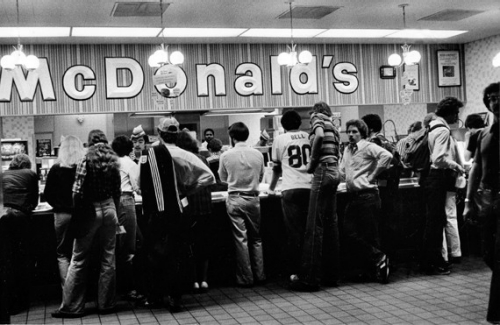 Back in the days when the average college student could rattle off, "Two all-beef patties, special sauce, lettuce, cheese, pickles, onions on a sesame-seed bun," without taking a breath, McDonald's was the place to be on UC's campus. Students who thought they "deserved a break today," like those in this 1980 photo, headed to the ground level of the Tangeman University Center, facing the Veterans Bridge. When TUC closed for remodeling in 2001, McDonald's shut its doors never to return, as did Mr. Jim's and the Rhine Room. Today, the UC campus still has fast-food restaurants, of course, but it also offers Starbucks and two award-winning "marche" venues with multiple food stations, which gives the average student reason to say, "I'm lovin' it."
Related articles:
Read letter, historical information on TUC's McDonald's.
View photos comparing then and now.