Going for gold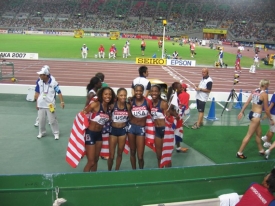 Two former UC Bearcats are striving for the 2008 Olympic Games.
The long path to Beijing for a pair of 2008 Olympic hopefuls began on the University of Cincinnati track.
It was there that former teammates Mary Wineberg, Ed '02, and David Payne, att. '04, first donned the same team uniform. These days, the world-class runners still suit up for the same side. Only instead of red and black, their team colors are red, white and blue.
And the similarities for these long shots don't end with their uniforms. Both medaled at the world outdoor championships in Osaka, Japan, in 2007. Although neither ever imagined such success when they were sprinting for UC. Payne, who flew to Japan to fill in at the last minute for an injured teammate, turned in a bronze-medal performance in the 110-meter hurdles. Not bad for someone who started his collegiate career as a sophomore walk-on.
Equally as impressive is Wineberg's accomplishment at worlds -- helping the U.S. team win gold in the 4x400-meter relay -- considering she never even qualified for the NCAA championships and nearly gave up competing after failing to qualify for the Athens Olympics in '04.
"Standing on the podium and hearing the National Anthem as we received the gold medal was just awesome," says Wineberg. "It was emotional and joyful at the same time knowing I represented my country. That was just a small taste of what the Olympics is like, and I definitely want to shoot for that."
Competition for the U.S. Olympic team will be extremely intense for both Wineberg and Payne, and getting to China in 2008 will come down to their performance during Olympic Trials in July 2008.
Meanwhile, Wineberg, 27, who ranks among the 10 fastest 400-meter runners in the world, has trimmed her time by a full second during the last year and fully intends to qualify for both the 400-meter individual race and the 400 relay at Beijing.
Wineberg calls herself a late bloomer. But her recent improvement, she says, is in large part due to her new training partner and husband, Chris Wineberg, Eng '04, whom she married last year. The former Mary Danner met Wineberg, an all-American UC decathlete (and current UC sprint coach), while they were teammates several years ago. Chris gave up his own Olympic dream to become his wife's full-time training partner. Mary considers him her co-coach, along with Jim Schnur, the UC women's track coach.
"It was tough at first for me to give up competing because I enjoyed it," Chris says. "But I don't think any of my own accomplishments have been as fulfilling as seeing her succeed and achieve great things. Mary is more focused right now than she has ever been in her life. She is starting to realize she can be one of the best in the world."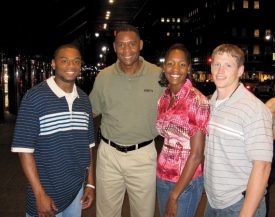 Wineberg and her relay team -- DeeDee Trotter, Allyson Felix and Sanya Richards (all former Olympians) -- were heavily favored at worlds and recorded the fastest time of any team in the event since 1993. If that's any indication, UC's Olympic gold medal count may well rise for the first time since former Bearcat swimmer Jenny Kemp won the 4-X-100-meter freestyle relay in '72. Prior to that, George Wilson, Ed '64, helped the U.S. basketball team take gold in 1964, just as Oscar Robertson, Bus '60, had four years prior. UC's last U.S. Olympians were rower Kelly Salchow, DAAP '96, (2000 and 2004) and diver Becky Ruehl, DAAP '00, who finished fourth in '96.
David Payne also appears to be peaking at the right time, shaving his time by more than a half second since his All-American days when he set UC's hurdling records.
"I'm ready to put the work in to make the Olympic team," he says. "My mom has always told me that I would one day run in the Olympics. She has already seen me in her dreams running in the Olympics and getting medals. And that has just pushed me."
Payne left UC one class short of completing his degree and intends to return during the 2008 winter indoor season to finish. He is thankful to UC for giving him an opportunity to compete, but it is the lasting relationships from school that he values most, particularly with men's track coach Bill Schnier.
"Bill is a great coach," Payne says. "He is kind of like a father. I never had a father growing up. But when I met him, he took me under his wing, and I just really appreciate it. He's gotten me to where I am right now."
Both Wineberg and Payne say having a fellow Bearcat alongside has made seeing the world one track meet at a time simply priceless.
"This is a total blessing for both us," says Wineberg. "We are at every single meet together."
"It is good to do great things," says Payne. "But it is even better to do great things along with someone you care about."
With a little luck and plenty more hard work, they'll be fellow Olympians.
Links:
Video of Wineberg at 2008 Olympic Trials

Mary Wineberg's site
Bio of David Payne