Tourism mentality brings sightseers to UC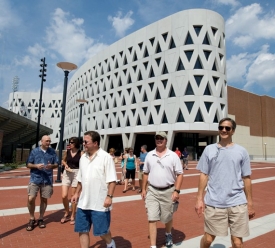 The University of Cincinnati is responding to the growing popularity of campus tours.
by Mary Niehaus
A St. Louis architectural firm closed its offices for a day and brought 20 staff members to the University of Cincinnati for a tour. On a different occasion, Columbus architects visiting campus for student portfolio reviews were so excited over UC's signature architecture and green spaces that they came back with 40 other professionals in tow. Another time, a young professional couple from St. Louis requested a tour because they had read about the university and were thinking of moving to Cincinnati.
Tourism has hit UC.
The number of prospective students and parents taking traditional admissions tours was up an astonishing 50 percent in the 2006-07 academic year, with 12 student guides leading approximately 3,000 people through campus. "Once people visit UC, they find it is way beyond their expectations for what they thought they would see on an urban campus," explains Tom Canepa, assistant vice president for admissions.
But considering that the national media has been praising UC's campus environment for more than 10 years, a growing number of visitors has been requesting tours that go a step beyond the scope of student guides. To remedy the situation, UC's Center for the City initiated the Campus Guides program last year to provide customized tours to special groups of professionals, alumni and civic-minded individuals, says executive director Mary Stagaman.
Welcoming these groups to campus are a dozen volunteer administrators, faculty, staff and alumni who took a 10-week course to learn docent techniques and to beef up their knowledge of campus architecture, public art and landscaping. To expand the program's availability, more docents are being recruited, from both employees and alumni, for another training session next year.
"Architects especially enjoy coming to the UC campus because there are so many signature-architect works within a short distance," says the campus guide who knows best, assistant professor of architecture Alexander Christoforidis, whose niche is leading tours for groups of architects. "At UC, both the number of signature buildings and our cohesive Master Plan make the university really stand out."
Visiting architects who tour the UC campus express surprise, appreciation and perhaps a little envy at what they see, according to Christoforidis. "After all," he says, "signature architects are the 'stars' of our profession."
Awe-filled reactions to the University of Cincinnati, of course, aren't restricted to architects. Alumni are similarly astonished by the improvements made since they were students. The most startling, perhaps, is the transformation of the former giant parking lot near the Alumni Center into Campus Green, a park-like area featuring an arboretum, benches, winding paths and a water fountain cascading down limestone steps.
"People are amazed at what has happened on this campus," Christoforidis says. "UC's achievement is seen as something quite significant."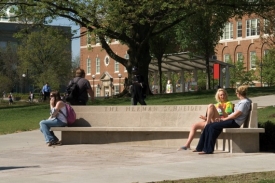 Showing alumni around UC does present a few challenges, says campus guide Deborah Weinstein, MBA '79, director of business affairs for UC Student Affairs and Services. As an experienced docent at historic Sharon Woods pioneer village, Weinstein thought she knew what to expect on campus tours, but she has had a few surprises.
One she'll never forget involved an alumni group of mostly retired architects. After having seen much impressive architecture already, one man unexpectedly paused on the Herman Schneider Plaza to praise -- of all things -- a stone bench.
Sure, it was a 15-foot crescent-shaped bench originally installed in 1956 to commemorate the 50th anniversary of cooperative education. But still … it was a bench.
"What a handsome stone bench," said the visitor warmly. "It's a fine tribute to the man who created co-op education at the university."
Her suspicion was piqued when one of the other men inquired as to the bench's designer. Suddenly realizing that these visitors could have been on campus for the original dedication, she admitted that she didn't know the answer, but she also suspected she was about to find out.
After a bit of good-natured "quizzing," Weinstein was off the hook. James Donnelly, DAAP '52, identified himself as the designer of both the bench and the original plaza. He knew that the memorial had been sponsored by a Cincinnati business leader, Fred Geier, an early believer in hiring co-ops at Cincinnati Milling Machine and a close friend of engineering dean, UC past president and creator of co-op, Herman Schneider.
Usually tours are more predictable than that. A common reaction from alumni is, "This doesn't look like the University of Cincinnati I attended." Yet disappointment does not tinge their remarks, she notes.
"People who knew the campus in earlier days do notice that some of the old buildings are gone, such as Beecher Hall," she says, "but they are happy to see that we have incorporated pieces of those old buildings into the new campus." (The scroll-topped capitals of three Beecher columns, for example, now serve as decorative elements in the Mews, the courtyard on the south side of Baldwin Hall.)
When a group of elderly alumni from a retirement center in Hyde Park arrived at UC on a hot summer day, they toured the campus from the comfort of their air-conditioned bus. Even without being able to go inside the new buildings -- except for their lunch at the Faculty Club in Lindner Center -- they saw dynamic exteriors, four different sports arenas and attractively landscaped greens.
"Those older alumni loved being here," Weinstein says. "It was obvious they were having fun, and they were very favorably impressed."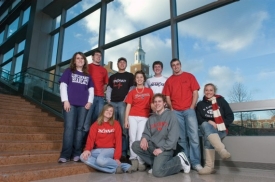 Prospective UC students and their parents receive a slightly different tour of the University of Cincinnati campus, but are equally astonished by what they see. Veteran student guide Alex Ogle says, "I have fun asking them questions, then watching them respond to how 'cool' and how beautiful the campus is. They're usually impressed either by the university's classical architecture or the dynamic modern buildings, but always by the landscaped spaces."
Having conducted about 75 tours, he prefers the ones early in the day. "In the mornings, people are more awake and excited about their visit," says the digital design major from the Pittsburgh area. "I love telling people how respected the university is for its highly ranked programs and how I go down on the football field when it's not in use to play ultimate Frisbee with my friends."
On the other hand, some would-be students are more thrilled over less obvious aspects of campus. Khandice Toliver, a third-year education student who has conducted tours for hundreds of students and parents, says, "Typically, the things that 'wow' these visitors are that UC students get into home sporting events for free, that the cardio-theater in the Campus Recreation Center allows students to tune in and watch a variety of channels while they work out and that freshman rooms offer a fair amount of space when limited to two persons."
To be accepted as a UC tour guide, a student must meet certain criteria, as determined by the Admissions Office. Typical guides are involved in campus activities, speak well and make an effort to present information in an interesting manner. They receive a manual with facts and dates about the university, and they also shadow other tour guides before going solo.
Unfortunately, the job has one potential stumbling block … literally. Student guides have to be able to walk backward while talking about the university.
The origin of this practice is lost in antiquity, but it is ubiquitous across the country. Facing one's audience does make it easier for a guide to quickly respond to questions or point out an item of interest.
Apparently, experience as a drum major in a high school marching band can give one a head start in mastering the walking backward technique. At least, that's what ex-field commander Alex Ogle claims.
"I didn't find it that hard to learn," he recalls. "When our band was at parades, I often had to walk that way. By my senior year, I was very used to it."
He does concede to having "a few" close calls when he was learning. The time he walked backward into a pole was not pretty.
Former tour coordinator Cat Wade, A&S '05, agrees the unusual skill is important. "Yes, we do ask them to walk backward as much as they can," she confesses, "although few take as much pride as Alex does in his ability to walk backward down steps."