'Hobby hour,' fine art create campus traditions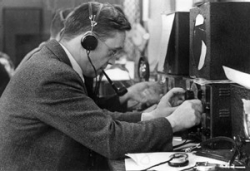 Paintings, literature, music and sports allowed Herman Schneider, the author of cooperative education, to help students grow as persons, as well as engineers. Within the activities and arts he introduced to early co-ops are the roots of campus traditions that still bring beauty and joy to the university.
Schneider wanted the co-ops to develop an appreciation for the arts, but wondered how he could ask students with heavy academic schedules to take on anything more. He introduced two on-campus experiences: fine art displayed in the engineering college and a daily "hobby hour" of diverse activities.
Turning the walls of the college into an instant gallery in 1916 was his solution to students' lack of time for museum visiting. An Edgar Degas sketch, "Ballerina Adjusting Her Stocking," is one of the first pieces he obtained, a gift from the Charles Tafts.
The lesson was not lost on the co-ops. Students raised funds, asked Schneider's advice and began presenting artwork as their graduating-class gift. Edwin Abbey's "Winter" and two works by H.H. Wessel: "Coal Miner " and "Jamming Barges Under the Suspension Bridge" are among early alumni gifts that form the foundation of the University of Cincinnati's respected Fine Arts Collection.
Dean Schneider's introduction of "hobby hour" in 1920 gave students a mandatory "break" at noon each day. Co-ops were told to fill this time with an activity unrelated to their studies, one that would offer their weary brains a change of pace. Among the options were sketching, band or orchestra, chess, literary discussion, wireless radio club, horseshoe pitching, fencing and basketball.
The music groups were particularly successful. The orchestra, led by College-Conservatory of Music staff, was a mix of student and faculty members. Regular performances were presented on campus.
The co-op band, which would become known as the UC Marching Band, is one of the university's strongest traditions. In 1923, the band performed on campus at the first football game played under electric lights in the U.S. The lighting system was designed by co-op Jack Silverman, Eng '23.
As impressive as the UC Marching Band has become, it had an inauspicious start. At the first rehearsal, one of the eight co-ops who showed up was Ralph Van Wye, Eng '24, who had played in a World War I Army band. Recalling the marching formations of the early UC group, Van Wye later joked, "The only letter we could form was the letter 'I.'"
Links:
UC Band Recordings/Ringtones, including fight songs

Engineering students rescued artworks