Fashion: What's hot and what's not?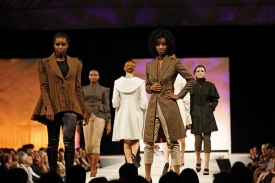 Fresh back from Paris where she presented to some of the world's top fashion forecasters, UC's Margie Voelker-Ferrier, professor of fashion design for 32 years, shares her style expertise interspersed with some what-to-wear advice not just for curvy catwalkers. Her wardrobe guidance applies to the rest of us, too.

Ladies first

We start with the ladies because, according to our expert, women always lead fashion trends, not men — with one exception, hip-hop trends.

So what's the "it" look for women these days? "Frankly, it is pretty awful," laughs Voelker-Ferrier, DAAP '71, MA (CCM) '86.

"It is a very eclectic fashion. It is casual, and it is comfortable. It is not beautiful lady clothes. Put it all together, and you have either a boyfriend jacket or a sweater covering over an interesting little blouse over a really short skirt and a pair of crazy shoes."

Popular also, she bemoans, are "jeggings," which she describes as a photograph of a pair of jeans imprinted on leggings. "These are not skinny jeans with some Lycra in them. Jeggings are a second skin, and they are made to be worn with a short skirt or a long tunic. It is really a total comfort look."

While camel color is hot at the moment, she says, everyone still defaults to black. "It takes off weight. It makes you look formal. It makes you look good. You dress in black, and it cleans everything up."

Now for the gents

"Young men are starting to wear jackets, but they aren't wearing it like a suit," says Voelker-Ferrier. "They are wearing it as a covering to make things a little bit more formal. She says a jacket with a white or blue shirt and a pair of jeans is "the uniform." If you aren't into the jacket-with-jeans look, our pro would put you in a black T and khakis or black Dockers.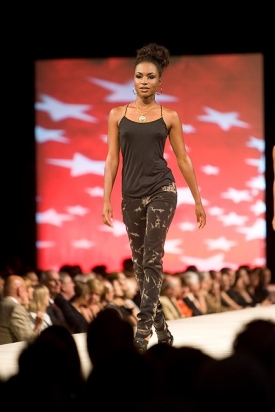 Fashion reflects culture

Fashion in the late '90s, Voelker-Ferrier says, was all about transparency. Chiffon fabric ruled as we craned our necks to eyeball a new millennium.

"You saw a lot of transparent furniture and transparent clothes," she says. "Then that kind of morphed into dissolving edges. We were very open. We traveled freely. We didn't have borders. We had raw edges." And so did our clothes.

When 9/11 happened, fashion responded by reverting. "Everybody started shoring up. We were no longer looking for transparency. We were looking for trapping and making borders secure. Transparency took a turn toward being very linear and cloudy.

"Lately, we have been into shredding fabric. I don't know if that means we are falling apart as a society all over the world, but there are some cultural rami-fications there."

On a broader scale, Voelker-Ferrier says the eyes of the world are on China and India as both countries — traditionally only textile centers — begin to influence the intellectual side of the fashion industry.

"To see what's coming, pay attention to where China's looking for influence." She says. "China is looking to Africa as a source of inspiration. That's going to be an interesting combination."

Link:
Video: Check out the 2010 DAAP Fashion Show