President Williams' investiture celebrates new beginnings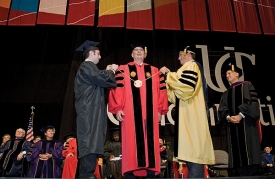 "One of the jobs of higher education in Ohio is to attract talent to our state, and I want to say to your Board of Trustees that you really fulfilled that mission by bringing us Gregory Williams," noted Ohio Chancellor Eric Fingerhut at President Williams' investiture as UC's 27th president on Sept. 19. "You have brought back to Ohio one of the absolute top talents anywhere in higher education."

Wherever you mention the name Greg Williams, they will speak of his academic leadership, his administrative skill and his vision, but more importantly, they will speak of his kindness and his capacity to bring people together in order to achieve great things. This is precisely the kind of talent that we need here at this university and in this state."

Although Williams had served as a university president before coming to UC, the ceremony in Fifth Third Arena was his first investiture. Initially, he did not see a need for a formal installation, "but members of our campus community suggested that new beginnings are important to celebrate," he told the crowd. So he relented, but only upon the condition that his ceremony be part of the student convocation so the "new beginnings" theme would include the freshman class of the university's largest student body ever — 41,357 students total.

Early in his speech, he thanked his wife, Sara, and their four children for supporting a career that took them from the Midwest to Washington, D.C., Iowa, Ohio, New York, then back to Ohio. He also thanked his deceased father, James "Buster" for teaching him to dream, in spite of living with alcoholism, rigid discrimination and extreme poverty."

He encouraged me to go to college and become a lawyer," Williams recalled. "Despite the barriers he faced, he saw unlimited possibility in our nation, and he did try to prepare me for the future."

My father often said to me, 'Greg, you've got to be ready when that tap on the shoulder comes.' As a boy, I did not always understand what my father meant. But as an adult, I have come to understand that this mantra was about recognizing opportunity and seizing opportunity when it comes.

"Today, as we look to the future of the University of Cincinnati," he continued, "this is a moment in which I choose to turn the tables. This is a moment, above all others, when I am reaching out to tap on shoulders."

Williams then introduced his new strategic plan, outlining UC's blueprint for achieving excellence and setting institutional priorities. (See the story on the next page.) "This blueprint for our future challenges us to transform UC into one of the best universities in the world," he said.

Related article
Read about the president's new strategic plan.