Reality TV: Is it for real?
The truth is: "Reality TV is a misnomer," says Marjorie Fox, electronic-media division head at the College-Conservatory of Music. "In many cases, there is nothing remotely real about it."

The other truth is: People love it.

More than a quarter of today's primetime shows constitute some form of reality TV, she says, and some cable channels devote entire days to reality programming. "The percentage of scripted shows is steadily declining."

Ultimately, producers create contrived scenarios, then aim cameras at people who "act obnoxious," as Fox puts it, so they have a better chance of making the final footage. "They also ply contestants with liquor because they know people will act more disgraceful if they are drunk. Then they force contestants to sign confidentiality statements so they can't talk about it for years."

The advantage to reality TV shows is that they are cheap to produce because they usually use no scripts, no writers, no professional actors and no unions. But the downside is that people can be worked 12 hours a day in what Fox calls "sweat-shop conditions."

The primary propellant that launched the proliferation of reality TV, she says, was the fact that the quantity of cable channels exceeded the number of available shows. Secondarily, sitcoms kept getting harder to create."

The essence of comedy is to do something edgy," she explains, "but we see so much outrageous stuff on TV and the Internet every day that the edge gets pushed further out there. It's really hard to produce something innovative any more."

Reality TV became a prevailing force in the 1999-2000 season when "Who Wants to Be a Millionaire" took the No. 1 spot in rankings … and the No. 2 and 3 spots, as well, because it aired three times a week, drawing 27 to 28 million viewers each night. The following year, "Survivor" took the lead with 29.8 million viewers.

The number of people vying to be on the shows is also high. Last year, 200,000 people either sent in a video or attended a casting call to be on NBC's "Biggest Loser," a show that brings in 10 million viewers a week, Fox notes. "Ratings are very, very good."

More than 600 different reality shows have made it to TV, according to Realitytvworld.com, and many have had multiple seasons. Besides classics like "The Real World," "Big Brother," "The Apprentice" and "America's Next Top Model" are the lesser known "Beauty and the Geek," "My Big Fat Obnoxious Boss" and "The $25 Million Dollar Hoax."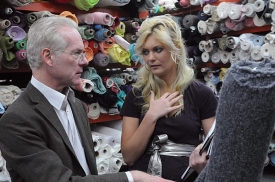 Some of the so-called reality TV shows are not really new. "American Idol," for instance, is similar to "Arthur Godfrey's Talent Scouts," which Fox recalls seeing as a child and which ranked No. 1, 2 and 3 in seasons 1951, '52 and '53, respectively.

But what attracts audiences to shows like "Bridezilla"? "It's a complete mystery to me," Fox admits. "Shows that emphasize crudeness and meanness are incomprehensible to me. It's very disturbing when shows demean people and celebrate narcissism."

Many of her students, however, have a different opinion. When she asks her media-ethics class who would be willing to accept a reality-TV job, only a few say "no."


Links:
Read about Michelle Yi, UC's own Survivor contestant
Get to know alum Althea Harper from Project Runway
Read about other alumni in reality TV shows.