Latest Magazine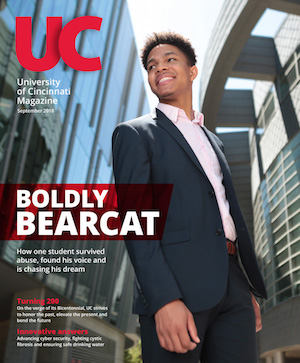 September 2018
Boldly Bearcat
Finding his voice
Danger in the tap
Virtual defense
Global game changer
Celebrating UC's Bicentennial
Browse our archive of UC Magazine past issues.
What We Do

Our staff of professionals serves as communications consultants, promoting the university and serving as a liaison between the news media and the university community. We are the officially designated office for the university to communicate to the public at large through the mass media.
Media Contacts

Public Records Policy

by John Bach
Photos by Jay Yocis
Jan. 18, 2017
The Hyperloop UC team was happy to pause for team photos. Many had worked day and night to reassemble their prototype since it had returned to campus after a custom paint job the previous week near Indianapolis.
About 60 UC students — most of them international graduate students from India — have contributed to the team over the last 18 months. Some have graduated while others joined in recent semesters. Throughout that time, engineering graduate student Dhaval Shiyani, kneeling at the back of the pod, has led the group.