Latest Magazine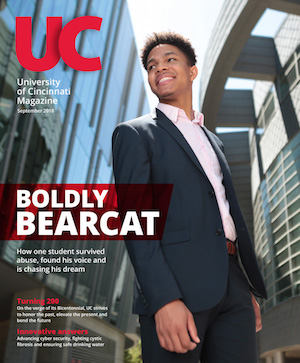 September 2018
Boldly Bearcat
Finding his voice
Danger in the tap
Virtual defense
Global game changer
Celebrating UC's Bicentennial
Browse our archive of UC Magazine past issues.
What We Do

Our staff of professionals serves as communications consultants, promoting the university and serving as a liaison between the news media and the university community. We are the officially designated office for the university to communicate to the public at large through the mass media.
Media Contacts

Public Records Policy


Liftoff for Hyperloop UC
Long-awaited prototype includes levitating pod
by John Bach
513-556-5224
The whirring sound of Hyperloop UC's hover engines filled a University of Cincinnati conference room as an anxious crowd shuffled closer for a better view.

Would this student-designed prototype actually levitate?

The answer came in a matter of moments as the eight miniature engines gained revolutions per minute — emitting noises reminiscent of Star Wars sound effects — and the 15-foot-long Hyperloop UC pod achieved roughly a quarter-inch of magnetic levitation.
The unveiling and demo of Hyperloop UC's prototype was indeed a moment to celebrate for a team of more than 60 UC students who had been working nonstop to refine their entry into an international Hyperloop competition hosted by Tesla founder Elon Musk. As CEO of the aerospace firm SpaceX, Musk has challenged the world to submit ideas — and now prototypes — for a tube-based passenger system that would allow for travel between cities at the speed of sound. Testing of prototypes will take place January 27-29 when they will insert their pod for takeoff in a mile-long test track next to SpaceX in Hawthorne, California.

UC got involved when UC aerospace engineering graduate student Dhaval Shiyani took Musk's challenge to heart last year and began assembling an interdisciplinary team from across campus. UC's group is one of just 30 that has advanced to the test round of the Hyperloop competition out of more than 1,200 teams worldwide.

"We are very proud of the design we have created," said Shiyani, Hyperloop UC's president and an international student from India. "It hits all the marks with respect to performance, safety and scalability. Our education at UC has taught us well, and we are confident that we will be a force to reckon with come January."

Fellow graduate student Sid Thatham, also born in India, oversees finance, operations, marketing and fundraising for Hyperloop UC.

"Our journey has been pretty amazing," said Thatham. "We've had a chance to work on something that's larger than all of us, something that actually is going to change the way people travel in the near future."