Latest Magazine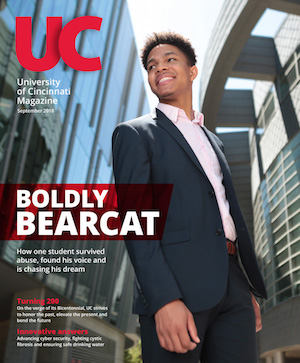 September 2018
Boldly Bearcat
Finding his voice
Danger in the tap
Virtual defense
Global game changer
Celebrating UC's Bicentennial
Browse our archive of UC Magazine past issues.
What We Do

Our staff of professionals serves as communications consultants, promoting the university and serving as a liaison between the news media and the university community. We are the officially designated office for the university to communicate to the public at large through the mass media.
Media Contacts

Public Records Policy

A look at the competition
SpaceX shared a brief bio submitted by each of the 29 teams competing in the Hyperloop pod Competition Weekend. The teams come from as far away as Japan, the Netherlands and Australia, not to mention all across the US.
David Chen from Japan's Keio Alpha team explains why they went with a mini-pod for the SpaceX Hyperloop pod competition. Video/Jay Yocis

Photos and video by Jay Yocis
BADGERLOOP | University of Wisconsin-Madison
The Badgerloop team at UW-Madison is a committed force in the revolution of transportation. Our pod's scalability and ability to reach the acceleration phase after the initial pusher is what we take the most pride in. In order to accomplish such a task, our student organization relies on diverse membership from a variety of majors across the STEM and Business fields. Our primary goal is to produce a successful, fail-safe, passenger-friendly Hyperloop pod prototype. Beyond just the competition aspect, Badgerloop is proud to collaborate and participate with premier researchers all over the globe, laying the foundation for the future of transportation.
BAYOU BENGALS | Louisiana State University
Bayou Bengals is a team comprised of over 20 students and advisors of various backgrounds who joined together toward a common goal. Our prototype pod design is 12 feet long, weighs 1,000 lbs, and should reach speeds upwards of 150 mph. This is done by using an on-board propulsion system unlike most designs, with a motorcycle drive system custom fit to an electric engine. After the coast phase, a three brake system that utilizes the magnetic hover engines eddy current, electric motor resistance, and friction brakes will initiate. The outer shell is comprised of carbon fiber molding for optimal aerodynamic performance.
Bloop | University of California, Berkeley
The Berkeley Hyperloop pod is designed to meet industry standards of safety and transport real people comfortably at high speeds. A fully pressurized cabin keeps passengers breathing while in the vacuum of the Hyperloop, and a passive magnetic levitation system allows for a smooth ride even with a 550lb payload. Contactless magnetic braking systems ensure that the bLoop pod can come to a stop in the event of an emergency, giving passengers the confidence to travel like never before.
CARNEGIE MELLON HYPERLOOP | Carnegie Mellon
Imagine travelling from New York to Pittsburgh in just 30 minutes! This is the vision of Carnegie Mellon Hyperloop. We are an interdisciplinary team of engineers, designers and business hustlers who have come together to create the future of high-speed mass transportation. The goal is to disrupt the transportation industry. Get ready to experience the smoothest ride ever on our unique pod with the state-of-the-art levitation, bi-module stability system, and a robust magnetic braking system. Fasten your seatbelts!! The journey begins soon.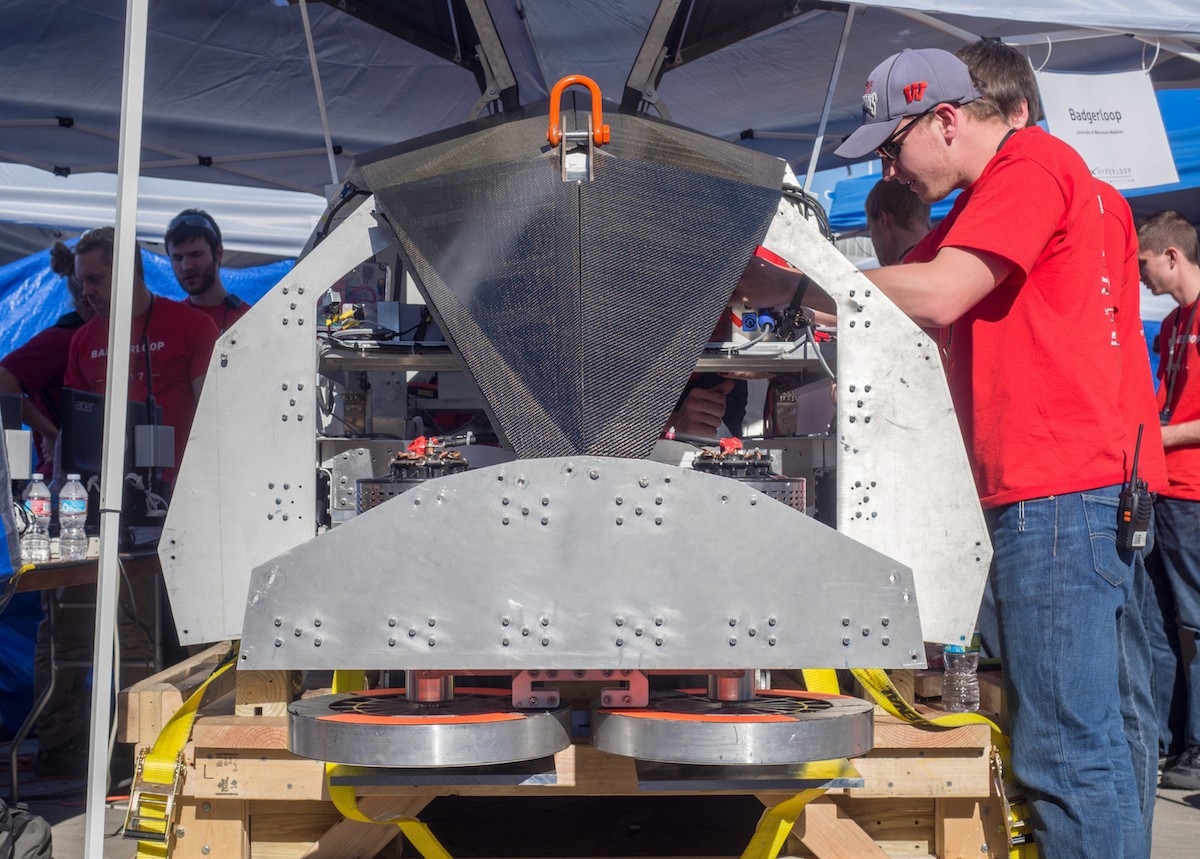 DELFT HYPERLOOP | Delft University of Technology
The Delft Hyperloop vehicle is the embodiment of our vision of fast, efficient and cost-effective transportation. It has a uniquely integrated levitation, stabilization and braking system based on permanent magnets. This results in a vehicle that weighs 149 kg [329 lbs] and uses as little power as a light bulb. The redundant batter and fail-safe braking system make it safe and reliable, all tested on two one-of-a-kind test set-ups. Now the time has come for you to witness our vision on the future of transportation. Join us in this journey, in revolutionizing transportation at the speed of sound.
GATORLOOP | University of Florida
Founded at the University of Florida, the Gatorloop team consists of undergraduate and graduate level engineering students (and one business student!) focusing on different branches of the industry. This diversity solidifies our team because with a project as involved as the Hyperloop, there's always going to be an opportunity to utilize a member's skillset. Even though we are engineering students with different academic objectives, we all have one goal in common: to create the most functional, effective and revolutionary Hyperloop pod system.
HYPERLOOP AT VIRGINIA TECH | Virginia Tech
Hyperloop at Virginia Tech was founded in September 2015 after the announcement of the SpaceX Hyperloop Pod Competition. Comprised solely of undergraduate students from multiple engineering disciplines, the team dedicates countless hours of work to bring the concept of Hyperloop to fruition. With a 4th place finish at Design Weekend in January 2016, the team continues to make groundbreaking developments and strives to embody Virginia Tech's commitment to Invent the Future through a hands- on, minds-on approach. Considering the innovators behind its creation, the Vhyper will certainly be a force to be reckoned with.
HYPERLOOP AT USC | University of Southern California
Hyperloop at USC, the University of Southern California's Hyperloop design team, has one primary goal: speed. We are combining the electric vehicle industry's highest performance propulsion and power products with a unique wheeled vehicle architecture that maximizes our Pod's acceleration, top speed, and braking capability. We plan to use Competition I to qualify our Pod's state machine, navigation mechanisms, controls systems, and pneumatics systems for use in high speed test runs scheduled for Competition II, where full speed tests will qualify our propulsion system for full speed and win the fastest transit time category.
HYPERLOOP UC | University of Cincinnati

Hyperloop has sparked a technological revolution since its inception. Hyperloop UC is proud to be a part of that revolution. What started off as a small group of students has transformed into a 60 member strong team. Hyperloop UC has been on the forefront of this great adventure. Our team was the first to demonstrate magnetic levitation for the Hyperloop. Hyperloop UC features a scalable design with a pod that does not compromise on performance. A light-weight structure, magnetic levitation and low- pressure operation helps achieve high speeds. WE ENGINEER BETTER is not just our motto but our creed.
HYPERLIFT | St. Johns High School
HyperLift is an independent entity from St. John School in Houston, Texas. We are the youngest and smallest team made up of six high school students striving to build the fastest, safest and most efficient prototype pod. Throughout our design process, we have focused on modularity, material efficiency, and scalability, which are key to full-scale feasibility. We are using air bearings to levitate our pod and a dual stage (magnetic and contact) braking system with integrated redundancy to ensure safety. We each bring unique skillsets and believe that together we can leave a positive impact on our future.
TEAM HYPERLYNX | University of Colorado Denver
Team Hyperlynx began as a Senior Design project for mechanical engineering students. The Juniors are now carrying the torch. The current team is composed of volunteers who balance full time class schedules and full time jobs when not working on the Hyperloop pod. As a team, they represent the diversity of the University of Colorado Denver by being comprised of not only mechanical, electrical, and non-engineering students, but also of men and women, multiple races and religions, and young and old; all while embodying the Denver culture of being relaxed, friendly lovers of the outdoors and good craft beer.
HYPERXITE | University of California, Irvine
HyperXite is a dedicated team of more than forty undergraduate engineering students from the University of California, Irvine working to design and manufacture a prototype Hyperloop pod. We received a Design Excellence award and placed 5th for overall concept quality at Design Weekend, making us the only top five team to implement an air-based levitation system. With the help of our industry sponsors, we have been able to push the boundaries of air-levitation technology and gain a glimpse into the future of high speed, mass transportation. More information can be found at HyperXite.com or on social media @UCI_HyperXite.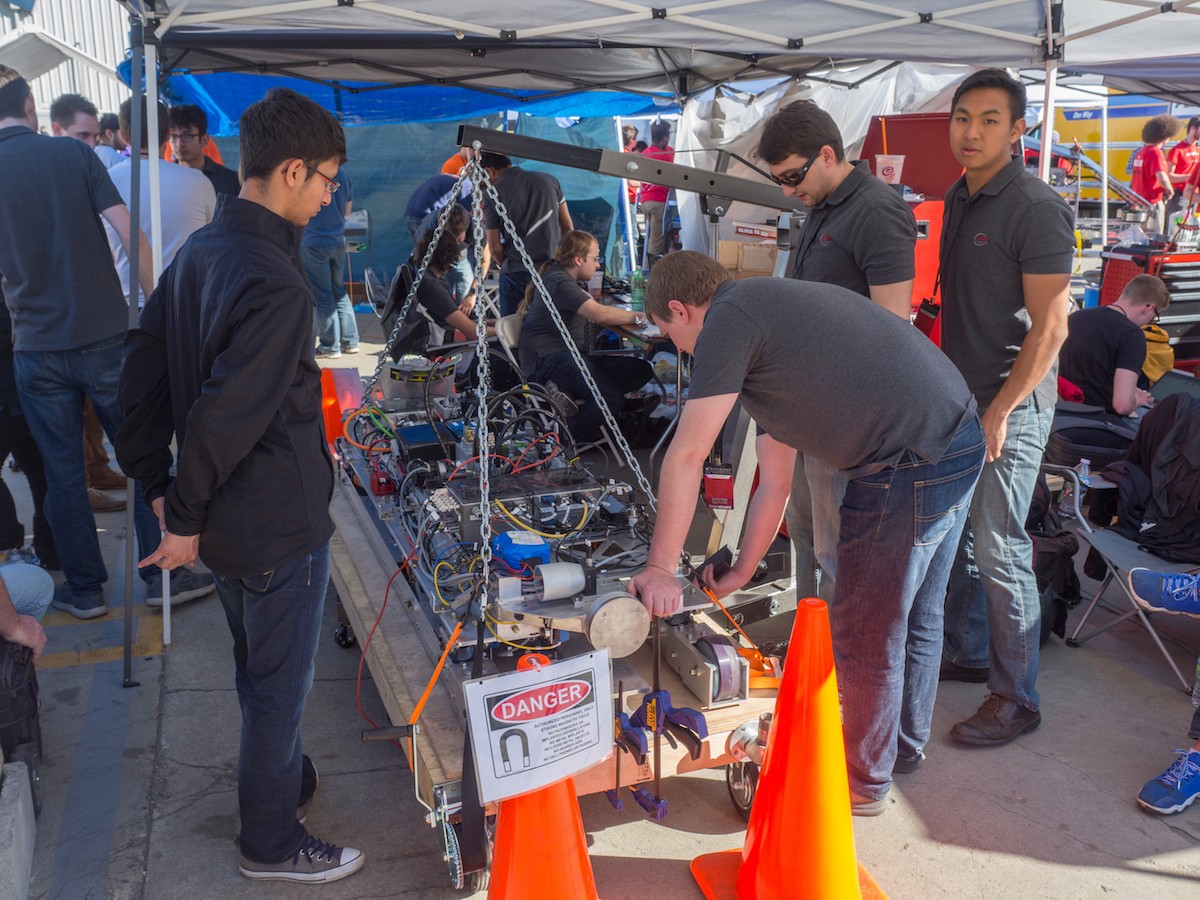 ILLINI HYPERLOOP | University of Illinois at Urbana Champaign
Illini Hyperloop is a group of undergraduate students at the University of Illinois at Urbana-Champaign who are participating in the SpaceX Hyperloop Pod Competition. We are comprised of a Senior Design Team and a Registered Student Organization. The Senior Design Team is a group of seniors that have chosen the Hyperloop concept as their Senior Design Project, and the Registered Student Organization is a student-run club, open to the entire student body and any area of study. Together we make a strong team, representative of the countless brilliant scholars at the University of Illinois.
KEIO ALPHA | Keio University
Keio Alpha is formed by a group graduate students in Keio University, Japan. The team is the only one that built a micro-pod, which is the minimum viable prototype of a Hyperloop pod. The pod is the size of a travel luggage bag and is designed to be easy to transport, modify and replace for continuous research and development. The pod has the unique features of an active magnetic levitation system, compact rotary magnetic brake-levitation system and responsive graphic user interface. The pod is designed based on a systems engineering approach to verify and validate the design and manufacturing of our pod.
LEHIGH HYPERLOOP | Lehigh University
Lehigh's Hyperloop team is filled with some of the most passionate, hard-working, and determined undergraduate students on Lehigh's Campus. The team consists of students from the College of Engineering and Applied Sciences, the College of Business and Economics, and the College of Arts and Sciences at Lehigh. Working together, the team has progressed extraordinarily over the last year, beginning with a design and tirelessly working to bring it to life. The team could not be more thankful for the opportunity SpaceX has given them to work on a truly revolutionary piece of technology.
MIT HYPERLOOP | Massachusetts Institute of Technology
Our team has focused on designing and building a safe, scalable, and feasible pod for this competition. We focused on subsystems that could scale up to a full Hyperloop with minimal changes. For instance, we use efficient magnetic levitation using permanent magnets, and designed a fail-safe braking system that can be used as an emergency braking system on a full-scale Hyperloop. We have learned a lot, and hope that we have contributed in a meaningful way to making the Hyperloop a reality.
Kian van der Enden explains the prototype his team shipped from the Netherlands to California for the SpaceX Hyperloop pod competition. Video/Jay Yocis
NYU HYPERLOOP | New York University
The NYU Hyperloop team is focused on the potential for Hyperloop systems to revolutionize freight transportation. We believe Hyperloop systems would be highly effective integrated within intermodal freight transportation networks. By optimizing for freight transportation, initial Hyperloop concepts reduce barriers to entry while creating impactful solutions to the needs for clean, efficient transportation systems. The flat-bed configuration for the pod maximizes capacity and modularity for different container types. A wheel supported design gives us a simple platform to begin our development of Hyperloop pod systems. Our team's goal is to produce scalable concepts for the future of Hyperloop freight transportation.
OPENLOOP | Northeastern, Memorial University, Princeton, Cornell, Harvey Mudd College, and the University of Michigan
OpenLoop is a six school alliance dedicated to making the Hyperloop concept a reality. Our team includes students from Northeastern, Memorial University, Princeton, Cornell, Harvey Mudd College, and the University of Michigan with interests ranging from engineering to finance. The OpenLoop pod utilizes a pneumatic based levitation system similar to the Hyperloop Alpha design. The pod is designed to reach speeds of up to 200 mph and has an embedded control system that utilizes real time telemetry to adjust its flight profile. We aim to prove the viability of air based levitation for use in commercial scale Hyperloop systems.
PURDUE HYPERLOOP DESIGN TEAM | Purdue University
The Purdue Hyperloop Design Team is an enthusiastic and innovative group of over 30 undergraduate and graduate students from seven different majors and six nationalities. For the SpaceX Hyperloop Pod Competition I, the Purdue team designed and built a pod with a carbon fiber structure, passive magnetic levitation, and magnetic brakes. The pod's design reflects a focus on creating a simple, functional, and safe system that can be extensible to a larger, faster setting. Whereas traditional Boilermakers fashioned the steam engines of times past, Purdue's team hopes to push modern transportation one brick higher.
rLOOP
rLoop is a globally distributed, open source, crowdsourced, multi-disciplinary team. Our origins can be traced to a post on the SpaceX subreddit suggesting the community organize a team for the Hyperloop Competition. Since then, more than 400 people from over 15 countries have rallied behind this collaborative design concept. rLoop is a united collective devoted to a morally praiseworthy goal. Our open source nature inspires some informality. We're not a stuffy team of old engineers - we're the crowd organization of the future, and we like to have fun while living the dream of creating that better world.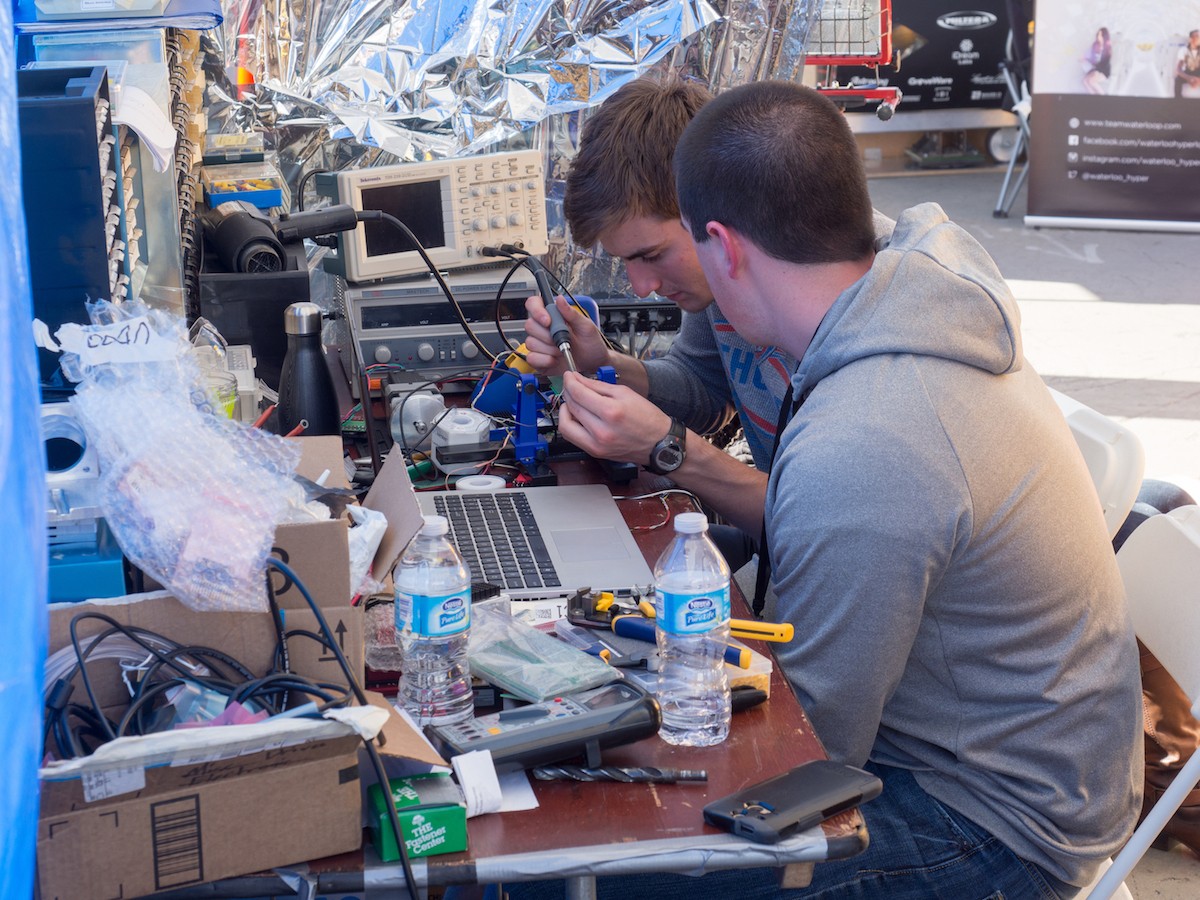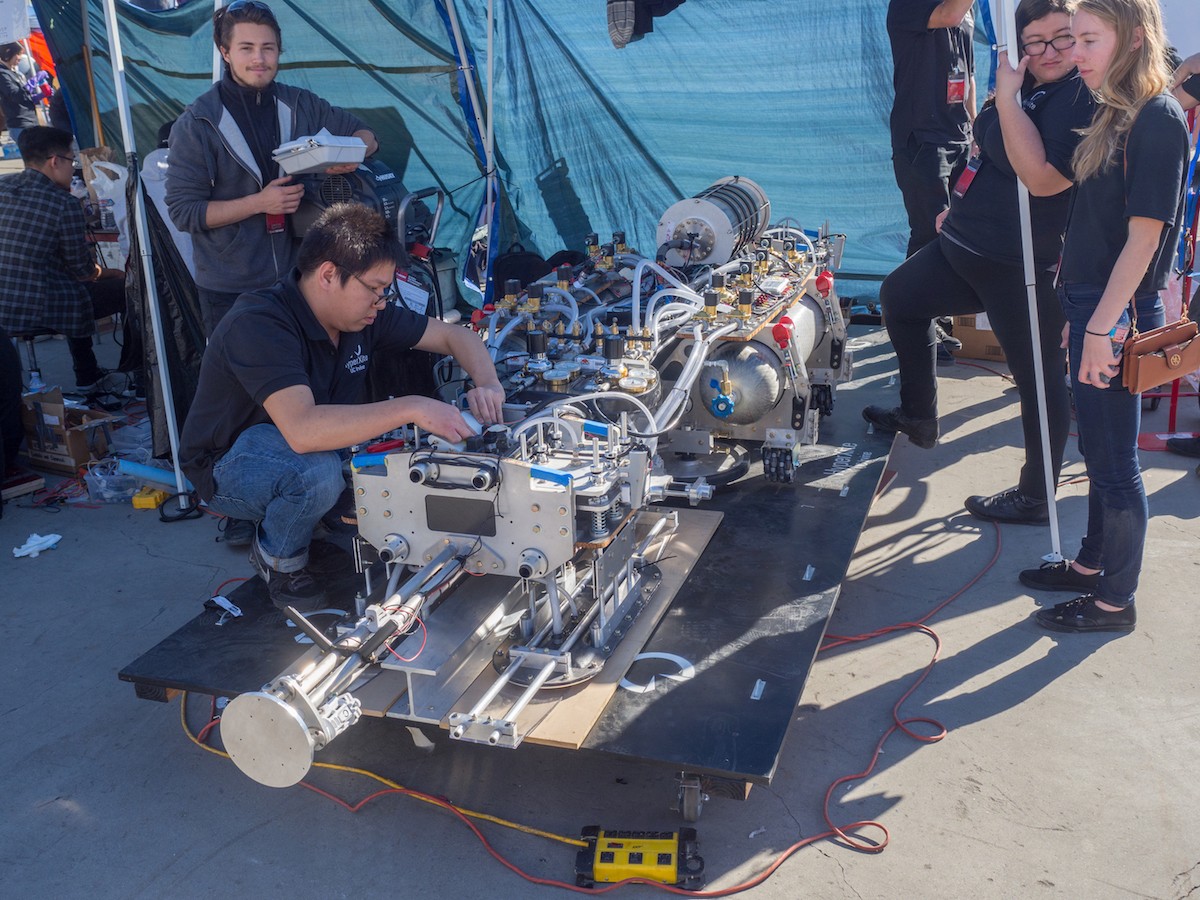 TAMU HYPERLOOP | Texas A&M University
The TAMU Hyperloop pod is characterized by its light weight and simplistic approach. A novel air bearing design with on board compressed air tanks provides levitation heights in the order of millimeters. A double wishbone suspension will aid in mitigating vibrations. Braking will be achieved via hydraulic actuation. Fail safe mechanisms have been introduced into every subsystem.
TEAM CODEX | Oral Roberts University
Team Codex originally began as a senior project in 2015 with 7 members from Oral Roberts University. They made news as the only team from Oklahoma to pass through Design Weekend. Since then, Team Codex has grown to have 31 members. After the seniors who began the project in 2015 graduated, the project was handed over to a new set of students, with the original members still consulting. These new students have been highly motivated and have worked many thousands of hours to make the pod ready to go by the competition date.
UMDLOOP | University of Maryland
UMDLoop is a highly motivated group of 70 students with backgrounds in engineering, physics, computer science, and business. Across six sub-teams, UMDLoop has worked relentlessly to design, test, and build Prometheus, their Hyperloop pod. Prometheus features a magnetic-levitation suspension system coupled with passive control to keep itself centered on the I-beam track. In addition, the "chainmail" braking system with an alternating array of Neodymium magnets is used to stop Prometheus safely and effectively. Prometheus was assembled almost entirely in-house at the University of Maryland where all electronic and pneumatic components were vacuum tested, and roughly 40% of Prometheus was fabricated.
UWASHINGTON HYPERLOOP | University of Washington
The University of Washington Hyperloop team is comprised of nearly 40 diverse members, each with unique skill sets, and backgrounds. Each of our members are united by a common ambition to improve our current prototype, and usher in a new era of high-speed, rapid transportation. Representing the Pacific Northwest (PNW), we are prepared to take our award winning concept to the next level as we race against the best teams. #SafetyFirst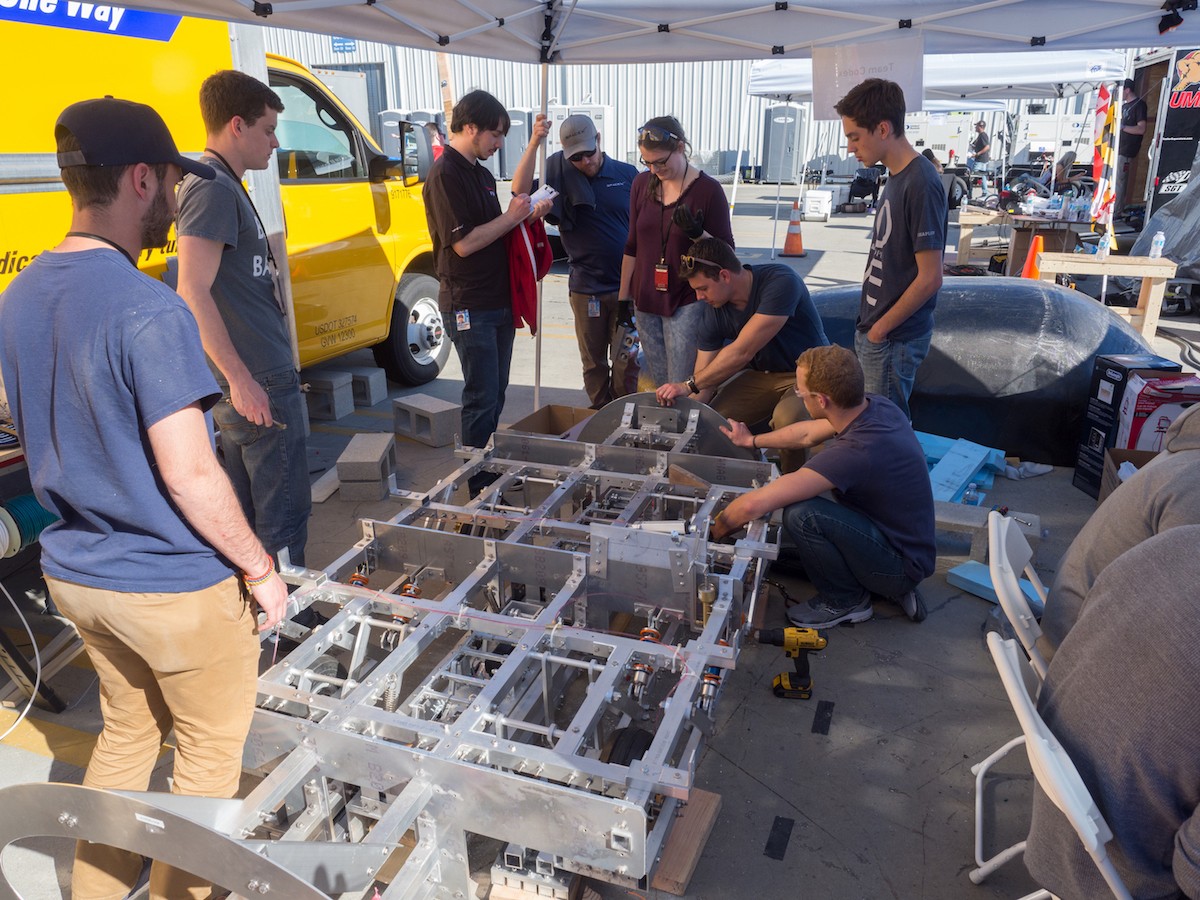 VICHYPER | RMIT Australia
VicHyper is an interdisciplinary team of students powered by RMIT University in Australia that are striving to advance Hyperloop technology. The VicHyper prototype will be showcasing their fault tolerant braking and autonomous control systems which provide a high level of safety within the tube.
WARR HYPERLOOP | Technical University of Munich
WARR Hyperloop is a 35 people multi-disciplinary and international team from the Technical University of Munich. Their Pod levitates using permanent magnets and is safely decelerated by the use of Eddy Current and Friction Brakes. As one of the few teams in the competition that uses a compressor, the team keeps close to Elon Musk's original concept. Their drag reduction system draws and compresses the air from the front and passes it to the rear of the pod. WARR Hyperloop's goal is to win the competition by building a safe, realistic and scalable version of the Hyperloop for future operation.
WATERLOOP | University of Waterloo
Waterloop is a team of ambitious students from all faculties of the University of Waterloo who have been researching and developing a half-scale prototype Hyperloop pod since September 2015 to compete in the SpaceX Hyperloop Pod Competition. The team is based in Waterloo, Ontario, Canada's largest high-tech innovation hub, and is the only Canadian pod team invited to Competition I. We are very proud to be developing improved transit infrastructure which can bring people together, link economies, and reduce traffic, energy use, and emissions through the demonstration of a functional Hyperloop prototype.