Latest Magazine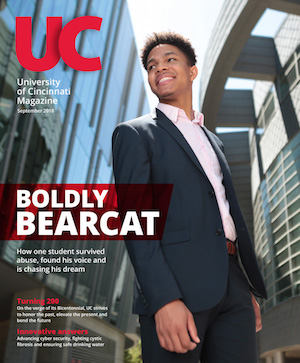 September 2018
Boldly Bearcat
Finding his voice
Danger in the tap
Virtual defense
Global game changer
Celebrating UC's Bicentennial
Browse our archive of UC Magazine past issues.
What We Do

Our staff of professionals serves as communications consultants, promoting the university and serving as a liaison between the news media and the university community. We are the officially designated office for the university to communicate to the public at large through the mass media.
Media Contacts

Public Records Policy

A team of University of Cincinnati students was on the ground in Hawthorne, California, as they took on the world's brightest engineers in a high-stakes competition to reinvent transportation.

On Sunday, Jan. 29, 2017, Hyperloop — a tube-based passenger concept that involves rocketing pods of people between cities at the speed of sound — took a major step forward when teams from as far away as Japan and the Netherlands shared their concepts with the world. Three teams even sent their prototype pods barreling through a mile-long test track.
Students are contributing toward a novel technology that would allow travel and shipping at roughly 200 mph faster than commercial airliners, an advance that effectively would allow passengers to live 400 miles from work and still commute in under 40 minutes. Think Cincinnati to New York in under an hour. The travel pod could achieve such high speeds because it floats in a vacuum inside the tube.

UC Magazine has been along for the ride as 30 students from Hyperloop UC travelled to SpaceX, the corporation headed by billionaire inventor Elon Musk, who dreamed up the open source pod contest that drew more than 1,200 entries. Just 30 teams (one dropped out) advanced beyond the design weekend in Texas a year ago and were invited to build, and now test, their pods during competition weekend Jan. 27-29.

In the final test, qualifying pods were loaded into the mile-long 6-foot diameter de-pressurized steel Hypertube, then fired forward by a "pusher" as teams waited to see if their design held up under stress and stopped before the end of the track.

Follow our coverage as we share a behind-the-scenes look at UC's team, their creation and the culmination of an adventure that started 18 months ago when a single UC student was inspired by Musk's notion to improve transportation.
About the project
Funded by the College of Engineering and Applied Science, our team will be embedded with Hyperloop UC during their trip to Hawthorne, California, as they take part in Competition Weekend at SpaceX. Our goal is to share daily udates during the trip but also to explore the human elements of this incredible experience and the impact it has on the minds of students who may well carry this technology forward.

Additional credits
This coverage of Hyperloop UC extends well beyond the crew gathering and sharing content on the ground. An entire team from Governmental Relations and University Communications has contributed to this work including designers, web experts, editors and more. Special thanks to Kerry Overstake, Lisa Ventre, Kathy Warden, MB Reilly, Jeremy Martin, Ben Stockwell, Andrew Higley, Alex Lytle, Rebecca Sylvester and Barb Blum.
Media requests
Media interested in covering Hyperloop UC's journey can email john.bach@uc.edu for access to team members, images and video.