Latest Magazine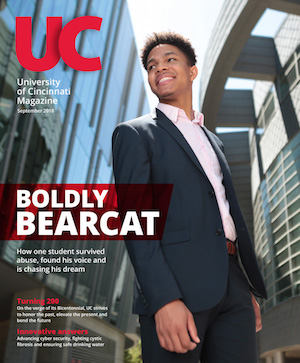 September 2018
Boldly Bearcat
Finding his voice
Danger in the tap
Virtual defense
Global game changer
Celebrating UC's Bicentennial
Browse our archive of UC Magazine past issues.
What We Do

Our staff of professionals serves as communications consultants, promoting the university and serving as a liaison between the news media and the university community. We are the officially designated office for the university to communicate to the public at large through the mass media.
Media Contacts

Public Records Policy

Crosstown Shootout game watch for LA UC alumni
by John Bach
Photos by Jay Yocis
Jan. 27, 2017
Combine the excitement of a big win for the Bearcats over Xavier in the Crosstown Shootout with a special appearance by the Hyperloop UC team, and UC grads from Southern California enjoyed a special night during the UC Alumni Association's gathering at Rush Street in Culver City last night.