Philip Solomon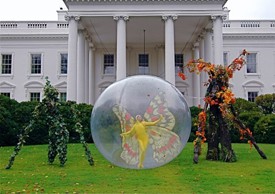 Last Halloween, Philip Solomon, CCM '93, spent the day in front of the White House directing two adults dressed as butterflies on how to roll across the lawn from inside giant crystalline balls. He also worked with a pair of stilt-walking actors whose costumes made them look precisely like animated trees -- all part of the First Family's 2011 Halloween extravaganza.
It was an unusual gig, even for a drama alumnus who has professionally juggled machetes, breathed fire, flown from trapezes and performed stunts in major motion pictures. On March 31, he added another high note to his career when he accepted the 2010 Julia Winter Cohen Career Excellence Award from the College-Conservatory of Music's drama program.
During a master class earlier that day, he shared his unusual story with current drama students, explaining how he had once been a rebellious teenager hanging out on the streets of Atlanta. "I ended up on academic probation when I first got here," he said, "but by the end of the year, I was on the dean's list and had a scholarship. I found direction and purpose through the performing arts."
After graduation, he toured and recorded with a national punk rock band before moving to Los Angeles, where he founded Way 2 Much Entertainment, a performance and production company that specializes in custom theatrical creations. He is also an international trainer for Cirque du Soleil's social action division, Cirque du Monde, which gives direction to underprivileged children.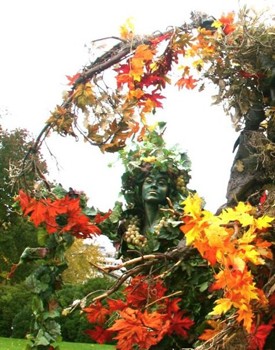 Last fall, Way 2 Much helped produce the entertainment for the Obamas' Halloween party for local youth and military families. "We were proud to be asked to be there and to meet the president and first lady," he said.
To cap off the evening, Solomon sipped champagne with actor Johnny Depp and director Tim Burton in the presidential dining room, which was decorated to look like an "Alice in Wonderland" tea party. "I'm not saying that this is how we normally roll these days," he noted, "but it is how it rolled this Halloween."
In reality, Solomon has never rolled in a traditional pattern. In the early '90s, between classes, he frequently walked a tightrope strung between two trees in Burnet Woods. To make the scenario even odder, he did so while holding a script. His goal was not to develop circus skills, but to practice difficult lines for dramatic performances.
It was all about finding "balance, rhythm and energy," three vital components to stage movement, he explained to the students. To demonstrate, he pulled a heavy-gauge rope out of his duffle bag, followed by juggling clubs, a rolo bolo (a board placed on a rolling cylinder) and peacock feathers, which he taught students to balance on their noses. (See the video on this page.)
"The path is not always straight," he told the students. "Openness to being a multidisciplinary artist is really important."
"We're not in the acting business," he added. "We're in the energy-exchange business. What we do on stage needs to resonate, radiate out. It has to connect. It's all about human interaction." Even if you're a human who looks like a tree.
LINKS
Video
Watch a video of Phil Solomon's master class at CCM.