UC alumnus Phil Solomon entertains at "Pirates of the Caribbean" world premiere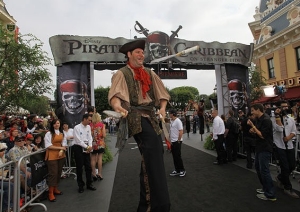 Several times a year, Phil Solomon, CCM '93, strolls the red carpet with celebrities at movie premieres. On May 6, 2011, the special Disneyland event for "Pirates of the Caribbean: On Stranger Tides" was no exception. What makes Solomon's appearance at these events different is that he often saunters down the carpet on 3-foot stilts, juggling knives and dressed as a character from the movie — in this instance, as the Dread Pirate Felipé.

Solomon is a stunt performer, producer, director and owner/ founder of Way 2 Much Entertainment in Los Angeles. He returned for his third "Pirates" premiere in a command performance. It seems that while most people camp out at premieres looking for actors like Johnny Depp and Penélope Cruz, some people also come asking for Solomon's alter ego.
For this event, thousands of people attended, many having paid $1,000 for a seat, which benefited the Boys and Girls Clubs of America. Solomon says the public started arriving at 2 a.m. so they could nab a prime viewing spot in bleachers lining Main Street to watch the parade of performers. Late-comers were relegated to standing-room-only areas.

Solomon interacted with VIPs and entertained audiences from about 5 to 9 p.m., when the movie started at a temporary outdoor amphitheater on a screen measuring six stories tall and nine stories wide. Many in the audience wore Mickey Mouse pirate-ear hats.

"It's become quite a spectacle," Solomon says. "The first year, they were trying out the idea of having a Main Street parade to see how it would work for a premiere. Last year, they opened it to the public.

"'Pirates' premieres are lots of fun," he adds. "Disney is normally kind of constrained about events, but here you're a pirate, so they just tell you, "Go for it. Have fun.' You can't use vulgarity or grab anyone, but that's about the only restriction."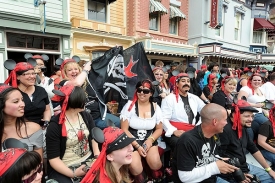 Besides juggling knives 10 feet in the air in the close vicinity of more than a hundred people, Solomon also climbed the bleachers in his stilts (see video below) and entertained the crowd by joking about celebrities. The first year he did a premiere, he told the crowd that pirates knew nothing about celebrities, so it gave him an excuse to misidentify everyone — stars and guests alike.

"If a guy walked by and looked bald-headed and buff, we called him Vin Diesel. James Cameron came by, and we started chanting, 'Spielberg. Spielberg.'
"Kenny G was across the way, when someone from the audience told me to call him Pauly Shore. So 150 people, all at the same time, yelled, 'Hey, Pauly Shore.' Kenny G turned around and said, 'Oh, man, come on!'"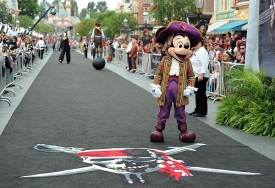 At one timen, Solomon was interacting with Jon Voight who was with his family. Voight good-naturedly interacted in return, and Solomon even juggled knives around him. And at the end, Solomon told to the crowd: "Ladies and gentlemen, give it up for Mr. Jack Nicholson."

Some celebrities do not appreciate the joke, and Voight was one of them. "But it was hilarious," Solomon says.

A few months later, Solomon was juggling hubcaps, dressed as a mechanic, in front of El Capitan Theatre for the "Cars" premiere. He heard a deep voice behind him say, "Last time I saw you, you were a little taller." He turned around to see Voight.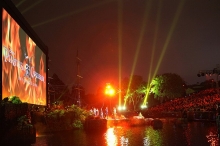 Watch Solomon maneuver bleachers on 3-foot stilts