UC alumni talk about life as rising Hollywood stars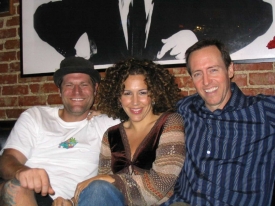 Since Justin Smith was a toddler, he has wished broken legs on total strangers -- not in the literal sense, of course, but in the theatrical one. Yelling "break a leg" has been his automatic response anytime someone waves at him. After all, that's what the 5-year-old grew up saying whenever his actress mother, Diana Maria Riva, a UC alumna, headed out the door.
Los Angeles youngsters with parents who work in front of cameras simply look at life a little differently than the rest of the world. And life is different for the families of drama alumni from the University of Cincinnati College-Conservatory of Music.
Take 7-year-old Henry Solomon, for instance. When he started school, his alumnus dad, Philip, had to sit the little guy down and explain why he shouldn't act so surprised when his friends talked about their parents' occupation. Other parents don't "juggle fire while walking on a wire," he explained, trying to suppress a laugh. "After being with all my friends in the circus community, he thought every dad could do aerial work on a trapeze and breathe flame balls," recalls Philip, who works with Cirque Du Soleil. "That's what all adults do in his world. So he's kind of adjusting to that now."
Riva sums it up nicely, "We're cool parents."
Welcome to Hollywood's world of rising stars -- a place where actors laugh at the fact they're better known for their Imodium AD commercials than their movie credits. It's a life of constant auditions and frequent rejections. But it's also a life where actors get married, buy houses and try to raise kids in a normal lifestyle even though paychecks and schedules are highly unpredictable.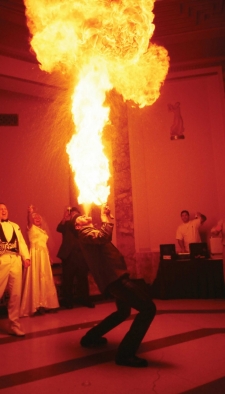 Overall, it's a relatively new niche for CCM alumni. Unlike musical theater students, who have long maintained a Broadway presence through networking and producing senior showcases for agents, drama students only began showcasing their works in L.A. within the last four years. Drama graduates from the early '90s "just did it on their own -- the hard way," says CCM's drama director Richard Hess, MFA (CCM) '93.
Hess is particularly proud of a trio whose joint studies at CCM overlapped more than 10 years ago: Solomon, CCM '93; Riva, CCM '91, MFA (CCM) '95; and Cooper Thornton, MFA (CCM) '92." The path these three have made is just glorious," Hess says.
Their paths, however, are somewhat different, as the three of them explained to "UC Magazine" in a joint interview in L.A.
At press time in the spring, Thornton could be seen on the silver screen in two motion pictures, "Fracture" with Sir Anthony Hopkins and "Zodiac" with Jake Gyllenhaal, as well as in the series "House, M.D." He has also made a nice income from commercials, including a rather famous 20-second Imodium AD spot, in which he spent nine hours improvising -- and wrinkling -- in a hot tub.
Riva, on the other hand, "can't book a commercial to save my life," to which Thornton smiles politely and says, "You're doing fine, sweetheart." Not only has she appeared on more than 60 TV shows, including recurring roles on "West Wing" and "Studio 60 on Sunset Strip," she expects her big break to come from a starring role she has in a new Lifetime Network series "Side Order of Life," premiering July 15.
Solomon's career path diverges the most, as illustrated by his performances on giant stilts on both the Jerry Lewis Telethon and a national IHOP commercial. Although he will appear in Jackie Chan's "Rush Hour 3" in August, his skills at juggling machetes, breathing fire, walking on a high wire and flying from a trapeze -- many of those things done simultaneously -- have earned him a reputation as "a professional freak," he sometimes jokes. Hess describes him as "an American shaman, renaissance man, creative artist, force of life."
Labels aside, Solomon is a musician, composer, actor and producer of live theatrical shows for corporations such as Disney, Warner Brothers and McDonald's. He is also Cirque Du Soleil's coordinator, coach and trainer for its social outreach program, Cirque Du Monde, which teaches circus skills to at-risk youth, helping them build self-esteem, confidence and social skills.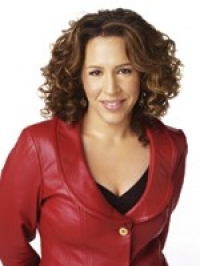 Thornton says Solomon is the "hardest-working guy" in the business. Solomon returns the compliment, "I really admire what these two are doing. I look at them and see what a strong sense of self they have. I hope to be doing some of the same things they're doing in the future."
Concern for the future comes from him acknowledging a "burnout factor" exists. "I give myself ample downtime," he says, "because at some point, I'm not going to be able to jump on stilts and walk a wire anymore. My body is going to say, 'Phil, you're done, baby.'"
But for now, all parties are content. "It's my dream job," Riva states, "because, No. 1, I'm doing exactly what I love to do, and No. 2, I'm doing well enough that I can provide for my family. It's afforded me the luxury of letting my husband, Mike, be Mr. Mom for our two children (Justin, 5, and Sophia, 2). He loves it."
Thornton agrees, "I feel like the luckiest person in the world. I'm working really hard, and it's paying off. Sometimes it surprises me that I'm making it. I feel so blessed." Solomon puts their success into perspective by pointing out, "We're not on the A-list or headlining our own shows. It's a steady progression toward that, and we get a taste of that. For me, it's not necessarily about being the superstar and having my name in lights. It's a blessing just to be able to work at what I love."
"Even when it's awful, it's never boring," Thornton adds. "I get to be different people all the time. It is still very challenging, but I also get to play. I love it."
All three UC alumni say one of the most attractive aspects of their Hollywood profession is having schedules flexible enough to allow them extended periods of time with their families. In April, Philiip Solomon, his wife, Pascha, and their son, Henry, spent time introducing the couple's 4-month-old twin daughters to his 98-year-old grandmother on the East Coast.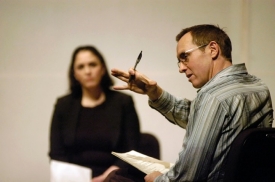 "It's so important to me to be a part of the process of my kids growing up. I don't know how people who work 9 to 5 handle it. It baffles me."
Diana Maria Riva reminds him that those same 9-5 folks wonder, "How do you live not knowing if you're going to get an income?" It's not easy, they state.
Cooper Thornton admits that in the early "very lean" years of his career, he sometimes daydreamed of a 9-5 job with benefits, but he also says, "I'm not the kind of person to clock in and clock out."
"Freedom has a price," Solomon says, "and that price is security. It can be a precarious existence for sure."
Solomon remembers when he and his wife were planning a family, and his Screen Actors Guild paychecks, which do not constitute the bulk of his work, were $380 shy of the minimum level needed for benefits. Fortunately, IHOP started re-airing his commercial, and the resulting income pushed him over the line.
"I really didn't expect dealing with instability to be so hard," Solomon confesses. "You're constantly thinking about it. You have to be tenacious."
"You're always looking for the next job," Thornton says. "And you're always on call no matter what you have planned. I nearly missed my son's birth for a job filming three months in Africa, but I turned it down. I'm comfortable saying no to people now." Everyone can launch into stories about production companies forgetting to give them schedules and expecting them to cancel vacations or giving them one hour to be in another town. The actors have learned to set limits.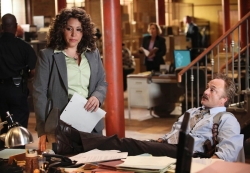 Deciding where to draw the line became clearer when they became parents. "I'm a mother first," Riva says. To which Solomon adds, "There's great power in saying 'no.'" What none of them have grown comfortable with are arrogant and rude attitudes. "My pet peeve is people who are blatantly inconsiderate," Solomon says. "So many people feel they have a sense of entitlement here. They act as if they own the town.
"We deal with people who have a lot of anxiety and tension, but many of them feel their human rights are more important than another person's. I'm not a receptacle for that. My approach is, 'Look, we're going to deal as professionals here. We are going to handle this ethically and decently.'"
Thornton says nasty attitudes are particularly prevalent in auditions. Other actors vying for the same roles get right up in their faces to throw off their concentration, hoping they'll botch their performances.
"Even in the waiting room before you go in, people try to sabotage you," he says. "That was a lesson for me to learn. CCM had taught us to be respectful."
"It's unbelievable what you'll see in that audition room," Riva concurs. But it goes beyond the attitudes to a complete lack of discipline, as well, she says.
"I've had directors tell me, 'Thank God, you just came in and did the piece.' People come into auditions and want to talk about their dog or try out their standup routine. At CCM, it was all about demeanor, about this being a business transaction. CCM disciplined us to compete."
Competition, of course, can be cruel. Her most painful incident was losing the role of the older sister in "Ugly Betty" last year.
"I was the only one in contention for the role," she says. "I was the only one going to test. Then all of a sudden, they called to say that the part had to be drop-dead beautiful, so I was out. To be told that you are right for the part artistically, but you're not pretty enough, there's nothing that gets under my skin more."
Fortunately, CCM did train her for those kinds of blows, too. "CCM helped me develop some seriously thick skin," she says. "They tried to shred us apart and build us back up," Solomon says bluntly. "I've got third-degree burns from Aubrey Berg (the musical theater chairman).
"But they gave us confidence. You need self-confidence out here, or you're going to get blown around in these winds. You're going to get uprooted."
The trio's willingness to put up with constant rejection, rudeness and uncertainty may indicate they have indeed landed dream jobs, but a more obvious sign may be the fact that they unanimously agree they would keep working even if they didn't need the money.
Riva is the one who posed the question: "If you won the lottery -- which is now at $10-15 million -- would you still do this?" "I wouldn't change a thing," Thornton immediately replied.
Then he started getting excited over ways he could help out struggling actors who are still in those lean years. "I would give money away to a lot of the friends who are really struggling out there," Thornton offered. "I'd say, 'Go take those acting classes that you've wanted but couldn't take because you work so much. Here's a hundred thousand."
Solomon said he would use the money to start his own acting company. And the ever-idealistic Thornton added that they wouldn't even be worried about filling the house. "It wouldn't matter," he said.
Playing with the philanthropic possibilities that wealth would give them, the two men turned the question back on Riva. Would she keep working if she won the jackpot? "You betcha!" she exclaimed without a blink.
---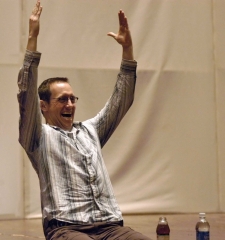 TV, film, performance history of three alumni
COOPER THORNTON, MFA (CCM) '92
Film: In the spring of '07, Thornton appeared in two movies -- "Fracture" with Sir Anthony Hopkins and David Strathairn (playing the public defender) and "Zodiac" with Robert Downey Jr. and Jake Gyllenhaal. Previous film credits include "Flightplan" with Jodie Foster ('05), "The House of Sand and Fog" with Ben Kingsley ('03).
TV: Thornton had recently shot episodes on "House, M.D." "The Office" and "Curb Your Enthusiasm," plus a commercial spot for TurboTax. Previous TV appearances include guest spots on "Hannah Montana," "Arrested Development," "The Bernie Mac Show," "The Practice," "Scrubs," "Judging Amy" and "CSI."
Impressive credentials: He has lived and worked on five continents. At age 11, he placed first in a statewide orchestral competition on the snare drum. By 12, he won several Junior Olympic swimming events. At 15, he made his professional acting debut in Nashville. After earning his undergraduate degree, he took 100 days to travel solo around the globe. After graduating from CCM, he was a President's Scholar at the Royal Welsh College of Music and Drama.
LINK: TV channels, airtimes for Cooper reruns, complete filmography
---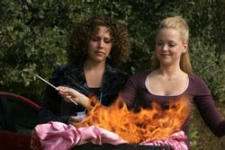 DIANA MARIA RIVA, CCM '91, MFA (CCM) '95
TV: Riva has a starring role in the comedic drama series "Side Order of Life," premiering on Lifetime Television on July 15, '07, at 8 p.m. She plays Vivy Porter, the brash, outspoken best friend of the primary character. The series comes from the Academy Award-winning producers of "American Beauty," the writer of HBO's Emmy-winning "Warm Springs" and the director of "Ally McBeal."
"It is a project that has me so excited on an artistic level," she said before they went into production in May. "It's the most challenging role I've ever dived into. I can't wait."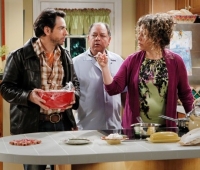 Last fall, she had a recurring role in "Studio 60 on Sunset Strip" with Matthew Perry. Prior to that, she had recurring roles and guest appearances on "The West Wing" (playing Jimmy Smits' deputy campaign manager), "Everybody Loves Raymond," "CSI," "The Drew Carey Show," "NYPD Blue," "The X-Files," "Reba," "Sabrina The Teenage Witch" and "Murder One," among her credits on more than 60 shows in all.
Film: She appeared in "What Women Want" with Mel Gibson.
LINKS:
Read how Diana's dream job wasn't the one she thought she was getting.
Current list of Riva's TV credits.
Current list of Riva's movie credits.
Riva talks about working on "The Good Guys."

---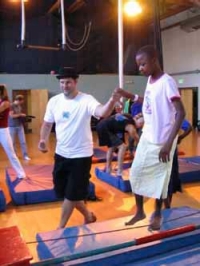 Film: In August '07, Solomon appears in Jackie Chan's "Rush Hour 3." Previously, he appeared in "Austin Powers 2" and "Being John Malcovich."
Video: In the spring, Solomon was featured in a music video by the Grammy Award-winning band OK Go.
TV: He has appeared on the "Late Show with David Letterman," the American Music Awards, the 2002 Super Bowl, the 1996 Summer Olympics and in national commercials for IHOP, Taco Bell, Tropicana and Radio Shack.
Live productions: In the spring, his company Way 2 Much Entertainment had been busy producing shows in Atlantic City, Las Vegas, Honolulu and New York City. Last fall, he traveled to New York to appear in the musical "Journey to the West" by Richard Oberacker, CCM '93.
Little-known former life: Solomon was the drummer for Anti-Heros, a popular punk rock band that toured internationally and recorded five CDs in the '80s and '90s.
Cirque du Soleil: In August, he will be traveling to South Africa for Cirque du Soleil to train people to become Cirque du Monde trainers for the company's social outreach program.