Green initiatives taking root at UC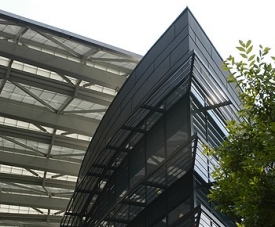 UC has implemented a plan to reduce its energy usage for the next six years. Since 2004, the university has reduced energy consumption by 13 percent in the academic buildings on campus, saving more than $10 million. Future conservation is expected as older buildings are made more efficient and changes are implemented within campus utility plants.
The U.S. Green Building Council rates UC's Steger Student Life Center, the Campus Recreation Center, the Richard Lindner Varsity Village and Van Wormer Hall as Leadership in Energy and Environmental Design (LEED) buildings. UC has committed that all new construction and, whenever possible, renovations, be LEED-certified projects.
Pledging to take leadership on eliminating greenhouse gases, UC President Nancy Zimpher was the first in Ohio to sign the American College & University Presidents' Climate Commitment in 2007.
UC hosted Pitch In, a campus-wide recycling challenge among several of its largest colleges.
Student Government sponsored a "think green" recycling initiative in fall '08.
The university eliminated food trays from its dining centers in 2008 to save on wasted food and massive amounts of water and chemicals used in cleaning the trays. University Dining Services dishes out more than 600,000 meals a year.
Researchers at the Sustainable Urban Engineering Center at UC are studying how urban infrastructure and environmental policies affect the long-term health and wealth of cities.
Preserving sacred spaced at UC
List of UC's signature architects
Link: