A-list architects place UC in good company
Some of the world's top designers have left their mark on UC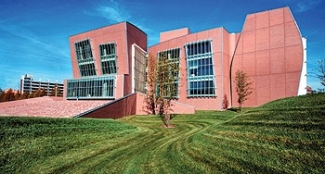 Perhaps nothing has attracted more attention to the University of Cincinnati's campus renewal than its impressive collection of modern architecture by internationally known designers. Over the years, many of the world's top "signature" architects have added the University of Cincinnati to their portfolio. Below is a list of their UC accomplishments along with some other well-known projects from their careers.
Vontz Center for Molecular Studies -- Frank Gehry is best-known for his titanium-covered Guggenheim Museum in Bilbao, Spain.
Vera Clement Edwards Center -- David Childs also designed the Freedom Tower under construction at the new World Trade Center complex.
Engineering Research Center -- Michael Graves, DAAP '58, HonDoc '82, designed Disney's Hotel New York in Paris and is a household name for his home and office decor line sold at Target.
Aronoff Center for Design and Art -- Peter Eisenman designed the University of Phoenix Stadium (last year's Super Bowl venue), complete with a retractable roof and roll-in grass playing surface.
College Conservatory of Music -- Henry Cobb designed the John Hancock Tower, Boston's tallest building and Place Ville-Marie, one of Montreal's most distinctive skyscrapers.
Tangeman University Center -- Charles Gwathmey's firm, Gwathmey Siegel, overhauled Frank Lloyd Wright's original Guggenheim Museum in New York.
Steger Student Life Center -- Buzz Yudell's firm, Moore Ruble Yudell, designed the U.S. Embassy in Berlin.
Master Plan concept, open space and landscape architecture -- George Hargreaves and Mary Margaret Jones also designed Olympic Plaza in Sydney, Australia.
Central Utility Plant -- Chuck Redmond's firm, Cambridge Seven, designed the expansion of the Boston Children's Museum.
University Pavilion -- Andrea Leers and Jane Weinzapfel are recognized for their architecture at both Harvard and MIT.
Campus Recreation Center -- Thom Mayne, best known for his Caltrans District 7 building in Los Angeles, was awarded the 2005 Pritzker Prize, considered to be architecture's Nobel.
Richard Lindner Center -- Bernard Tschumi designed the New Acropolis Museum under construction in Athens, Greece.
Center for Academic and Research Excellence (CARE)/Crawley Building -- Erik Sueberkrop, DAAP '72, is principal at Studios Architecture, a firm that's designed for MTV Headquarters and the Pentagon.
Related articles:
Green initiatives at UC
Preserving sacred spaces at UC