Fred Ziv was an entertainment industry giant
"In the beginning was the word."
For hundreds of broadcast students who attended UC's College-Conservatory of Music, that phrase will stir vivid memories of professor Fred Ziv's seminars. He vocalized his favorite saying at least once in every class, referring to the importance of the written word -- that is, the script -- to compelling radio, TV and film.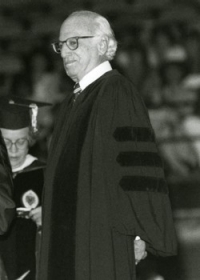 "He was clear that a good show needed good writing," recalls Jef Gamblee, CCM '74. "He'd stress the fundamentals of storytelling. He wanted us to benefit from what he knew."
And Ziv knew plenty about good shows and storytelling. The small white-haired professor with the horn-rimmed glasses spent two decades teaching at UC, but his classroom credentials came from an astounding career as a Hollywood producer in which he created such classic television programs as "The Fugitive," "Highway Patrol," "Sea Hunt," "Bat Masterson" and the "Cisco Kid."
As a producer, Ziv created an impressive body of work that includes more than 80 programs. But in the industry, he is most often credited as the "father of syndicated television" for his success in creating and selling programming to stations around the country. At the height of his success, Ziv was the world's largest independent producer and syndicator of radio and television programs.
Fred grew up in Cincinnati and returned to take a job in his hometown with an advertising agency after earning a law degree from the University of Michigan. In 1930, he started his own agency in town, and rather than pursuing print advertising, he went after radio, a medium with far less competition.
In the mid-1930s, Ziv developed a radio slogan, "The Freshest Thing in Town," to promote Rubel's Bakery. As part of the campaign, Ziv developed a 15-minute, five-day-a-week radio show based on the cartoon character "Freshie." The show was so successful it got the attention of regional bakeries, and soon Ziv began peddling "Freshie" to bread companies across the country. Voila. Syndication was born.
Over the next decade the Frederic Ziv Co. parlayed a simple slogan for selling rye bread into an industry giant that brought radio listeners such programs as "Boston Blackie," "Bold Venture" (starring Humphrey Bogart and Lauren Bacall) and Ronald Coleman's "Favorite Story." By the late '40s, Ziv's success in radio gave him a head start in TV, and by the '50s, his company was the nation's largest privately owned TV film firm with nearly 2,000 employees.
In addition to his keen business sense, Ziv also had a knack for recognizing young talent -- bringing along such stars as Clint Eastwood, Mary Tyler Moore, Steve McQueen, James Garner and Robert Redford.
Ziv eventually sold his company for a reported $20 million to United Artists in 1960. A lifelong Cincinnatian, he began teaching at CCM in 1968. The 96-year-old died in 2001. Each year, CCM's electronic media division hands out the Frederic Ziv Award for outstanding achievement in telecommunications.
A few Ziv zingers
Fred Ziv was notorious for reminding his students that good television stemmed from good writing. Here, in a March 1974 interview with the university's magazine, Ziv expounded on some of his ideas about the industry:
On the importance of writing:
"Television has a voracious appetite for the written word. Television could use a hundred Shakespeares right now. The question is: Where are the capable writers to produce the material?
"Producers work with the best writers they can find. But you still hear the writer asking the producer the classic question: 'Do you want it good or do you want it Thursday?' "Unfortunately, the answer is usually, 'It has to be finished by Thursday. So we can't always have it good.'"
On why he shied away from the spotlight:
"For all my working days, there was always a star, a program or some facet of the operation that could use the publicity. I suppose I got in the habit of steering reporters away from me. And old habits are hard to break."
On temperamental actors:
"It's been my experience that stars don't become temperamental because they're stars. They become stars because they're temperamental. They don't develop egos because they're stars. They become stars because they have egos."
On the lack of good programming:
"I would like to see more mental stimulation on television, more programming for the betterment of mankind. But unfortunately, most of those programs don't come up with high ratings. That's why we get so much escapist entertainment. Look at shows like 'Truth or Consequences,' 'Let's Make a Deal' or 'To Tell the Truth.' They can hardly be accused of being over-stimulating to one's intellect."