Bearcats in bowties
How a tie brought together the Cincinnati community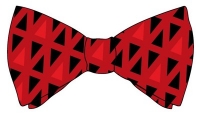 The bowtie is accustomed to being tied, but at the University of Cincinnati, it did some tying of its own. It connected the Cincinnati community to a worthy cause -- UC students.
Former Cincinnati Bengals linebacker Dhani Jones, chef Jean-Robert de Cavel and Cincinnati Mayor John Cranley were among a number of Cincinnati celebrities brought together last fall for UC students.
UC President Santa Ono personally invited the Cincinnati icons to a bow-tie-themed luncheon, which featured bow-tie-inspired cuisine, a barbershop quartet, a silent auction and more. The UC Bearcat even made an appearance, sporting a crisp bowtie and suit. Ono's goal for the event: to create more need-based scholarships for UC students.
"These scholarships bridge the gap between resources students have available and the cost of a college education -- and are especially helpful when considering the additional expenses students encounter beyond tuition, such as books, technology, transportation and living expenses," Ono told the more than 200 people at the Bowties for Scholarships event.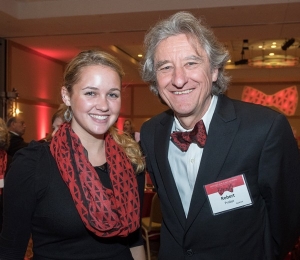 "By increasing scholarship awards, we are rewarding our students' efforts to make a better life for themselves and motivating them to continue giving their all because someone was compelled to invest in their dreams."
UC's scholarship distribution is currently 75 percent merit-based and only 25 percent need-based. At UC, the total unmet need is about $250 million annually. The average American student graduates with a loan debt of more than $29,000.
The design contest
About six months before the luncheon, Ono, who frequently wears a bowtie, hosted a contest that challenged UC students to design their best UC-inspired bowtie or scarf. Nearly 100 students submitted designs, but few were surprised when the winner came from UC's College of Design, Architecture, Art, and Planning (DAAP).
"My design was inspired by the exterior of the Richard E. Lindner Athletics Center, an architectural staple of UC's campus," DAAP student Olivia Hiles said about her winning submission, which features red and black triangles mirroring the windows of the building.
"I've received great support in my life, and I'm just happy to be able to pay it forward through my design."
Hiles' design was professionally produced and given to everyone who attended the luncheon, and the remainders were sold to benefit and raise awareness for student scholarships. For her efforts, Hiles received $500 to the UC Bookstore as well as a bowtie and scarf of her own.
"Olivia's simple, yet elegant design captivated our judges, and I am pleased that it will be enjoyed by the UC community," Ono said.
Why the bowtie?
What made Ono and event organizers opt for the bowtie when considering a symbol for the campaign?
The bowtie has enjoyed a resurgence in popularity in recent years, said Tanya O'Rourke, WCPO news anchor and UC alumna, who emceed the event. "Now more than ever, people from all walks of life are making a statement by rejecting the traditional necktie in favor of a more distinctive, elegant look," said O'Rourke.UC students need and deserve our support, Ono said. Tying the scholarships campaign to the bowtie symbol became a way to raise more awareness about the students' need.
"The bowtie is a powerful symbol because bowties are the catalyst for conversation. They call to attention important issues that need our support," said Dhani Jones, former Bengal and founder of BowTie Cause, a philanthropic organization that raises awareness and funds for specific causes around the nation.
UC partnered with BowTie Cause to produce the UC bowtie and raise money for the need-based scholarships.
"Throughout my career in higher education, I have come to realize that college students -- despite the way they are perceived in most facets of popular culture -- are some of the hardest working men and women in society," Ono said.

"They simply want a chance to show what they're made of -- a chance to demonstrate that they can overcome almost any challenge that stands in their way."

As of February 2015, the Bowties for Scholarships Fund totaled more than $52,000 for student scholarships.

Visit uc.edu/bowties to support the cause.
Famous faces show support
When University of Cincinnati President Santa Ono asked Cincinnatians to lend their support for the Bowties for Scholarships campaign, they jumped at the opportunity.
Cincinnati Mayor
John Cranley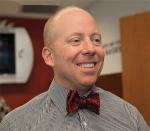 University of Cincinnati
men's basketball coach
Mick Cronin

Cincinnati Reds CEO
Bob Castellini

photos/Lisa Ventre

University of Cincinnati
president Santa Ono