From boardroom to classroom
UC Foundation board on the move to better understand today's students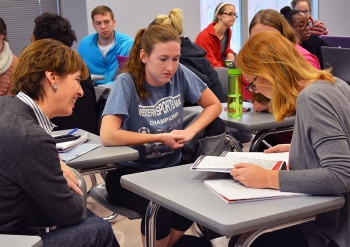 It's not every day that you see 10 University of Cincinnati Foundation board members and the UC Foundation president standing around waiting for a campus shuttle.
As a part of orientation for new board members -- who oversee philanthropic activities of the university -- the shuttle was scheduled to take them to the heart of UC's main campus. The board members were headed back to class alongside UC students to better understand the curriculum and experience of today's college student.
Rae Mang, one of the board's newest members and a 1989 graduate of UC's Winkle College of Pharmacy, said she looked forward to the role reversal. As an adjunct professor at the Massachusetts College of Pharmacy and Health Sciences, she is well-versed in the role of the teacher and was ready to be the student once again.
"I'm interested in seeing what the classrooms at UC are like today to get a better idea of what students here experience day in and day out," Mang said.
As the bus rounded the drive, the board members made their way inside and found their seats. The trip to class provided an opportunity for them to check out recent growth and development both on and off campus, and many remarked about the incredible transformation that had taken place.
"It's come a long way," Mang said as she peered out the window toward Sigma Sigma Commons, a large green space once occupied by a massive parking lot.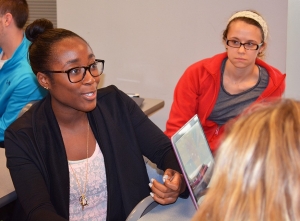 When Mang graduated from UC in '89, university leaders were in the beginning stages of developing the UC Master Plan, which would lay the groundwork for a campus transformation that would lead Forbes Magazine to name UC as one of the "world's most beautiful campuses" in 2010.
The scenery, however, was not all that had changed since the board members had last been in a UC classroom -- the technology had changed a bit, too.
"I didn't even have email when I was in college," said Joffre Moine, a 1996 graduate from UC's Lindner College of Business.
Nearly every student had a laptop in each of the six classrooms trustees visited -- a reminder that today's student exists in an incredibly fast-paced world where multitasking is crucial to success.
"From a board member perspective, the experience confirmed that we need to continue investing in technology," Moine continued.
UC Foundation Board Chairman Robert Fealy agreed. Over the next year, the board will look to expand its digital horizons and will begin using a Web portal to conduct business. "It is my hope that we can find innovative new uses for technology to further the mission of the foundation and university," he said.
The board members wrapped up their immersive experience with a ride back to the office in an Uber taxi, a ridesharing service popular among students.
"As students evolve with technology, the board must, too," Fealy said.
Phil Collins, Bus '88, received the 2014 Chairman's Award from the UC Foundation in October for his central role in redeveloping the model by which the university funds its advancement work.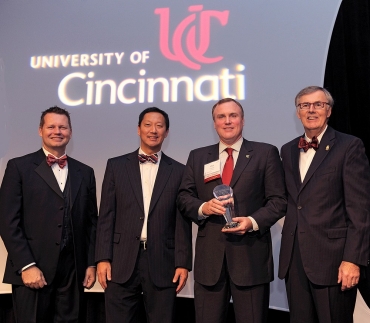 A member of UC's Investment Committee as well as the UC Foundation Board of Trustees, Collins provides oversight and counsel regarding UC's $1.1 billion endowment. He led a group of volunteers and staff that created new ways to increase and stabilize support for the UC Foundation and UC Alumni Association while minimizing the impact of market fluctuations on the operating budget.
"In the university environment, it's difficult to find resources to make long-term investments when there are so many important priorities and limited resources," Collins said in accepting the award. "I'm in the investment business, so I know a good investment when I see one. If I can invest a dollar and turn it into two or three, that's a good investment. In the fundraising business, it's widely understood that a dollar invested in advancement activity yields five to 10 dollars in return. That's a home-run investment."
Beyond this work, Collins and his wife, Lela, Ed '90, provide scholarship support for deserving students in his college's Lindner Honors-PLUS program. They also have contributed to key priorities in UC Athletics such as the Sheakley Athletics Center and Nippert Stadium Expansion Project.
"Phil provides an extraordinary level of knowledge, intensity and passion for UC, and his contributions impact the very core of the university's work," said UC Foundation Board Chair Robert Fealy, Bus '73.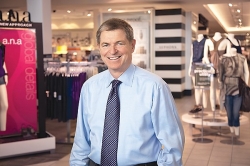 National recognition for UC business grad

Two recent national leadership awards have added to an already outstanding career for Myron "Mike" Ullman III, UC alumnus and CEO of J.C. Penney.
Ullman, Bus '69, HonDoc '06, received the Woodrow Wilson Award for Corporate Citizenship in September followed by the John W. Gardner Legacy of Leadership Award in November.