Barecat
One grad's naked ambition keeps turning heads as he furthers his internationally known brand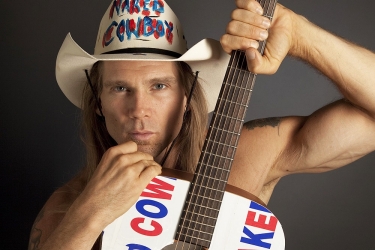 Venice Beach, 1998. Robert Burck, A&S '95, was fresh from Cincinnati, looking for stardom. He had just posed for another Playgirl magazine shoot. He didn't know the first thing about making it in show business, but his dreams were big — and his confidence was high.
"I was just a schmuck," Burck says. "But in my mind I was already an actor, model and country singer." After the photo shoot, when he put his clothes back on, he would walk 100 yards down the boardwalk hoping to rub elbows with celebrities and start playing his guitar.
"I was ignored all day. Then a photographer who was watching said, 'Just wear the hat and underwear. You're naked all day anyway. Be a 'naked cowboy.'"
Hence, a legend was born.
Ever since that fateful decision to disrobe, Burck has made a living singing and playing guitar in his skivvies as the infamous Naked Cowboy — most days smack in the center of New York's Times Square — come rain, shine, sleet or snow. Even when Hurricane Sandy ravaged the city in 2012, the cowboy strummed through the storm.
And these days, Burck has every reason to keep playing. With a net worth estimated around $4 million, the Naked Cowboy brand now includes a franchise of Naked Cowboys and Cowgirls who perform around the country; Naked Cowboy oysters and oyster sauce; and corporate deals.
Burck is the latest spokesman for Procter & Gamble's Charmin toilet paper and for Fruit of the Loom underwear (which he has always worn during his performances). He has appeared in several music videos, including Nickelback's "Rockstar," and released his own album, "Year of the Cowboy," in 2007. Still, the bulk of his success comes from hitting the streets — drawing crowds, cameras and shocked reactions day after day.
The former UC political science major and Greenhills, Ohio, native is not surprised by his fame. He always believed he'd be "the greatest entertainer of all time." But in the early days, he performed for free, enjoying the attention and not realizing at first the earning potential and star power already within his bare hands.
"I never thought I'd literally earn my fortune one buck at a time," Burck says.
Big picture
"I think it's necessary to say that it all started with Tony Robbins." The self-help guru and motivational speaker? Yes, that's the one.
Burck says that reading Robbins' 1987 book "Unlimited Power" as a teenager completely changed his life.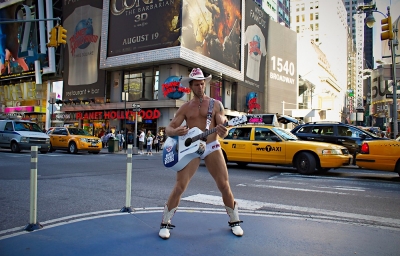 "Prior to reading that book, I was the worst kid on the planet," he says. "We would burn down every dumpster we saw. We threw rocks through people's windows in the middle of the night. Drinking, disorderly conduct, anything you could possibly do at 16 or 17 years old."
Burck was also anorexic and in and out of a psychiatrist's office as a child. "You name it, I did it, always to get attention," he adds. "When I read that book, instead of someone telling me, 'You can't do this. You can't do that,' Robbins said, 'You can do this.' It flipped a switch and completely changed me."
His 16-year career as the Naked Cowboy is built upon his unique ability to take a creative spark, a small idea, and turn it into wild success. "If it wasn't for the constant reiteration of the very big picture, things would probably have never gone so far."
He is, to put it mildly, blindly ambitious and obsessed with reaching his goals. For years, he read a minimum of seven hours a day, looking for inspiration among great authors and thinkers. His diverse reading list included the likes of Christian Amerdy, Eckhart Tolle and Virginia Woolf, in addition to motivational authors like Robbins.
Burck also writes prolifically, both journaling his everyday thoughts and adventures, as well as keeping careful notes on whatever he is currently reading or studying. His voracious reading and writing habits, he says, were formed while a UC student, first at UC Blue Ash (pre-law) then in the McMicken College of Arts and Sciences, where he would read the entire textbook before the first day of class.
"I wasn't a super genius," he explains. "I probably had to work three times harder than the other students, with no distractions, to get good grades. I was just willing to do the work."
Todd Rubenstein, Burck's longtime manager, says the Naked Cowboy is unique in his extreme discipline to simply be known, no matter what.
"Robert had a fairly simple idea that made him stand out and created curiosity," Rubenstein says. "He's sincere and determined, and now he's not only accepted, but revered."
Happy trails
Today, it's true that the Naked Cowboy can expect a warm reception and a big crowd almost everywhere he goes. In September, he returned to Cincinnati to perform for crowds at Oktoberfest — a far cry from the first time Burck brought his act to his hometown, when he was arrested for playing on Fountain Square. Following that arrest and a $68 fine, Burck made the local news for playing in front of the Hustler store.
"It was 40 degrees out, so they thought I was amazing," says Burck. "And I just started naming places: 'I'll do this in New York; I'll do it in LA' — anyplace I'd ever heard of."
But Burck made good on his promises, heading out on several cross-country tours before settling on New York's Times Square, where he found media and attention in abundance. He was featured on MTV and "The Howard Stern Show" immediately. "It was so busy and crazy, and everybody had cameras," he says. The self-made star had found his second home.
Since then, Burck has become an iconic figure in the city. "People run down the street shouting, 'There he is!' They come from every country in the world saying, 'We saw you on TV.' 'We've known you for years.' These people become your family."
His experiences have inspired Burck to reach beyond street performing. He ran for New York City mayor in 2009 and had a brief candidacy for the 2012 presidential race in 2010, representing the Tea Party movement.
In 2013, filmmaker Sofia Khan released a critically acclaimed short documentary "Naked Ambition," which followed Burck through a typical wintry day on Times Square. Add this action to his corporate sponsorships, appearances and oyster business — not to mention last year's marriage to Patricia Cruz, a Naked Cowgirl — and it would seem the pavement-pounding cowboy could finally start his ride off into the sunset.
But Burck would tell you to hold your horses. "You've always got to be moving up," Burck says. "I don't recognize obstacles. Know what you want, then want it as big as it can possibly be. Keep working toward that dream."
Sage advice from a man who has had big success based on a simple mission: making people smile.
"It's been a great adventure. This is all people work for — the appreciation of other human beings and feeling that they're living their life in a way that makes them happy," Burck says. "But on another level, I know I'm just an idiot in my underwear."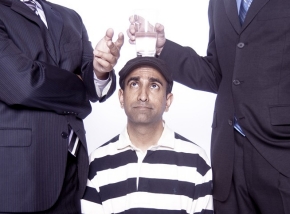 LA comedian and UC grad Rajiv Satyal shares his take on odd phrases we all say.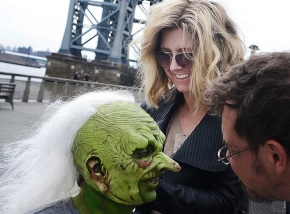 Alumna and Emmy-winning hairstylist for "Saturday Night Live" wants people to laugh at her work.