Locks of laughter
Alumna, Emmy winner Cara Hannah Sullivan makes 'SNL' hair a live event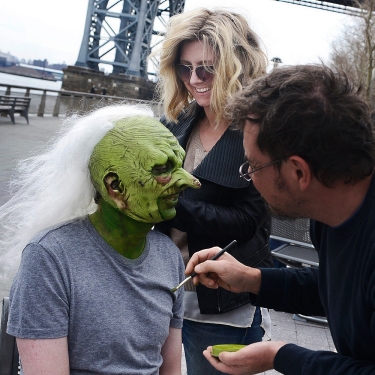 Unlike most hairdressers, Cara Hannah Sullivan actually wants people to laugh at her work.
The alumna has been a hairstylist for "Saturday Night Live" since 2007, making wigs and taming manes for an impressive list of cast members and guests — Betty White, Andy Samberg and Kristen Wiig — to name just a few. But it was an opportunity she almost brushed right past.
Sullivan, Cler '97, M (CCM) '02, was working as a hairstylist for "Phantom of the Opera" on Broadway when she spotted a tiny advertisement in the union newsletter for New York City hairstylists and makeup artists.
"It said a little show that you may have heard of, 'Saturday Night Live,' is looking for a day player to maintain and repair and alter wigs," Sullivan says. "I didn't know anyone at 'SNL,' but the show is the epitome of wig building, designing, everything. I was so scared, but I picked up the phone and called the number."
Bettie Rogers, the show's head hairstylist, answered and told Sullivan to come in with her portfolio. Rogers hired her on the spot, and Sullivan started juggling two days a week at "SNL" with her job at "Phantom." After a brief hiatus during the television writer's strike in '08, Sullivan returned to the show and now finds herself at 30 Rockefeller Center six days a week, splitting time between "SNL" and her latest gig, hairstylist for "Late Night with Seth Meyers."
"I'm in a place I love, working with great people," Sullivan says. "This is my dream job."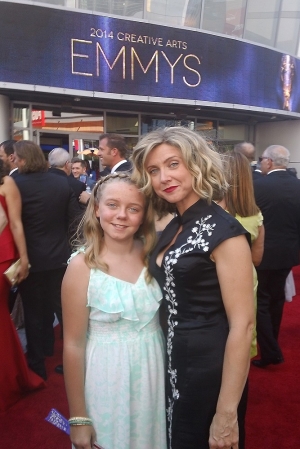 Wigging out
It's a far cry from the Bethel, Ohio, native's early days as a student at UC Clermont, when the future looked uncertain. After deciding against her first two choices — business and education — Sullivan and a group of like-minded creative friends approached now-retired professor Keith Marriott about starting a theater class. "We wrote and performed a play," Sullivan recalls. "I knew at that point that theater and entertainment were what I really wanted to do."
After UC Clermont, Sullivan earned a bachelor's degree from Northern Kentucky University before pursuing her master's at CCM, where she found her true calling within the theater world: making wigs for productions. "CCM really encouraged me to let loose, sink my teeth into theater and develop my skills as a wigmaker."
Following graduation, Sullivan split her time between serving as wigmaster at Cincinnati's Playhouse in the Park and working summers at the Utah Shakespeare Festival, earning her cosmetology license along the way. After several years, her CCM connections brought her to the Big Apple.
"I had already decided I was moving to New York City," Sullivan says. "In the moving van on the way there, I got a job offer." She was asked to work for famed wigmaker Paul Huntley, creating wigs in his studio. "That lasted one week. I learned then that making wigs in NYC is completely different than anywhere else."
Strands of success
Soon, though, Sullivan found her footing on Broadway, maintaining wigs for a variety of shows before landing at the long-running "Phantom." Then came the gig that would put her work on the national stage, week after week.
For Sullivan, who loves comedy and grew up watching "SNL," the job has afforded her some extraordinary experiences. She has won three Emmys the last three years in a row as part of the show's hairstyling team (in the category "Outstanding Hairstyling for A Multi-Camera Series or Special") and was even able to take her 11-year-old daughter, Rachel, along to the 2014 awards. "That was the icing on the cake for me," Sullivan says. "I think she's probably my biggest fan."
Favorite heads
But it's the everyday successes and interactions that Sullivan really savors. While she and the "SNL" hairstyling team have thousands of wigs at their disposal from the show's 40 years on air — each hairpiece is custom made for its cast member — favorites still stand out. Sullivan particularly recalls two wigs made for cast member Kristen Wiig: one for her Madonna Super Bowl impersonation and another when she played a mother in jail on the show's "Manuel Ortiz Show" sketch. And then there's the people — the long list of cast members and guests who Sullivan has been honored to work with, including the likes of Tina Fey and Justin Timberlake — and the one performer who Sullivan says always stands out.
"Betty White will always be the guest I remember forever." She recalls when White hosted the show and got hungry while rehearsing late the night before. When asked what she wanted to eat, "Betty thought for a second, then said, 'I think I'd like to have a hot dog and a vodka on the rocks,'" Sullivan laughs. "She was so friendly and positive. She never complained."
Regardless, Sullivan says success is measured not by who sits in her chair — but who they are when they stand up. "You put that wig on a cast member, and all of a sudden they transform into this new character that they've invented. They'll start talking differently and everything — taking the character to the next level — and you know you've done a good job."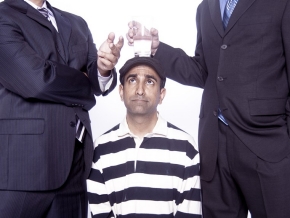 LA comedian and UC grad Rajiv Satyal shares his take on odd phrases we all say.