Letter from Maud Gamble Nippert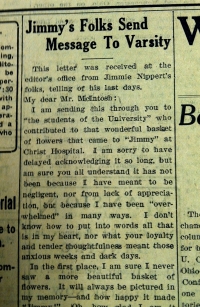 About seven weeks after Jimmy Nippert died, his mother, Maud Gamble Nippert, sent a letter to the University News, UC's student newspaper. The letter offers an unique view into the last "dark days" of Jimmy while in Christ Hospital. It was published on February 16, 1924.

Jimmy's Folks Send Message To Varsity
This letter was received at the editor's office from Jimmie Nippert's folks, telling of his last days.
My dear Mr. McIntosh:
I am sending this through you to "the students of the University" who contributed to that wonderful basket of flowers that came to "Jimmy" at Christ Hospital. I am sorry to have delayed acknowledging it so long, but am sure you all understand it has not been because I have meant to be negligent, nor from lack of appreciation, but because I have been "overwhelmed" in many ways. I don't know how to put into words all that is in my heart, nor what your loyalty and tender thoughtfulness meant those anxious weeks and dark days.
In the first place, I am sure I never saw a more beautiful basket of flowers. It will always be pictured in my memory—and how happy it made "Jimmy!" Oh, how glad I am it came when he could enjoy it, and how he did love it! If you could have seen how happy he was, and heard his words of sincere gratitude, it would not be necessary for me to add another word. The tears came to his eyes and he said: "Oh, how beautiful! I never, never saw anything so lovely! It was surely fine of them to do that. But, mother, mother, how can people be so good to me? Please take it around the hospital and let all the sick people see it; it is so wonderful!" And then how he had me put a few of the roses beside his bed and how tenderly he loved and kissed them, until they were gone! I wanted to let you know then, but the clouds hung so low, and it was such a discouraging fight. But even against the terrible odds I hoped we might win—but we did not.
Now I cannot say more than that I know you all are glad to have helped so beautifully to make his last days happy—for he loved his Alma Mater. Don't forget him too soon! Please be assured of our sincerest gratitude.
Maud G. Nippert, Alfred K. Nippert, and "Gus"