Bearcats land Tommy Tuberville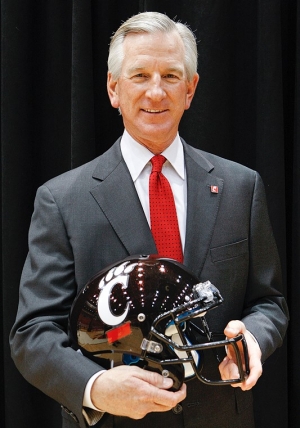 The University of Cincinnati named Tommy Tuberville, widely regarded as one of the top coaches and recruiters in the nation, its 41st head coach of the UC football team in December 2012 -- one day after three-year coach Butch Jones announced he was leaving for Tennessee.

Tuberville, a 17-year head coaching veteran, comes to Cincinnati after three years at Texas Tech, 10 seasons at Auburn and four at Ole Miss.

"Coach Tuberville's record speaks for itself over the past 17 seasons," UC director of athletics Whit Babcock told a few thousand fans who had gathered for the announcement inside UC's Fifth Third Arena. "It also speaks volumes to the visibility and leadership of our university that we were able to attract such an accomplished coach to lead our program."

Coach Tuberville and Babcock worked together at Auburn from 1999 to 2002.
"I was impressed with his leadership style, how he molded young men on and off the field, his recruiting and his family- centered values," said Babcock. "I was also impressed with his knack for winning the big games."
In three seasons in Lubbock, Texas, Tuberville led the Red Raiders to a 20-17 mark and a pair of bowl appearances. In 17 seasons as a head coach, he holds a 130-77 career record.

He coached one of the nation's best offenses in 2012 as the Red Raiders finished the regular season ranked No. 2 in passing offense, No. 7 in passing efficiency and No. 21 in total offense, averaging 37.8 points per game.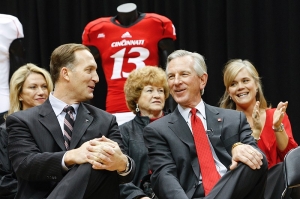 Texas Tech also had one of the nation's most improved defenses in 2012, ranking No. 22 in pass defense and surrendering less than 200 yards passing per game. Tuberville assembled the top two recruiting classes in Texas Tech history that placed the Red Raiders in the national Top 25 in both 2011 and 2012.

In 10 seasons at Auburn (1999-2008), Tuberville led the Tigers to a total of 85 wins, which ranks fourth in school history. He also led them to seven straight bowl appearances, including New Year's Day bowl games in four of those years.

He's best remembered for the 2004 season, when he led Auburn to its best season ever as the Tigers won a school-record 13 games, capturing the SEC championship and the Sugar Bowl title. Tuberville was named the 2004 Associated Press Coach
of the Year.