Struggles give 'earning a degree' extra meaning
by Deborah Rieselman
Every day, as Charles Winburn crossed the University of Cincinnati campus on his way to high school, he made a promise to himself: "Some day I'm going to go here."
The words were not said with the calm reserve of a teen-ager plotting his future, but with the earnest resolve of someone striving for the stars. For a child who had been through 13 or 14 foster homes, it was a mighty dream, not to be easily achieved.
Going to UC was a privilege, said Winburn, Univ '72, CCS '73, MEd '75, current Cincinnati city councilman, at the Living Legends Symposium. Most panelists echoed his sentiments. Regardless of the struggles they faced while they were here, the alumni shared a sense of staunch pride in their alma mater.
While alumni loyalty over receiving an education is typical, these alumni showed a great depth of appreciation, no doubt related to the difficulties they surmounted to get here.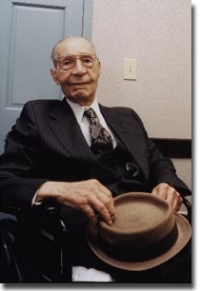 Being born the illegitimate son of a deaf, mute mother in rural Kentucky, for example, left civil rights leader Theodore Berry, A&S '28, Law '31, with no collegiate role models. Yet that didn't stop him. By the time he reached his senior year at Woodward High School, his drive for academic excellence placed him at the top of his class.

Even so, the title of valedictorian was not easily obtained. First, he had to win a speech-writing competition. Which he did. When the administration realized the winner was black, however, they disqualified him and requested new entries, he recalled. Keenly aware of what was happening, Berry wrote under a pseudonym the second time. And won once again.

"I was valedictorian," the 94-year-old Berry says quietly, still beaming at the distinction 66 years later, "the first black student to be so honored as spokesman for the entire class." In fact, the first black student so honored in the entire city.

Unlike Berry and Winburn, who always dreamed of going to college, Moss White never had any intentions of going to college, he admitted. "My mother had third-grade education, and my father died when I was 14," said White, Ed '59, MEd '63.

But when a strike interrupted his employment at a foundry, he grabbed a job in a UC cafeteria. "I was UC's first black soda jerk," he says with a smirk.

Soon he was taking classes. A while later, he decided to work on a degree, with the encouragement of Donald Spencer, a fellow Living Legend who was one of his teachers at UC. ("Moss was an exceptional student," Spencer adds.)

It's a good thing White persevered. Ultimately, he went from stacking clutch plates at a foundry to one day being the principal at Hughes High School, then the director of educational opportunities for Cincinnati Public Schools. "I always knew there had to be a better way," he said.
Related articles:
African American heritage at UC
Entire list of UC's African American Living Legends
Links:
Ted Berry: 1904-2000: A civic giant passes
Extensive biography, tributes and photos.

Theodore M. Berry showed them the way
Today's leaders remember their mentor.
UC Department of Africana Studies