CCM students find dream jobs
Pent-up dreams of launching successful careers after graduation took stage in April '07 when musical theater seniors from UC's College-Conservatory of Music auditioned twice before agents and casting directors in New York City with an original showcase. This year's event was so successful that within a few weeks all the students received at least a couple of calls regarding potential work.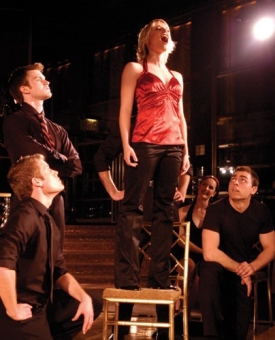 Natalie Bradshaw (pictured in the center) received 22 callbacks and had signed with an agency by early May. The class's first student to grab a gig was Pearce Wegener, who will make his Broadway debut July 9, '07, in the revival of "Gypsy" starring Patti LuPone.
Each year, CCM's musical theater seniors collaborate under the supervision of department chair Aubrey Berg to create an original showcase of their singing, dancing and acting talents. "The showcase provides a valuable start for young performers," Berg says. "During the two New York performances, they are seen by many of the leading agents, casting directors and managers in the business. In a single day, they are seen by more industry professionals than they could meet in a year.
"The record for the most agent call-backs," he adds, "must go to Ashley Brown (CCM '04), currently playing Mary Poppins on Broadway. Within 20 minutes, Disney had called expressing an interest in her for their touring revue On the Record."
This year, alumni from across the country came to town to see a special performance of the showcase at the Rainbow Room, where nearly 300 alumni and friends gathered. The evening was part of a three-day event called Celebrate UC, which paid tribute to the entire university.
Alumni had numerous options to gather, including behind the scenes tours of NBC and Sotheby's. During the filming of "The Today Show," UC president Nancy Zimpher met Al Roker and got to make a few comments on air about CCM's multi-talented seniors.
Representatives from three colleges also presented mini-symposia: DAAP faculty on how design affects the everyday world, A&S researchers on research into diseases and biosensors, and criminal justice professors on national antiterrorism efforts.
In the evening, many opportunities existed to see Broadway shows, including "Mary Poppins" with a dessert and coffee occasion afterward with the cast and crew.