On Campus Yesterday, 1990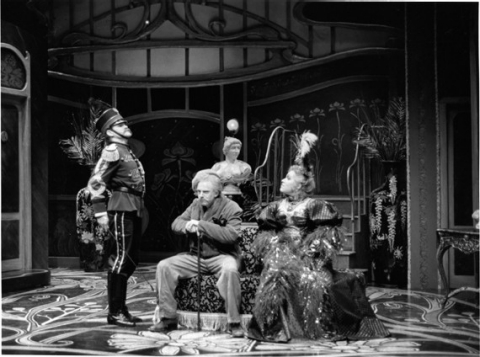 Three UC alumni who regularly appear on TV and in movies still have fond memories of performing together in the French farce, "A Flea in Her Ear," at the College-Conservatory of Music in 1990. Deana Uhlenbrock, now known as Diana Maria Riva, CCM '91, MFA (CCM) '95, played Olympe and says she got the role by "default" when the previous actress dropped out.
Appearing with her in the production were Hollywood colleagues (who are not pictured) Philip Solomon, CCM '93, and Ray Thornton, M (CCM) '92, now called Cooper Thornton. With her in the photo are Raymond Sage (left), MFA (CCM) '89, and David Adams, CCM '93. This UC production is the only one in which Riva, Cooper and Solomon all appeared together. The three of them are featured in the article "Rising Hollywood Stars."
Thornton recalls how beautiful Riva looked in her gown. "At CCM, students do everything," he says, "so Diana was basically wearing someone's doctoral thesis. And she was sitting in someone's set. Every department at CCM was brilliant."
Riva remembers that getting food or drink near one's costume was taboo. Consequently, on her first day of acting in a TV series in Hollywood, she asked the assistant director if she could eat in her costume during a break. "He laughed," she recalls, "but that was the regimen and discipline we came through at CCM."