Letters to the editor
Wilson Auditorium demolished in fall 2013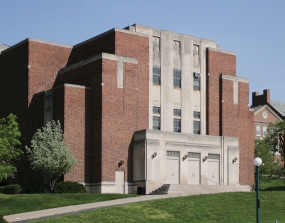 I was so sorry to hear Wilson Hall is gone. I used to paint scenic drops there for plays on the Showboat Majestic when Paul Rutledge [former theater professor] managed it. I got my first art reviews in the Cincinnati Enquirer from that. It was so much fun. I truly enjoyed those days.
Cassandra Domer, DAAP '80
Fishers, Ind.
Glee Club gave a concert in Wilson. I was part of an "a cappella" group, the Raggedy Anns.
Mary Lewis Karol, A&S '74
Mount Sinai, N.Y.
Editor's note: Wilson was demolished last fall. See in-depth coverage, photos, videos and alumni stories.
Sniffing armpits in French Hall
I attended UC in 1964-65 and am planning a visit. I wonder if the dorm I resided in, French Hall, is still a dorm. I would like to see what it looks like.
I remember going to the student cafeteria in the winter and using cafeteria trays to slide down a snowy hill. I also remember that, in the spring of 1965, some people from P&G recruited a few of us to product-test a bar soap.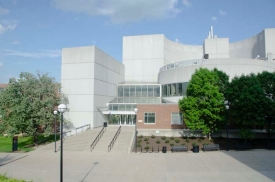 For a couple of weeks, we would wash under our arms with the soap and were told not to use deodorant. On Fridays, some testers came to the dorm and smelled our armpits. The soap turned out to be the prototype for Safeguard.
Coincidentally, in another lifetime, I worked at a New York advertising agency that handled many P&G products, and one of my claims to fame is that I worked on the introduction of Charmin to the New York City market.
Rev. Richard Stower, att. '65
Interim minister, First Parish
Medfield, Mass.
Editor's reply: French Hall was renovated and reopened in 1996 with a new 45,000-square-foot circular structure added to its western side. No longer a dorm, it now houses a variety of academic offices, mostly arts and sciences, but also some business, engineering and social work programs. It is often called French West to distinguish it from French East on the medical campus.
Stop in to visit, and you will see certain exterior walls left visible inside new portions of the building. Don't miss the creative Campus PlayScape for preschoolers located outside the building's north end. The gates are left unlocked.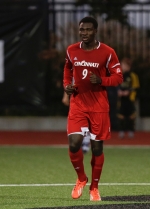 UC's true heroes highlighted in magazine

As I was reading the October UC Magazine, I was really impressed with the variety and scope of the articles. I was especially touched by the article "Hostility to Hope" about John Manga [Bearcat soccer player]. His UC journey is a testament to his courage and faith.
This story should be a lesson to all of us in the U.S.A. about how easy life is for the majority of people here. Most of us will never know the hardships and heartbreaks that John and his family went through. For that, we should collectively be grateful.
I think that John is a man of great character and courage. I wish him, his family and the UC soccer team all the best. The university is a better place with people like John as student athletes.
I also enjoyed the article about Neil Armstrong [former faculty]. Having received my undergraduate degree from Purdue, I can remember clearly the day Armstrong returned to Purdue to make a presentation to President Frederick Hovde – a Purdue flag he had carried inside his spacesuit while on the moon. I was struck by his humility and courage.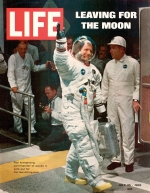 Please continue to write about the true heroes who have attended UC and who make the world a better place.
Bill Bertram, MBA '76
Batavia, Ohio
I want to comment on the great job that John Bach did, writing about John Manga. The article made me realize how fortunate I am that God picked me to care for that boy.
I am so proud of him and am thrilled at how happy he seems to be at UC. Coach Hylton Dayes and his coaching staff have played a huge part in his success up there. And most important, they were true to their word that they would watch over him for me.
Paula Marshall Hollis
Lexington, Ky.
I was 9 years old when the Bearcats won the first of two national championships. Living in Hamilton, Ohio, I was an Ohio State fan, but I was also a big fan of Oscar Robertson [Bus '60, HonDoc '07] during his tenure at UC. I was sad when UC beat OSU in 1961.
However, I began to follow the Bearcats and was thrilled to watch Ron Bonham [Ed '64] shoot the ball. "Bonham from the corner! Good!" I remember Jack Moran's call when watching the Bearcats on Channel 9 TV.
I became a Bearcat fan enjoying Tony Yates [Ed '63], Tom Thacker [Ed '63, M (DAAP) '73], George Wilson [Ed '64], Bonham and the rest as they moved successfully through the old Missouri Valley Conference. It was always a treat to see the best MVC players play against the Bearcats during those years.
I remember seeing Paul Hogue [Ed '62], Wilson, Yates, Thacker, Bonham and other key Bearcat players sitting in the stands at UC Fieldhouse watching the 1962 Hamilton Taft Tigers play Middletown in the Ohio High School Regional Tournament.
When the Bearcats won the NCAA championship in 1962, that sealed my fan following for the 'Cats. I was an official Bearcat follower.
However, I can't begin to explain my sadness during the 1963 NCAA tournament finals when Vic Rouse, Loyola of Chicago, put back in the missed shot over Thacker to beat UC. I still was a UC fan for the rest of the '60s, but I will always remember those early '60s teams and my favorite player Ron Bonham.
The UC Bearcats of that era were a major part of the recollections of my youth. "Bonham from the corner! GOOD!"
Gary Willis, OSU '73
Sun City, Ariz.
Editor's note: See "Top 10 Moments in Bearcats Sports History."
Tribute to lifelong UC friend
John Pitstick and I first met in 1978 on the 10th floor of the now demolished Sander Hall. We became fast friends and eventually roommates. John left after the 1979 fall quarter to pursue a career more apt to his skills and interest of cars, motorcycles and boats.
He got the break of his life when asked to work at a marina in Sarasota, Fla. I stayed in school and in touch, then visited John on a spring break a few years later. I fell in love with Sarasota, and over the next 30-plus years, I visited John more than 20 times.
John's wife, Wendy, embraced my wife, Sheila, like a lifelong friend. We watched their kids grow, and John treated me just like a king. John always picked me up at the airport with a cold beer as he took me to a condo to use on Siesta Key with a family-owned car to use, as well.
"Make yourself at home," he would say. How could anyone ask for more?
After more than three decades of great friendship, we received the call that no one wants to receive. John contracted cancer in 2012. We visited immediately, then again in 2013. He fought the battle courageously, yet lost on Aug. 10, 2013.
I returned on Oct. 12, 2013, from a celebration-of-life service for John. His sister Michelle referred to the "dash" between the years of your birth and death that are listed on a tombstone. "Live the Ôdash' of your life," she said.
I know that John did indeed live his "dash" as a husband, father and friend. I will miss John greatly and hope to treat all my friends like a king, as John did.
Larry Leavitt, Ed '83
West Chester, Ohio
Golden communications
UC took two first-place honors in an international communications competition in June 2014. The Council for Advancement and Support of Education named the video "Santa J. Ono, Bearcat" for the Grand Gold "General/Short Video" and selected the UC Magazine article "Advocating for the Innocent" by editor Deborah Rieselman for a Gold Award in Best Articles of the Year (a story of UC's Ohio Innocence Project freeing 16 wrongfully convicted people from prison).

'Monumental achievement'
Congratulations to all donors, alumni volunteers, faculty and staff who participated in the successful "Proudly Cincinnati" $1 billion campaign during its eight-year duration. Having 100,000 donors give a record-breaking amount is indeed a "monumental achievement."
In 1978, I returned to Cincinnati as the first executive director of the UC Foundation, which had been created following UC's transition from a city university to the state system. I had helped raise funds for the university as volunteer president of UC's New York Alumni Association in 1954-56 and 1975-77.
I was introduced at a university Board of Trustees meeting, followed by the seemingly outlandish announcement that the Foundation would be launching a capital campaign to raise $40.1 million. That goal, eventually reached, was as daunting then as the $1 billion dollar campaign goal seemed when announced in 2005.
Who knows what future campaigns will achieve? Perhaps an early UC Foundation slogan would be a helpful follow-up for first-time donors during continuing campaign cycles: "Give something now, and more later, when you are able!"
Bill Smart, DAAP '52 (Mr. Bearcat 1952)
Fort Lauderdale, Fla.
Letters to the editor policy

Letters to the editor must relate to the university, be signed and include addresses, colleges and years of graduation when applicable. The editor reserves the right to edit letters for length, clarity or factual accuracy and to reject letters of unsuitable content.