Escaping abuse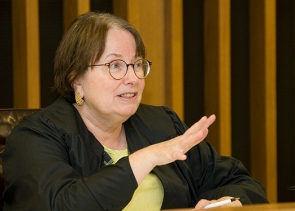 The stakes are high. Often life or death.
Nationally, 75 percent of domestic homicides occur when the victim tries to leave. While such deaths in the U.S. are roughly a quarter of what they were in 1975, domestic homicides in this country continue to claim nearly 1,200 lives a year. Many people from the University of Cincinnati are dedicated to shifting those numbers -- from out of the deceased column and into the survivor column.
UC College of Law professor Margaret Drew is in the shifting business. She is director of UC's Domestic Violence and Civil Protection Order Clinic, a joint effort with the Legal Aid Society of Greater Cincinnati. Through the clinic, third-year law students actually represent Hamilton County domestic violence and sexual assault victims in attaining a civil-protection order. In the three years since it began, the clinic has represented more than 350 clients at no charge, with most cases yielding the legal paperwork designed to shield further abuse.
The clinic, housed at Cincinnati's Legal Aid on Ninth Street, consists of six to eight law students each semester, all of them supervised by Drew and a lawyer from Legal Aid. Each student represents several people from the community who otherwise would not have a lawyer with them through each stage of a civil-protection-order hearing.
"Typically we see clients when they believe that the next incident is going to cause serious harm or kill them, or when they see that this is now spilling over to the children, and they want to remove the violence from the relationship," says Drew, who came to UC from Northeastern University specifically for a chance to run the clinic.
Her students undergo 40 hours of training before they become licensed as legal interns and can take on their first clients, a process that usually begins with one-on-one interviews with the victims. From the very beginning, the students help their clients to develop a safety plan and organize their cases, as well as their thoughts.
"As you can imagine, many are overwhelmed," Drew says. "People who have been traumatized don't necessarily tell their story in an orderly fashion. It is like their personality has been shattered."
One lady, for example, told them that she and her spouse argued a lot. What they discovered was that by "argue" she meant, "she might be yelling, but he is wailing on her," Drew explained.
After the interview, the students go to work gathering evidence by sifting police records, listening to 911 tapes, combing through medical files and interviewing witnesses. Then there are the in-court tasks. Though a supervising attorney is always in the courtroom -- as a "safety net" -- the students are responsible for calling witnesses, direct examinations, cross examinations and introducing documents into evidence, just like any trial lawyer.
"I still get anxious before each trial," admits Drew. "I tell them that if you are not anxious before a trial, there is something wrong. But I give them credit. They may be nervous, but they don't show it. Afterward the student will say, 'I really didn't sleep last night.' But they do a great job in the courtroom."
Carrie Hagan-Gray, JD '05, served as one of Legal Aid's first supervising attorneys at the clinic. She marveled at how the students grew into confident, passionate practicing lawyers through the clinic. And the practical experience, she says, is like none other.
"At first it was a really tough job for Margaret and myself because we were literally doing all the interviews and all the cases," she says. "But as the students became more comfortable, we just turned the reins over. It is awesome to see them grow. It is awesome to see them think on their feet and not be afraid to deal with opposing counsel."
Hagan-Gray says what's also striking about the protection-order work is the variety of clients who walk through the door. "It doesn't matter what color you are, what class you are, if you work, if you don't work," she says.
"You might have somebody come in one day who has three degrees and no children, then you might have somebody the next day who comes in with six kids and no education. Domestic violence does not discriminate."
Drew says there are cases every semester that seem to cut at students. "Some cases are just very hard to hear," she explains. "Depending on the life experiences of the student or the number of cases they've heard that week, this could just be the one that they can't hear."
At some point, it can all become overwhelming. It is an occupational hazard. In the field, the terms for it are "ripple effect," "secondary trauma" and "vicarious trauma." All of them describe the point at which the attorney begins to internalize the client's suffering.
Most say the hardest cases are those involving children.
"Just when you think you've heard it all, you haven't heard it all," says Drew. "There is some horrific detail that most people can't imagine. It can be pretty shocking to hear, and that can have an adverse effect."
She tells her students who struggle with a particular case to hand it off or at least get another person in the room to assist. But she also stresses that students need to understand their role and their limitations.
"We are not there to resolve every need the client has," the professor says. "We are there to stop the violence. If we try to go beyond what we are competent to do, that's when we get into trouble and experience burnout."
Drew spends the last 15 minutes of every class teaching students coping mechanisms and self-care techniques. "It is not that we will never be impacted by cases," she says, "but if you don't learn to get out of that space, you really can't help anyone."
Most of her clinic grads have gone on to protection-order work, either in Legal Aid jobs around the country or as part of their pro bono work.
Mike Tafelski, JD '07, is putting his experience at the UC clinic into practice in Macon, Ga, where he serves low-income residents at Georgia Legal Services.
Tafelski says his first client at the UC clinic was his most memorable. "We had attained a civil-protection order, and I remember the client's grandma coming up and telling me it was the first time she had seen her granddaughter smile in a number of years since the abusive relationship had started. That one smile was so meaningful."
Now he often catches himself dispensing advice he learned at UC to his own law students.
"There is a sort of trickle effect," says Tafelski. "Professor Drew doesn't even know how many law students across the country she has affected. Her students are taking the things they learned and applying it to their own clinics.
"We learned to have empathy and be compassionate. These are people who just need help, and we might be their last chance."
Related articles:
UC professor analyzes abusers
UC student went from victim to advocate