Analyzing abusers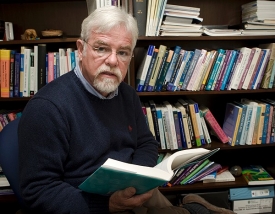 University of Cincinnati social work professor Gary Dick knows plenty about deadly relationships in Cincinnati. He has focused much of his career on better understanding domestic abuse by getting to know those who do the hitting.
Dick, Ed '77, led a study that examined all 48 domestic violence homicides in Hamilton County, Ohio, from 1997-2006. A sample of his findings:
All but three of the victims were female.
Three out of four were killed either after separating from their partner or while in the process of leaving.
More than half of the victims had endured prior abuse.
Two-thirds of the perpetrators had a history of substance abuse.
Children were present during more than a quarter of the tragedies.
Dick says by better understanding the murders, he and the Hamilton County Domestic Violence Fatality Review Team were able to identify common risk factors, which were then used to make a long list of recommendations. Ultimately, the goal is to share information with area social workers, police, the courts, counselors and health-care providers in an attempt to prevent future fatalities.
"We can have a significant influence by taking the knowledge and saying, 'This is what we have found. Now, let's see how your agency can use this to prevent death and domestic violence,'" Dick explains. "If they know the risk factors when they are interviewing a woman, they can be aware and say, 'Wait a minute, this is a dangerous situation.'"
Interestingly, Dick said their study paralleled findings of much broader studies, particularly a 12-city look at femicide by Jacqueline Campbell, who developed the Danger Assessment, a tool for determining a woman's risk of being killed in a relationship.
Dick is intimately familiar with domestic violence. In addition to his research, he also is a family therapist and spent 10 years leading the Tuesday night batterer's treatment group for the YWCA in Cincinnati. The problem, he says, spans society.
"From the boardroom to the barroom, there is no homogenous group of batterers," Dick says. "We would have men coming out of the office buildings downtown in their nice blue three-piece suits, and we'd have some rowdy guys from Northern Kentucky coming in their pickup trucks."
The unifying commonality among batterers, Dick explains, is the example they saw in their own father.
"We have found that 79 percent of the men who saw their dad hit or abuse their mother later went on to abuse their intimate girlfriends or wives. Witnessing marital violence is a big risk factor, second only to experiencing child abuse. Many of them have been rejected by their fathers. So they go into a relationship feeling extremely inadequate about who they are."
Dick describes a recent conversation with a client whose wife was divorcing him after years of emotional abuse. "I told him, 'You know, you have just about burned your castle down,'" Dick recalls. "I like helping men who are going through struggles. And I like empowering women."
A study sponsored by the National Institute of Justice estimates that one in four adult women in the United States will fall victim to intimate partner violence in her lifetime. The same study revealed that more than 500,000 women and 185,000 men are stalked by their partner in the U.S. annually. Need help? Contact the National Domestic Violence Hotline at 1-800-799-SAFE (7233) or visit www.ndvh.org.
Related articles:
Law students help domestic violence victims
Student went from victim to advocate