Silent harmony
Former Bearcat left gig at Maryland to take the head coaching job at the country's only university for the deaf
Stephanie Stevens found out quickly that her method for communicating with her players was badly broken.

It was her rookie year coaching deaf and hard-of-hearing players at Gallaudet University in Washington, D.C., and she was unable to convey even simple in-game instructions. To make matters worse, the players were getting schooled on the court while squinting at the bench waiting on her to fumble through strategy.

"I was screwing them up," says Stevens, Ed '10. "I was trying to sign something to them, but they would end up missing (an opponent) going to the hoop. I was giving them entirely too much information, and they couldn't focus."

Even in timeouts, Stevens discovered there weren't enough ticks on the clock to allow her to both draw up a play then take the time to sign it to her team. By the end of her first season in 2012, the country's premier university for the deaf had lost 18 of 25 games.
If the coach and her players were to get in sync, Stevens would need to study other deaf teams then unlearn everything she knew about the give-and-take between the bench and the court.

"The way I grew up playing, there was a constant voice in your ear telling you what to do," she says. "But I had to learn to be more direct and get my point across quickly, then trust my players that they understood."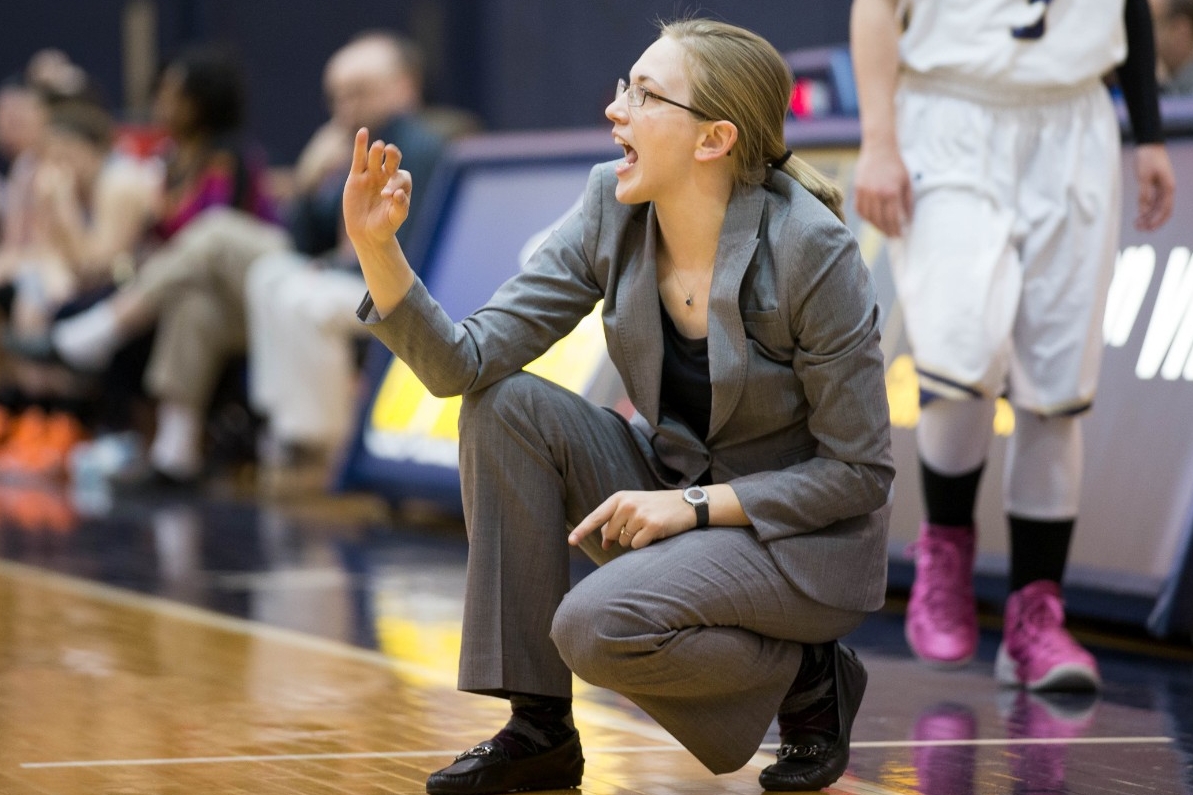 Stevens has since honed her signing down to short, efficient bursts in games and now communicates plays and strategy two steps ahead of normal. For example, instead of attempting to tell her team what offense to run once they got the ball back, she signs that information to them as they are getting back on defense so there's no delay.

The adjustments have paid off for the former UC point guard as well as for the Gallaudet Bison, which turned in winning records the last two seasons.

Prior to coming to Gallaudet, a Division III school, Stevens spent a season as the coordinator of recruiting operations at the University of Maryland — a perennial top 10 program used to big crowds, deep NCAA tournament runs and first-class travel. In other words, in terms of the culture of the two programs, they exist on different planets. Gallaudet, for example, wrapped up its 2015 season playing at Penn State Abington in front of 137 fans. Maryland, on the other hand, called it quits after a loss to Connecticut in the Final Four in front of 19,730 and a national television audience.

Still, when she listened to her heart, Stevens longed to be 7 miles south at Gallaudet, where she served as a graduate assistant in 2010-11 following her four-year playing career as a Bearcat.

"Working at Maryland was incredible, but despite how fun it was and how much I was learning, I felt something missing in my life. I missed signing, and I missed the deaf community so much."



Once the Gallaudet job opened, she was the perfect fit, and she showed up with a genuine love for deaf culture.

It was an affinity cultivated at Cincinnati where the four-year all-academic student-athlete majored in special education with a focus on American Sign Language. But Stevens' appreciation for the language had deep family roots and reached clear back to her pre-teen years after her younger brother, Mark, now 16, was born with Down syndrome, and doctors advised that the family could enhance their communication with him by using sign language.

"I felt it was my responsibility to kind of take action with helping Mark understand basic signs," she says. "That was huge for us. Mark couldn't understand or say the word 'milk,' but he learned to sign it. We started noticing a big change in him."

That breakthrough with her baby brother made a huge impression. It also eventually led her toward her dream coaching job at Gallaudet, and along with that came lifelong friendships and bonds more important than any game.

"I'm so fortunate and thankful," says Stevens, "I'm just trying to soak in each moment."
LINK:
Follow the Galluadet women's basketball team


John Bach
As editor of UC Magazine, John enjoys the opportunity to put a human face on a large institution by telling compelling stories of the University of Cincinnati's incredible community of alumni, faculty, staff and students.
John.Bach@uc.edu

Additional credit: Freelance writer David Driver assisted with reporting.
No limits
Students with intellectual disabilities get a chance at the full college experience at UC.