The haze after the blaze
Veteran's personal experience helps him relate to students struggling with reintegration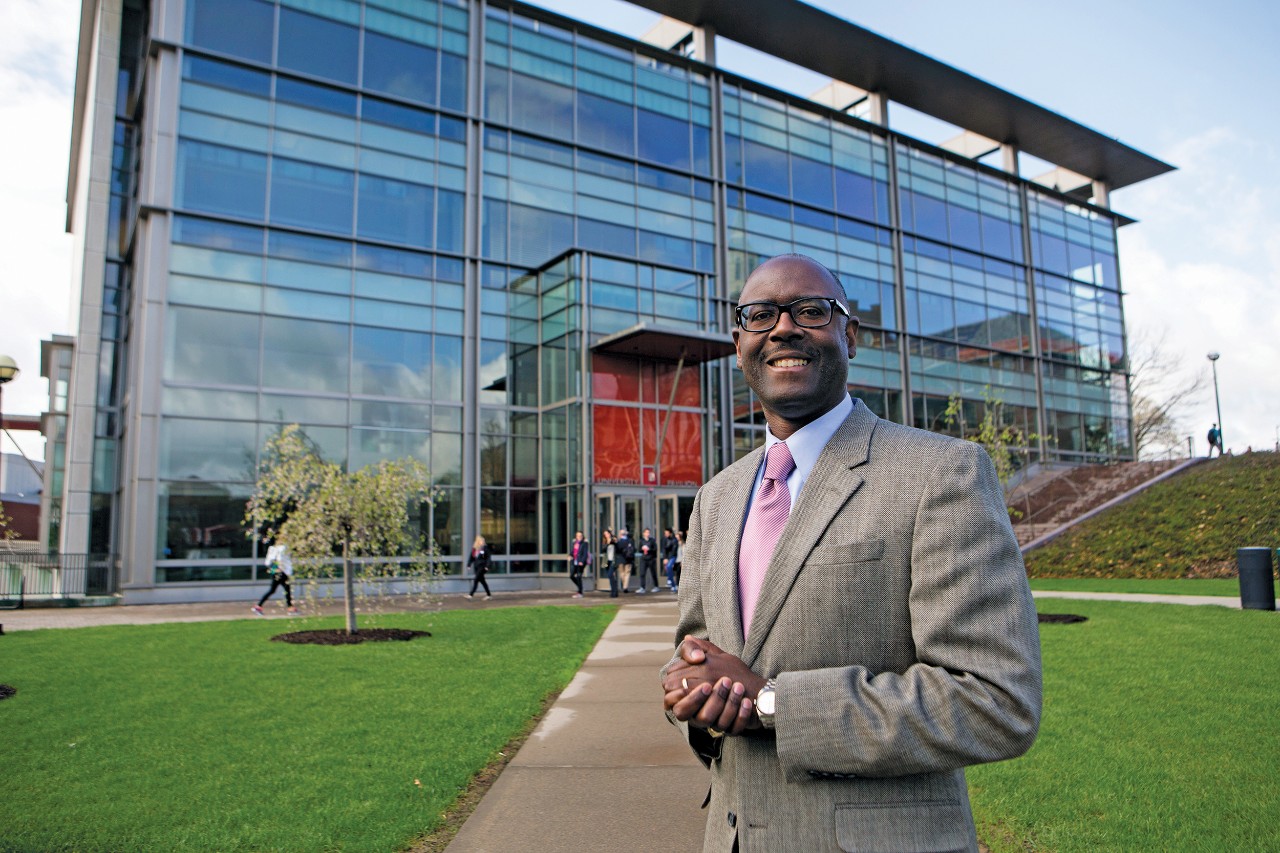 There was a time when Terence Harrison didn't do much other than play video games and drink beer.
Maybe he'd head to the local VFW hall for a scotch and soda and some conversation with people he knew would understand what his family couldn't. On his way out the door he'd tell his wife, "I'll be back when I'll be back."
It was 2011, and he had just returned home to Cincinnati after a tour of duty in Iraq during the wind down of Operation New Dawn. He was a sergeant first class in the 256th Combat Support Hospital out of Columbus, Ohio, in the Army Reserve. He had been called up to serve as an administrator at a military hospital near Tikrit, ensuring care was given to the people broken by war.
And he'd seen many of those.
Once, a soldier reached on top of a vehicle to retrieve his weapon when it unexpectedly fired, shooting him in the head with a .50-caliber round — a bullet about the size of a Sharpie. He was dead less than a half hour after he arrived at the hospital.
Another time, a trio of Iraqis who worked with U.S. Special Forces was rushed to Harrison's hospital. They had been inside a mosque for Friday prayers when suicide bombers attacked them. One of the men died; another lost part of his leg.
Yet despite intimate familiarity with the ravages of war, there in the desert Harrison had friends, a routine, a purpose. And somewhere along the 6,000-mile journey home he'd lost it all.
"You start to reminisce for those times," Harrison says. "Because at least there you felt like somebody, you were doing something."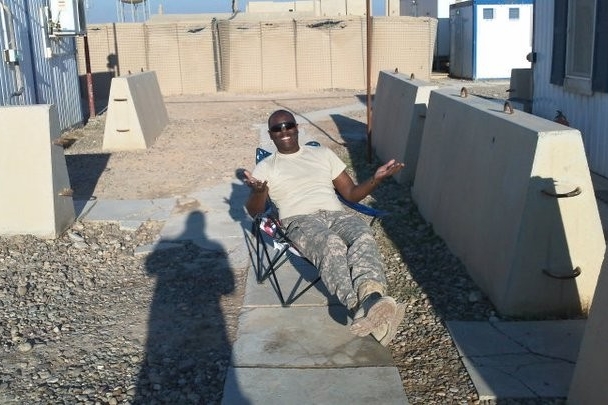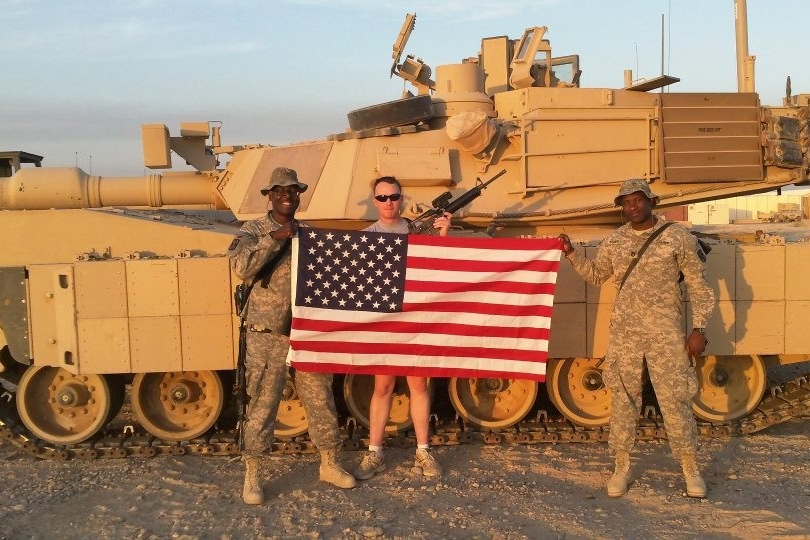 He didn't know it then, but his days wandering the fog between who he'd been and what he would become would turn into one of the greatest resources for his new mission in life.
In February, after years of gradual acclimation to life back stateside — continuing his education and rebuilding his career — Harrison began the current phase of that mission as UC's new program manager for the Office of Veterans Programs & Services. And like his days in Iraq, he's still ensuring people get the care they need, just in a much different way.
Now he helps guide today's veterans as they make the often difficult transition from military service to the civilian lifestyle of a college student. He's a Bearcat himself, having earned a master's degree in criminal justice from UC in 2012, which serves him well as a common ground for connecting with students.
Mostly though, Harrison, 44, relies on his 26 years in the Army Reserves and his own struggle with reintegration to bond with troubled veterans seeking his counsel. There's only one way to earn the kind of credibility Harrison wields, and only another veteran can appreciate the sacrifices made to attain it.
Beyond the human wreckage he's seen in the aftermath of battle, Harrison also knows agonizing personal tragedy all too well. He lost a daughter and then a son to serious illness within the span of three years and four days in the mid-2000s. Olivia was two weeks shy of her first birthday, and Samuel was 15 months old.
When many might have come undone, Harrison steeled himself.
"I looked at it as something I could use to strengthen myself, my resolve. Because if I can go through the deaths of two children, be unemployed for a while, deploy to a war zone, come back and still not work and at the same time finish up two degrees, there's nothing I can't do," Harrison says. "I can show that veteran who comes through that I understand what it is to feel loss. I might not have walked exactly that same path, but at the same time, I feel your pain. And because I feel your pain, I just hope I can put myself in a position to help you."
In his short time on the job, Harrison has gone to work with the tenacity of a lifelong soldier, putting in time on weekends and always leaving his door open to anyone in need of a good listener. He's overseen the inaugural Sisters in Arms event celebrating female veterans and the creation of the Women's Advisory Committee. In March, he spoke before Congress on the importance of veterans benefits. A food drive, 5K race and other new events are in the works, too.
Life is good for Harrison. When not at work, he and his wife, Joyce, stay busy raising their teenage daughter, Gracie, and her younger brother, Maxwell. Boundlessly optimistic, Harrison is fueled by the support of his family, his faith and a moral obligation to give back to those who already have put so much on the line for the sake of others.
"I can look at my experience, and for those veterans who are coming back and who may have issues, at least they know they can come here and talk to somebody. That's my mission. I want to ensure you as a veteran, everything that you've earned, that nobody takes it away. As an act of good faith, this is what I feel I should be doing."
UC is one of fewer than 100 campuses in the nation to offer the VetSuccess on Campus program, which is designed to help veterans transition from the military lifestyle to an academic environment.
The Office of Veterans Programs & Services on the first floor of University Pavilion also provides job opportunity information tailored to veterans' needs, including an online translator to help show how skills acquired during military service can be applied in the civilian workforce.
UC has more than 2,000 military-affiliated students, including veterans; those serving on active duty, in the Reserve or the National Guard; and their dependents.
UC has been named a Military Friendly School for six consecutive years by Victory Media, a veteran-owned marketing and publishing company focused on connecting the military and civilian communities.
In 2014, UC welcomed Omega Delta Sigma-Ohio Beta, the UC branch of the Omega Delta Sigma National Veterans Fraternity. The chapter is UC's first veterans fraternity and includes men and women.
UC holds a Veterans Day Ceremony on campus every year to honor the university's student veterans and all military veterans.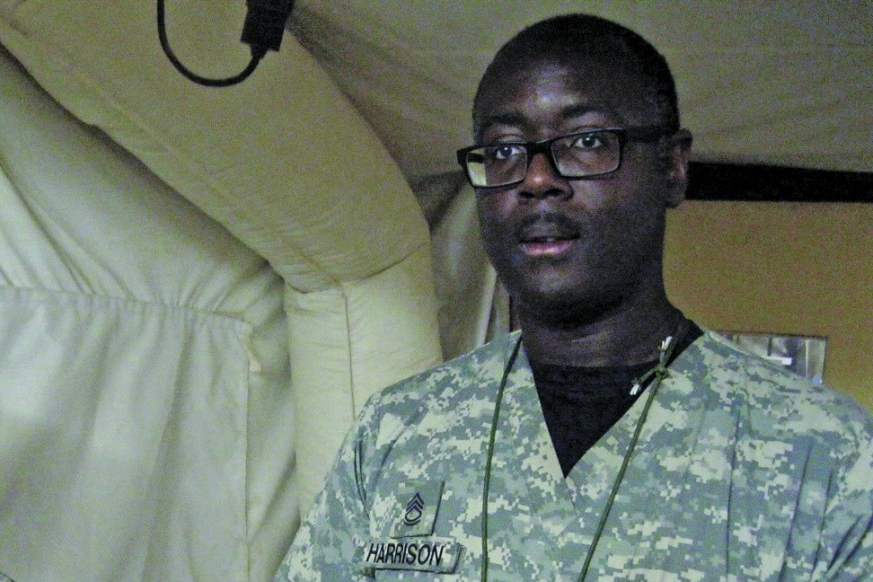 Tom Robinette
Tom is a public information officer with the University of Cincinnati and a contributor to UC Magazine. He is a former daily newspaper editor and an alumnus of Kent State University's nationally accredited School of Journalism and Mass Communication.
tom.robinette@uc.edu
No limits
Students with intellectual disabilities get a chance at the full college experience at UC.