Tiny dreams
UC urban planning graduate takes a minimalist approach to help homeless get off the streets
Sometimes big challenges call for small solutions.

Look no further than a city-owned lot less than a mile from downtown Eugene, Ore., where an array of 30 tiny houses represents a revolution in more ways than one.

At 80 square feet each, the collection of brightly colored abodes is the brainchild of Andrew Heben, DAAP '11, who in 2013 co-founded Opportunity Village Eugene (OVE) to shelter some of the city's homeless population. The homes lack electricity and plumbing, but the 1-acre complex includes a communal bathroom and kitchen. A 30-foot heated hut — complete with Wi-Fi, a TV and a pantry — serves as a central gathering space. It's one of the first efforts of its kind in the United States.

"As an urban planning student, I was taught to value the input of the people that you're planning for, and the issue of homelessness is often left out," says Heben, whose commitment to creating housing opportunities for the poor took root at UC's College of Design, Architecture, Art, and Planning, where his senior thesis centered on tent cities and even inspired his decision to live in one for a month. "For me, it's about creating more diverse housing options, because right now they're pretty limited. The tiny house seemed like a natural fit for this type of situation."

OVE was built with $100,000 in private donations, as well as donated material, labor and land. The homes cost around $3,300, and each was assembled in a half day.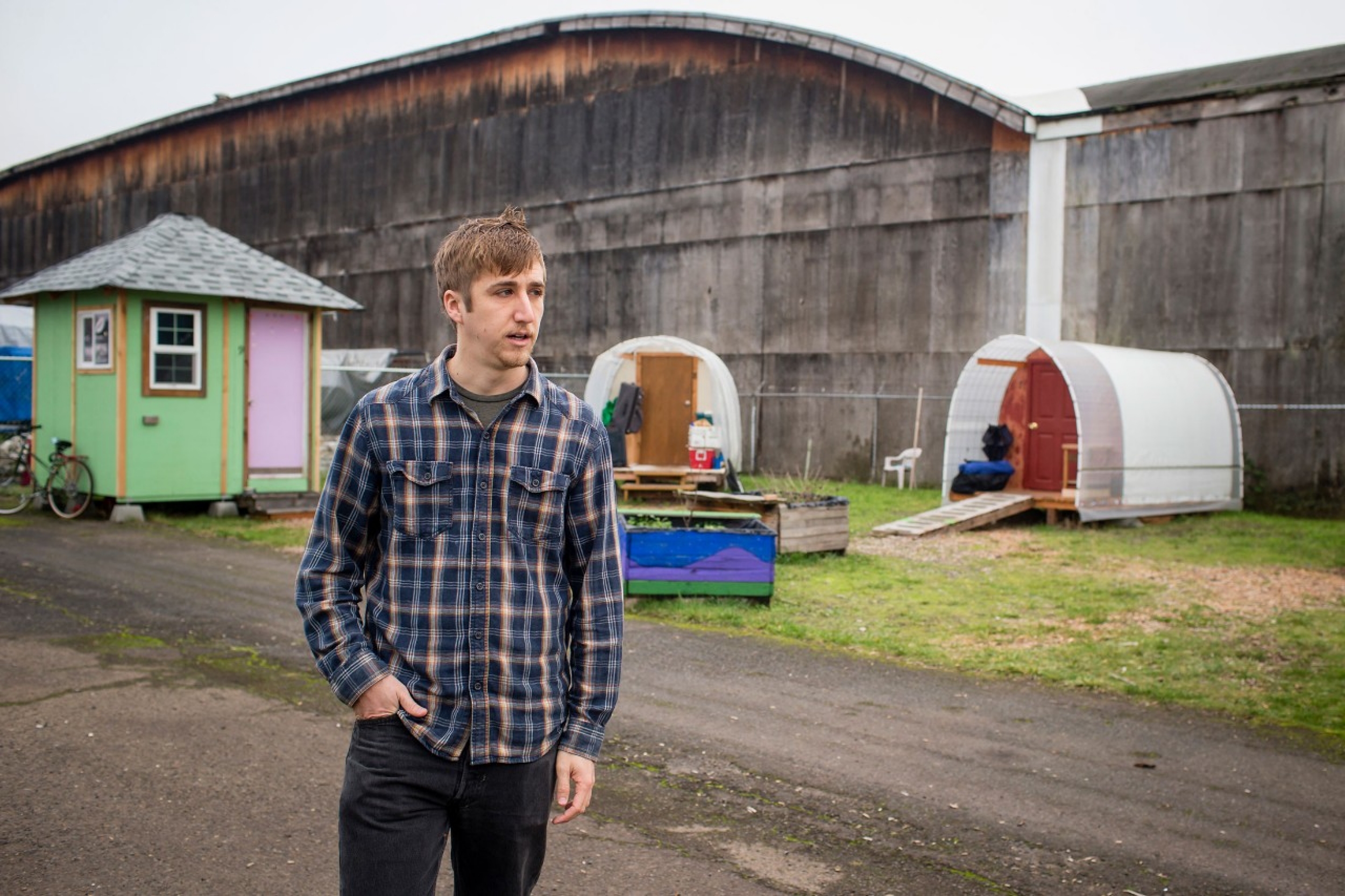 Nationally, the so-called tiny house movement is being driven by a number of factors, chief among them a median home sales price that has climbed to nearly $200,000. That's an increase of more than $30,000 since 2010, according to the National Association of Realtors. A number of tiny house manufacturers make structures for as little as $60,000 for those who are seeking a comfortable but minimalist and more environmentally friendly approach to everyday life. HGTV even airs a regular program called "Tiny House Builders" that features one craftsman's micro masterpieces.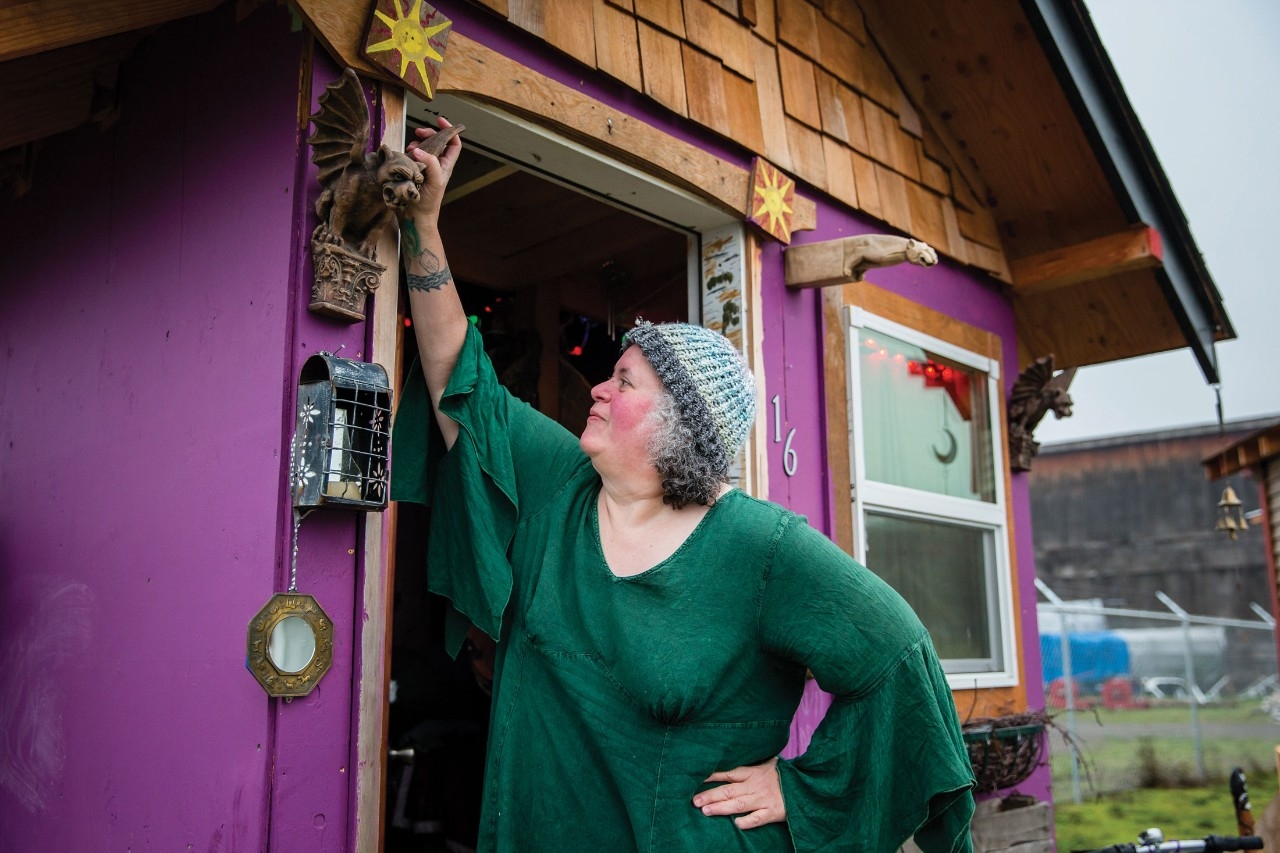 But Heben views tiny homes through a different lens, hoping they can ease what the National Alliance to End Homelessness calls a "huge deficit" of affordable housing across the United States. Every day, more than 600,000 people are living on the streets, the organization reports. The problem, policymakers say, demands multiple interventions.

So strongly does he feel about being part of the solution, Heben even authored a book, "Tent City Urbanism: From Self-Organized Camps to Tiny House Villages." He says tent cities "are better than nothing, but the tent often isn't considered an acceptable form of shelter."
Tiny houses, however, are piquing widespread interest. In August 2013, the Eugene City Council voted 6-2 to approve OVE on a pilot basis, even donating the land. A year later, the council voted unanimously to renew its commitment to the experiment through June 2016.
"That speaks to the amount of success that we've had," says Heben, who lives in a co-op and is the project and program director for the nonprofit group that made OVE possible. "The fact is they look like real houses and they're cute and charming. That appeal has thrust this whole issue into the public arena in terms of being an acceptable option."

Heben has drawn the notice of municipalities around the country. Representatives from the California cities of Chico, Eureka, Martinez and Nevada City have come calling, interested in starting their own tiny house communities. He's also fielded questions from as far away as Australia. In May, Heben presented the idea to a gathering in Victoria, Canada.

"I get several inquiries each week from various cities, but most are in the very early exploratory stages of finding political support for the concept," he says, noting that a village has opened in Madison, Wis., based on the OVE model.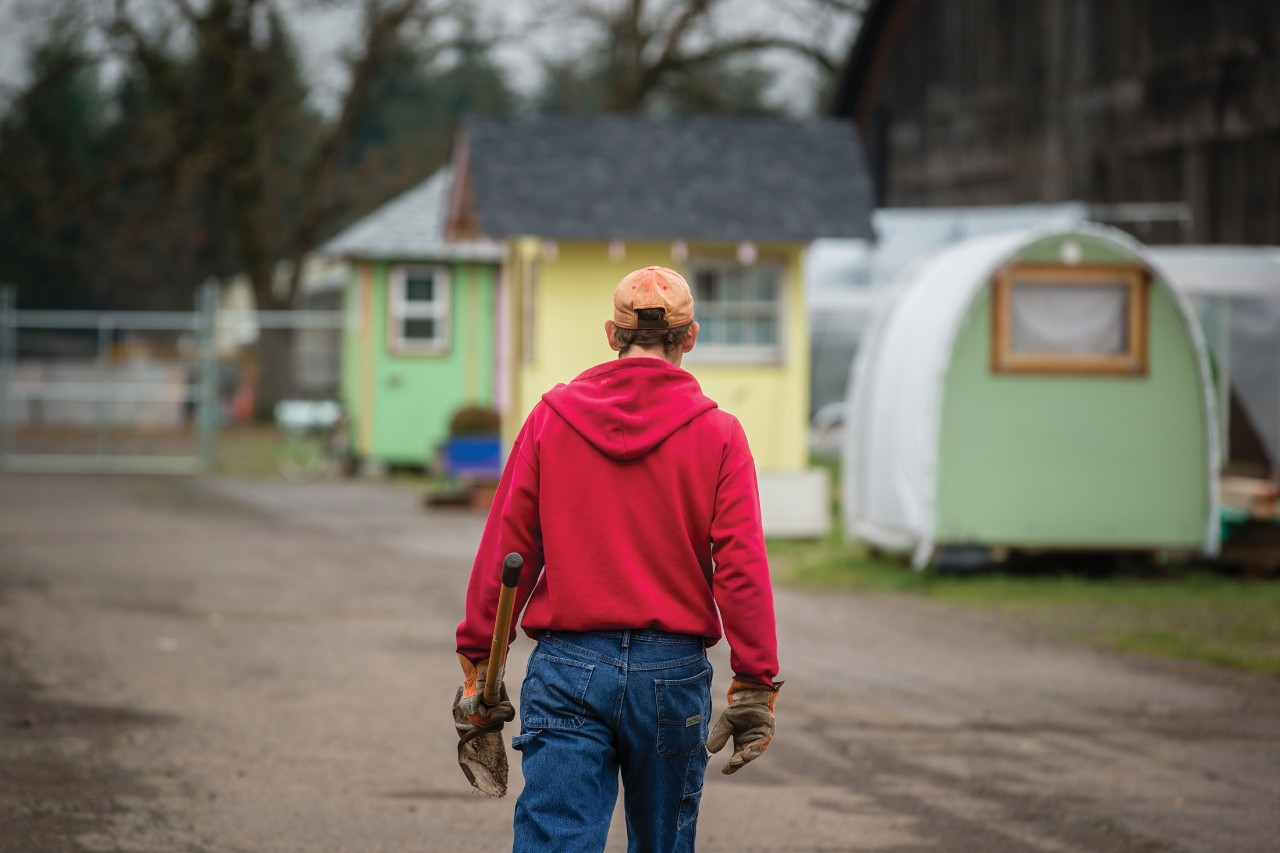 Eugene Mayor Kitty Piercy says there are "a couple thousand homeless folks" in Lane County, which includes the city. After Heben approached her with the idea for a tiny house community, the city formed a committee called Opportunity Eugene to address homeless issues and the "increasing gap between the haves and the have-nots," Piercy says.

The city has several programs targeting the homeless, including a car camping program in which people can pitch tents on the land of a willing property owner. There are 40 such locations, at which the toilets are provided. OVE is yet another example of "the triple bottom line, which asks that we care for the planet, our people and our economic well-being," Piercy says.

"Opportunity Village is pretty spartan, but for those who need a safe place to get their lives back on track, this is a lifesaver," she adds. "In particular, this proves to be a helpful space for homeless women. I have heard them talk about being safe from predators. Andrew has helped us better understand the independence needs of the unhoused, as well as the communal needs. He has offered much to the national conversation about tiny homes and much to our community."

"The fact is they look like real houses and they're cute and charming.
‒ Andrew Heben, DAAP '11

At OVE, there's no time limit on stays, but all residents are expected to ultimately transition out of the village — either by finding work or alternate housing. Residents pay $30 per month toward utilities. Since opening, the village has served 72 people, half of whom have moved out. The average length of stay is six to nine months.

Housing stability, as OVE repeatedly has demonstrated, provides a chance for villagers to get their lives in order without the uncertainty that comes with living on the streets, supporters say.


"For the majority of those who have transitioned out, the village was critical in helping them to get more stable housing," says Dan Bryant, chairman of OVE. "Many of the villagers have been able to secure part- or full-time work as a result of being here."

Current villagers include Dave and Rhonda (who declined to give their last name), spouses who until 2009 did verifications for a background-check company in Washington state. Victims of the recession, they lost their jobs and ultimately their housing. The couple struck out for Oregon, where they lived in national forests for five months. They arrived at OVE in August 2014, after Dave read a news story highlighting the community. Their tan tiny house with the barn-red trim has given the pair a fresh start.
"Opportunity Village has provided us with the essentials we need for our own transition back into the mainstream," he says. Dave, 60, is on disability, while Rhonda, 43, looks for work. "We have a safe place to stay out of the weather," he adds.

Dave calls Heben an "extremely likable young man who never stops moving forward (with) his vision of a new way to solve housing problems."

Heben is planning a new community in Eugene — Emerald Village — that would include 15 tiny homes ranging in size from 120 to 160 square feet. Renters would pay $200 per month, which would cover utilities and maintenance. Those tiny houses, which are seen as a means of transitioning out of homelessness, would include kitchenettes and electrical hookups.
Heben says supporters are fundraising for the project and looking for a suitable site on which to build.


"What we've found is that a lot of people have found a modest amount of income since finding stabilization, but it's still not enough to afford the cheapest rent out there," he says. "We're trying to create more accessible and sustainable places to transition to, leaning more toward the classic image of the tiny house."

Heben quotes Housing and Urban Development statistics that show nearly half of all American renters are spending more than 30 percent of their income to pay for housing.
"By HUD standards, that's considered 'rent stress'," he says. "My dream is to create a spectrum of low-cost housing options."

No one has ever accused him of thinking small.

LINK:
Find out more about Opportunity Village
UC's own homelessness experience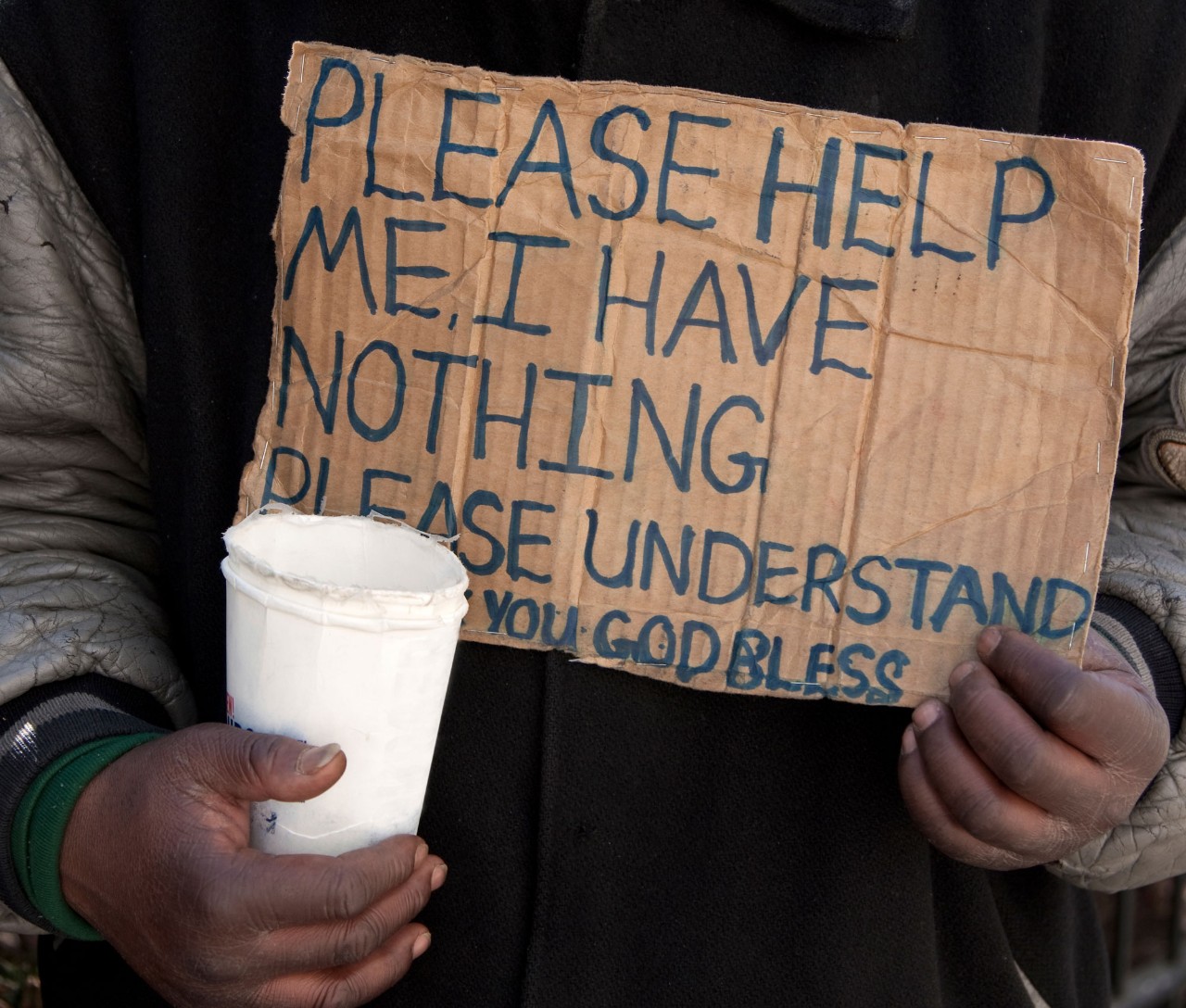 Over the last 12 years, hundreds of UC students have gained a firsthand glimpse of what Cincinnati's homeless go through. Each year since 2003, professor MJ Woeste has taken a group of UC students into downtown Cincinnati to live as members of the homeless community for 36 hours. Collaborating with City Gospel Mission, Woeste, a communication professor from UC's McMicken College of Arts and Sciences, designed the intensive service-learning project to open the eyes, minds and hearts of students to a population of people they may not have normally chosen to spend time with. Each year, students in his intercultural communications class return not only tired and hungry, but also with an entirely new outlook on the homeless.
The haze after the blaze
Veteran's personal experiences help him relate to students struggling with reintegration.