Photographer spends three years documenting UC's architectural transformation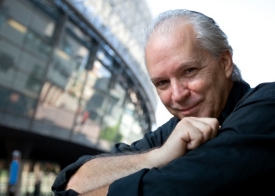 For the last three years, a sprightly gray-haired gentleman lurked in University of Cincinnati stairwells, ducked behind pillars and jumped out of corners all across the Uptown Campus. Neither snow nor searing heat kept Bob Flischel away. And he might have caused a few heart attacks if it weren't for the fact that he frequently haunted UC grounds before sunrise and long after sunset when few people were around.
Plus, the camera hanging around his neck lent a little credence.
Flischel is a professional photographer who shot every aspect of campus to create a coffee-table book, "The University of Cincinnati: Architectural Transformation -- Tradition and Innovation." Public Safety, of course, was aware of Flischel's approved presence, but administrators must have wondered what was taking so long. Three years to create a book of photographs?
Flischel admits he can be a little obsessive. "And the shot you think you want," he says, "is never as good as the one you find on the way to the one you think you want."
His 192-page book is being published in November '07, and he graciously shared his images with "UC Magazine." (The UC Parents Association is also selling his book for a fundraiser.)
"The book portrays the old and new campus," he says. "The new buildings are pretty blinding in their brilliance. By honoring the past and embracing the present, we provide a powerful vision of this beloved institution.
"People don't understand what's going on at UC. I want to open their minds to see what's been done."
The time spent snapping photographs was actually short, he says. "First, I had to do serious research. Historical research is my hobby, so nothing is more fun than giving myself a three-hour gift on a Sunday to go through Blegen to uncover hidden treasures."
Three hours is nothing. He spent three months looking for a plaque commemorating an early College of Medicine dean, and one of his favorite finds was a historic stained-glass window hidden behind blackout blinds in a medical lecture hall.
Research also included determining the exact moment available light would create certain effects. "Sunrise and sunset, the edge of light," as he calls it, "produces drama, especially 15 to 20 minutes before the sun comes up.
"I'll get up at 3 a.m. and go outside. If there are bright stars and no clouds, you know you'll get the sun at the right angles."
Well, there's a little more to it than that, as the architectural bas-relief on Wilson Auditorium proved. "I probably shot the little guys on the side of Wilson seven to 10 times," Flischel says. "The light kept casting weird shadows. The sun hits the right way only a few weeks a year, about 10 minutes before sunset."
That kind of perfectionism took three years.
"There were some brutal shots that I really wanted," he notes. "Shots start out as a little dance between the subject and the photographer. When it starts off, you're both smiling at each other. By the end, you're gouging eyes out, pulling hair and doing illegal kicks. You're down in the pit. It's a fight to finish it."
Ultimately, Flischel's goal was to use "emotionally impactful images to weave together a story that will resonate with people, whether alumni or citizens," he says. "And I wanted to tell the whole story, not just show off with a camera. That would have been the easy way out."
Flischel has been a photojournalist, photo instructor at Northern Kentucky University and a contributing editor for many books and periodicals. His work has appeared in Life magazine, Time, Smithsonian, National Geographic Traveler and Saturday Evening Post.
He previously published two photographic books, one on Cincinnati and one on the historic architecture of Cincinnati Public Schools. Today, he considers himself primarily a portrait photographer, but loves trying "to bring inanimate things to life" by shooting architecture.
He decided to undertake the UC project three years ago after "a long exploratory march in and out of every building on campus," he says. He hopes readers will take a similar trek.
"This book is an invitation to leave the boundary avenues of Clifton, Calhoun, Jefferson and King and rediscover the University of Cincinnati," he writes in the book's afterword. "My perspective reflects my photographic sensibilities and is only one way to interpret this remarkable collection of classical and contemporary architecture.
"Find your own path of discovery, not from a distance, but up close and personal. The effort, I can assure you, will be a revelation."
Links:
Jayne Merkel, architectural historian and critic from New York.
Kevin Grace, MA (A&S) '77, UC's head archivist.
Buck Niehoff, Cincinnati attorney and member of the UC Board of Trustees.
Margo Warminski, preservation director of the Cincinnati Preservation Association.
Information about photographer Bob Flischel's book
Order a copy of Bob Flischel's book

Related article: