UC's pursuit of curing disease

The medical profession has a responsibility not only for the cure of the sick and for the prevention of disease but for the advancement of knowledge upon which both depend.
— Dr. Robert McCance, 1950

Dr. Albert Sabin shared his colleague's approach to research when he developed the oral polio vaccine while on faculty at UC's College of Medicine and staff of Children's Hospital. His dogged pursuit of discovery virtually wiped out the disease that once crippled and killed millions of children worldwide. Sabin's legacy at the College of Medicine today is as real as Sabin Way, the road on which many UC scientists travel to get to their labs.

Walking in Sabin's footsteps, both literally and figuratively, is Dr. Jeff Whitsett, a UC faculty member and researcher at Children's. Whitsett, an icon in pulmonary medicine and neonatology, recently discovered a gene linked to a rare lung disease in adults and infants. He first gained international attention, however, when he helped develop a drug called Survanta, which lubricates premature infants' lungs, keeping them from sticking together and collapsing. Survanta, often the difference between life and death for preemies, has been used to treat nearly a half million infants since its approval by the Food and Drug Administration in 1991.

Jim Feuer, Ed '78, knows intimately the value of Whitsett's work. When Feuer's 8-year-old son Benjamin was born, his lungs had not fully developed. Though twin brother Aaron went home after a week, Ben was placed on a ventilator and kept in the intensive care unit the first five weeks of his life.

"He was working too hard to breathe," Feuer recalled of his 5-pound, 8-ounce child. "The doctors tried other drugs, but he didn't do well. The next day they put him on Survanta. We don't know that he would not have lived without it, but it really speeded up his lung maturity and enabled him to get off the ventilator."

As public relations director at Children's, Feuer has had the rare opportunity to meet the scientist behind the life-giving science. "It is really neat to be able to go up to Dr. Whitsett and thank him for the work he has done," Feuer says. "Ben has been incredibly healthy ever since. His lungs are fine."

The methods of discovery have evolved enormously since Sabin peered into his microscope here four decades ago and even since Whitsett broke through. But the desire to unravel nature's secrets to help people like Benjamin remains. Today's researchers are simply getting a closer look at the human body.

Infinitely closer
Advances in biomedical science, computer science and imaging now allow doctors to delve into the most basic building blocks of the human body -- DNA.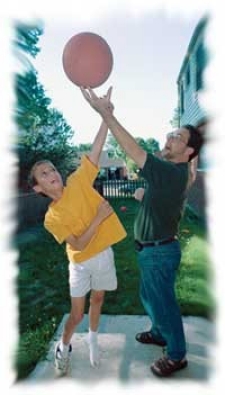 Last year, U.S. scientists completed the Human Genome Project, successfully mapping the entire human genetic code by determining the exact order of all 3.1 billion base pairs of DNA. Now that our genetic makeup has been defined, investigators have already linked particular genes with certain diseases like breast cancer, colon cancer, cystic fibrosis and Alzheimer's. The next frontier challenges us to sleuth how those genes work, how they interact with other genes in the body, as well as with factors in the environment.

Many believe it is only a matter of time before haunting killers like cancer will not only be curable but preventable. Already, UC's Dr. Stephen Liggett has discovered a way to predict how asthma patients will react to certain drugs based solely on their DNA. He and doctors at UC have even engineered a mouse that is genetically resistant to asthma, the first step toward a potential gene-based therapy for humans. Liggett and pioneers like him are paving the way to the era of ultimate personalized medicine.

Donald Harrison, senior vice president and provost for health affairs at the UC Medical Center, predicts genetic research will fuel a biomedical revolution in this country. And he expects the University of Cincinnati to take a front-row seat in the discovery.

Harrison says the biomedical industry, unlike the computer and telecommunications areas, which concentrated mostly along the two coasts, will drive economic development in a dozen or more regions throughout the nation. For Cincinnati to capitalize, however, it will take vital participation by UC and hundreds of millions of dollars in research funding from the National Institutes of Health.

"We need to create a research institute that is heavily linked to industry with the ability to create new companies," Harrison says. "Basic research will drive economic development for this entire region."

Bio/Start, a UC-based incubator for biomedical companies, has already helped researchers start up 15 companies, ventures that allowed scientists in the academic world to move their innovations from the laboratory into a profitable local company. That entrepreneurial spirit is a positive force on campus, but the key to being a part of the biomedical revolution is recruiting the best scientists who can attract research dollars.

Millennium Research Plan
Collaborating with Children's Hospital Medical Center, UC developed the Millennium Research Plan to double its biomedical research funding to more than $250 million a year and attract or retain an additional 260 funded investigators by 2006. Lofty goals for a college that is already ranked 27th in the country for total research funding. Researchers here currently average about $400,000 a year each in grant dollars, ranking UC's basic scientists among the top 10 percent nationally for individual productivity.

UC's rise as a national research powerhouse is particularly impressive considering only 30 years ago it was a city medical school in a single building. Today it stands as one of only 88 schools out of nearly 4,000 colleges and universities in the country that has been classified as a Carnegie Commission Research I institution.

"Faculty are the key to being successful in research," says John Hutton, dean of the College of Medicine. "Our productivity per faculty member is very high. But our numbers of faculty are not as large as they should be. Our strategy has been to increase the faculty numbers and to increase the space for them to work."

To recruit the nation's top scientists, the real "superstars" of the industry, UC has focused the Millennium Research Plan to include four key areas: cancer research, cardiovascular/pulmonary research, neurobehavioral research and perinatal/early development research. "These are areas in which we are either already highly prominent nationally or we have the potential to be there," Hutton says.

In addition to showing a strong commitment to various fields of study, UC must also provide the elite group of researchers they intend to attract with world-class lab space. Administrators plan to renovate the outdated 960,000-square-foot Medical Sciences Building (MSB) and attach a 200,000-square-foot facility to house the Center for Academic Research Excellence (CARE).

A major gift from a private drug company was also crucial. The UC Board of Trustees accepted from Aventis Pharmaceuticals this year a land/building donation that qualifies as the largest gift ever to the university. The Aventis site includes a 23-acre chunk of land from its research facility in Reading, Ohio, and about 360,000 square feet of office and lab space - property worth $100 million to reproduce. It is there that UC and Children's Hospital will develop the Genome Research Institute and senior researchers will probe new treatments for cancer, heart disease, addiction and early childhood illnesses.

The potential for medical discovery, here and around the globe, has never been greater. From Albert Sabin on, UC researchers have remained at the forefront of generating new knowledge. But with commitments like those from the University of Cincinnati, scientists may well rid the world of its most life-threatening diseases. And sooner than you may think.