Career Educator: Christine Minano
How did UC impact your life?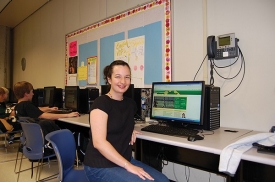 My UC experience was extremely positive, especially while earning my master's degree in education. My classes were rigorous and thought provoking, and they completely reinforced my desire to educate.

I also had several lovable classmates and professors, plus a full-year internship in a high school that made all of the difference in my career preparation. With such a demanding course schedule and focus on teaching, I wasn't as heavily involved in extracurricular activities as I would have maybe liked, but I did get engaged to my husband, Glenn, during that period.

How did your scholarship help you?

My scholarship enabled me to focus solely on learning and concentrate on my career goal without stressing about how I would pay my college bills. It gave me the means to complete my degree in a timely manner and start teaching much sooner than I would have if I had the full financial burden of tuition. I absolutely love teaching and was so anxious to get in the classroom and start instilling an appreciation of education in my students.

What did your scholarship mean to you?

The fact that I was selected meant a lot and reaffirmed my choice of education as a career path. It gave me confidence that someone else believed in my potential and ability, and it also reinforced my belief that people are essentially good. If a stranger could be so kind, surely I could also be at least as good to others I meet. I try to implement that basic goodness in my students through my lesson plans.

What have you been doing since graduation?

I am a full-time English teacher at Sycamore High School now, and I love it.

Where would you be now if it had not been for your scholarship?

While I might have eventually made it here, it would not have happened nearly as quickly. I also would have had much more struggle and stress, and it would have taken me longer to pay for my education.

How important was UC to your career?

UC gave me the tools that I need to do my job well. In particular, the hands-on experiences of teaching in urban and suburban settings, in addition to the full-year internship, really solidified my passion for teaching. I hope to teach for many, many years to come.